Investment banker and athlete Thomas White competes for market share in energy investing
Celebrating 10 Under 10 honoree Thomas White, MBA '17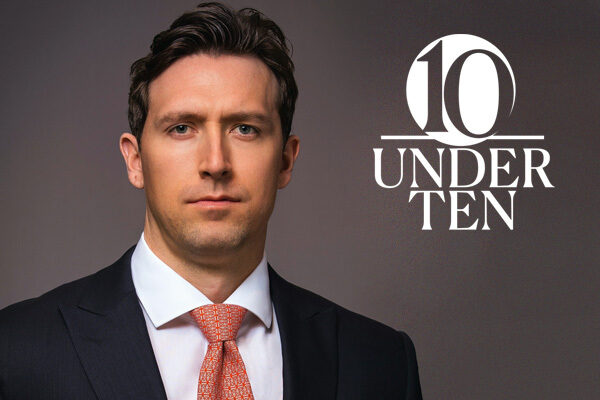 Energy investment banker, professional football player, bobsled push athlete, and a champion for pediatric cancer research, Thomas White, MBA '17 (Two-Year MBA), is one of the inaugural 10 Under 10 Notable Alumni honored by the Johnson Recent Alumni Council (JRAC).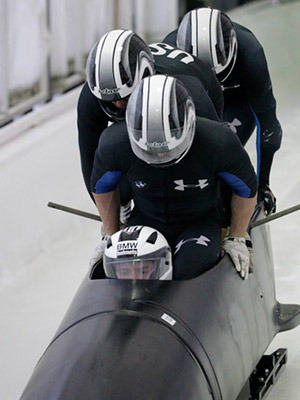 White is a vice president at PJT Partners, a global advisory-focused investment bank. He was formerly an investment banking associate at Moelis & Company, the firm he joined upon graduating from Johnson. Before that, White was a professional football player with the NFL and a bobsled push athlete who trained as a member of the United States Bobsled Team and competed in the Olympic Trials for the 2014 Sochi Winter Games.
White hails from Dallas, Texas, and now calls Houston home. His favorite quote comes from Theodore Roosevelt:
"The credit belongs to the man who is actually in the arena, whose face is marred by dust and sweat and blood, who strives valiantly, who errs and comes up short again and again, because there is no effort without error or shortcoming, but who knows the great enthusiasms, the great devotions, who spends himself for a worthy cause; who, at the best, knows, in the end, the triumph of high achievement, and who, at the worst, if he fails, at least he fails while daring greatly, so that his place shall never be with those cold and timid souls who knew neither victory nor defeat."
Learn more about White in this Q&A.
A drive to compete meets its match in investment banking
In his career as an energy investment banker, White has advised on over $20 billion of deal value across strategic advisory, restructurings, and M&A assignments. He joined PJT Partners in February 2021, as they launched their Houston office. "It's a unique opportunity to play a startup role in an established industry at a top-tier firm like PJT," says White. "I wake up every day excited to compete and take market share in an extremely competitive energy landscape."
Q. What drives your commitment and focus in your professional career?
White: My biggest fear when I left the athletic arena was losing the rush of competition and the necessity of being excellent on the biggest stage. While it isn't exactly the same as playing in front of 100,000 people or competing for your country, I've found the everyday challenges in my career to be equally rewarding.
One thing I learned over the course of my life is that success has a price. Everyone wants to advise on the biggest deals and see their name in lights or at the top of the Wall Street Journal. Far fewer people are willing to fall in love with the mundane processes, the fundamentals you must commit to every single day to reach that level. You have to do these things when you want to do them and you have to do them when you don't. Success and winning at the highest level is on the other side of that.   
A D10 champion for pediatric cancer research
White calls himself "unbelievably fortunate" to be involved with the D10 [formerly known as the Wall Street Decathlon] since 2017. "The competition uses high-level athletic competition to raise funds with the aim of producing a profound impact on pediatric cancer research," White says. "While I've been successful in the competition aspect of the event (three-time defending champion), it is infinitely more gratifying to have raised nearly $30,000 for the cause."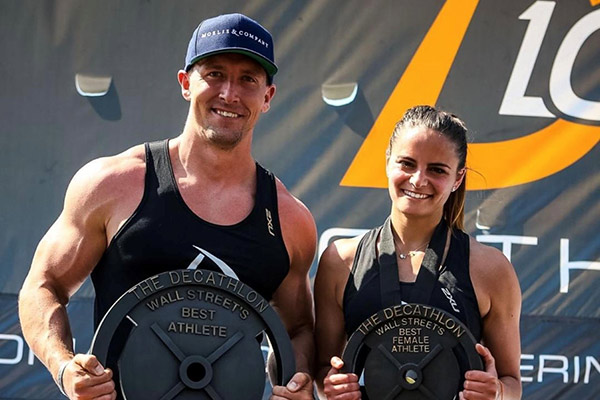 White describes the competition itself as "a grueling endeavor that pushes you to the limit physically." The D10 certainly requires strength and dedication: It includes a 400-meter run, football throw, pull-ups, 40-yard dash, dips, 500-meter row, vertical jump, 20-yard shuttle, bench press, and 800-meter run.  "In each of my competitions," White says, "I've found moments where I wanted to give in but took a brief second to juxtapose my situation with those children and their families and realized that they would do anything in the world to trade places with me in that moment. I'll keep fighting for the cause and am hopeful that we can turn the tide on this terrible disease."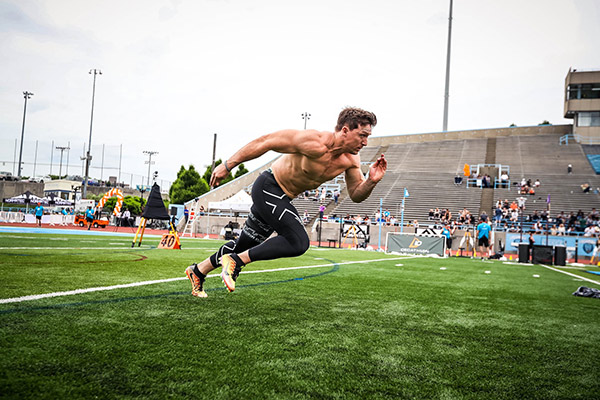 Q. What inspires you to dedicate your time and energy to this community service? What impact do you want to have in the world?
 White: Being able to volunteer at the children's hospital was a transformative experience for me. As a father of two beautiful boys, even the idea of pediatric cancer is frankly terrifying. I am continually amazed and totally disarmed by the strength, dignity and hope reflected in these children and their families. We can do better for these children and I'll continue to endeavor to make an impact that makes a difference in this battle.
Johnson instills the best qualities in investment banking recruits
White: When I arrived at Johnson, the path to energy investment banking in Houston was in its infancy. Houston recruiting was historically dominated by regional schools that had erected a sort of barrier-to-entry for out-of-state candidates. Over time, my classmates and I grew the Cornell presence five-fold. I've cherished the opportunity to go back to Ithaca each fall and block off a day to spend with potential candidates—and not only give them my playbook for success, but also assure them that the Cornell contingent in Houston will actively pull for them in their recruiting process. I'll continue to do everything in my power to broaden that funnel and bring the best candidates to both my firm and the energy investment banking industry.
Q. What drives your continued engagement with and contribution to the Cornell community?
White: Candidly, I think Drew Pascarella [Rempe Wilson Distinguished Lecturer, and a senior lecturer of finance] and the Investment Banking Immersion produce top candidates year after year. All the best qualities I look for in a recruit are instilled at Johnson. So while I have tremendous loyalty and gratitude to Cornell, it's also equally beneficial to my career at PJT to find and hire the best candidates, and I find them at Johnson.
A Johnson challenge: Dig deeper and go the extra mile
Q. What does being selected for the Johnson 10 Under 10 Notable Alumni list mean to you?
White: It is incredibly humbling to have been nominated and selected. I can think of several of my own classmates that are equally or even more deserving. Johnson will always have a special place in my heart and it is a tremendous honor to be recognized among so many distinguished classmates and alumni that I hold in exceptionally high esteem.
Q. What are the most valuable things you learned at Johnson that have helped you in your career?
White: The necessity and value of having a rigorous intellectual process. My professors never allowed me to stop at the most obvious explanation; I can still remember Risa Mish [professor of practice of management] pushing us to dig deeper to find the root cause of an issue. At Johnson, I was constantly challenged by my classmates and professors to go the extra mile on an analysis, explore every available perspective, and be conscious of my own biases. I've found this particularly useful in my career, where solutions exist at the confluence of several competing factors and nonlinear thinking is essential.
Q. Did any particular faculty member(s) influence you on your chosen career path?
White: I'll never forget meeting Drew Pascarella for the first time in 2015; he had a vibrant intensity about him and a reputation for accepting nothing less than excellence. Over the course of a vigorous semester and innumerable late nights at Sage Hall, he, along with my classmates, transformed me from a guy who spent his twenties playing football and pushing bobsleds into a credible investment banking candidate. While he served as my professor during my time at Cornell, he's become a friend and mentor whom I value immensely.
How small things add up to the spectacular
Q. Describe a challenge you encountered as you built your career and how you overcame it.
White: Learning to be patient with the process. In my athletic career, we measured success one week and game at a time—you had immediate feedback whether you won or lost. In my career in finance, I've had to learn to measure success on a significantly elongated scale. What I've found to be effective is breaking each deal and even each pitch down into incremental goals for me and my teams. Doing this allows for consistent wins, instills a sense of determinism and distracts from the enormity of the process—which can be unbelievably chaotic when viewed in its totality. Consistency beats heroic effort and the small things add up to the spectacular.
Q. What is the proudest moment of your career or of your personal life?
White: Winning the Johnson 2016 Bowling Championship. All kidding aside, signing an NFL contract represented the culmination of a dream I had since I first touched a football as a little boy. It validated the blood, sweat, and tears I poured into the game and confirmed for me the value of relentlessly pursuing your dreams—no matter the odds.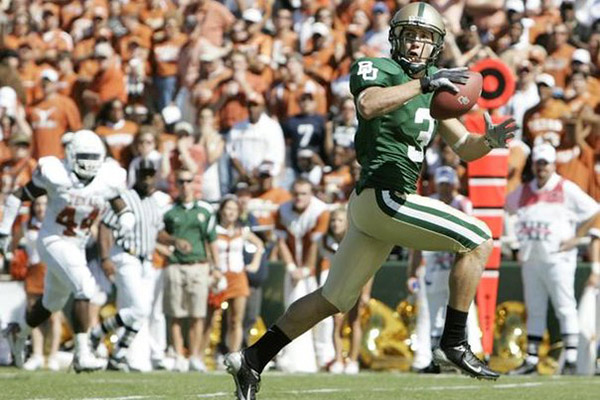 Q. What do you do to recharge?
White: I'm a competitive animal by nature and have found that playing golf is a challenge that will keep me both motivated and frustrated for years to come. I lost my father in 2017 so I treasure the opportunity to take my boys out to the course each week to teach them the game and, more importantly, tell them I love them and talk about life with each other.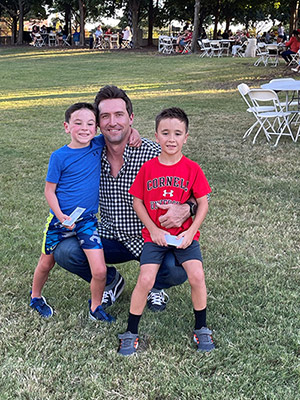 A message to students: Soak up the richness of the experience
Q. What do you wish you'd known as a Johnson student and what advice would you give to Johnson students today?
White: That two years isn't nearly enough. My time at Johnson was an unbelievably transformative experience that changed the trajectory of my life. I'm forever grateful that the team at Johnson took a chance on me and I hope that I can bring honor and esteem to the program for years to come. My advice to current and future students is to soak up the richness of the experience, pour yourself into the program and your classmates and be open and vulnerable to change. You won't regret it.