Four Cornell Tech MBAs Launched Univie to Create Digital Medical Records for Refugees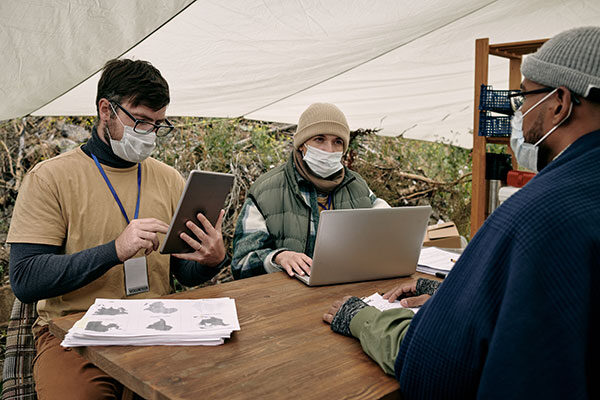 An Iraqi refugee who had recently undergone cancer surgery crossed the Mediterranean Sea to Greece, swimming part of the way. During the harrowing journey, his wounds opened and the salt water caused a serious infection that nearly killed him.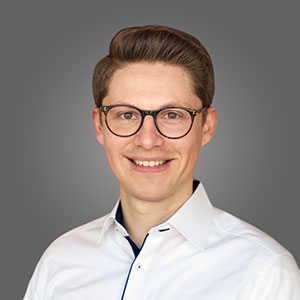 "The refugee was unconscious when they found him," says Fabio Daiber, MBA '20, CEO and cofounder of Univie, a nonprofit startup launched by four Johnson Cornell Tech MBA graduates in 2020 to create portable electronic health records for the world's 20 million refugees. "What saved his life was that his previous doctor wrote what treatment she performed on a piece of paper, and he had the paper on him in a plastic bag."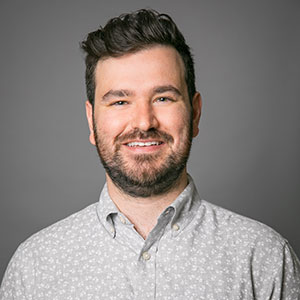 The cofounders spoke to the man for two-and-a-half hours via Zoom. His riveting narrative confirmed the importance of their mission to help refugees share their medical histories with providers—both for emergencies and for more routine care.
"It's still an anchor story for all of us, any time we navigate our day jobs and try to make this happen," says Eddie Mele, MBA '20, Univie's chief operating officer, who works as the U.S. go-to-market officer for Skit.ai, an AI voice automation company.
An idea born at a World Health Organization hackathon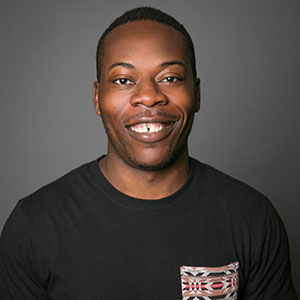 To launch Univie, Daiber and Mele teamed up with former classmates Nathanael Ngbondo Koweda, MBA '20, Univie's chief technology officer, and Yasmin Lalani, MBA '20, Univie's chief marketing officer. All the founders also have day jobs: Koweda is also founder of Tangle, a startup that offers a digital space for exchanges outside of business meetings for remote workers; Lalani works as senior director of the Partnership Fund, a nonprofit venture capital fund; and Daiber is a senior software program manager for Amazon's Fire Tablets.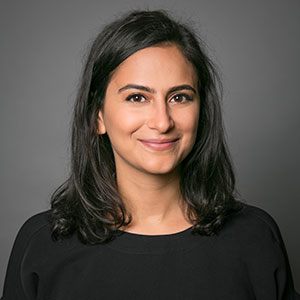 The cofounders hatched the idea for Univie after participating in a hackathon in Tel Aviv centered on access to medical records and sponsored by the World Health Organization. It was part of a two-week-long trip to Israel sponsored by Itrek, a nonprofit that sponsors peer-led treks to Israel for graduate students in business, law, and policy. Koweda's team, which focused on medical records for the refugee community, won the hackathon. Daiber's team focused on developing a universal standard to translate medical records from one language to another.
"Then COVID happened, and WHO's priorities got a little shifted," says Daiber.
The four friends also moved on: They graduated and started new jobs or launched a startup. But in the fall of 2020 they revisited the idea of helping refugees access their medical records. "We thought, 'Now that we have this great education, how can we use our skills to do good?'" explains Koweda. They received encouragement from their former advisers, Fernando Gómez-Baquero, director of the Runway Startup Postdoc and Spinout Programs at Cornell Tech, and Tamar Many, cofounder of MindState, who organized the WHO hackathon. And they decided to call their venture Univie, combining the word universal with vie, the French word for life.
Testing Univie's platform in the field
Univie is testing out its medical records platform with two partners: a nonprofit health clinic in Atlanta that is providing feedback from doctors and patients who are using it; and a refugee clinic in Tel Aviv.  Recent developments in Afghanistan and the Ukraine have underscored the need for Univie's product, and the cofounders aim to launch a full-scale pilot program in the next year, Daiber says. Refugees will fill out a questionnaire powered by artificial intelligence to build their medical histories, which can later be accessed on a smartphone and shared with providers.
For the past year and a half, the cofounders have been bootstrapping their nonprofit venture, working evenings and weekends, and collaborating across time zones. Univie's team of 12, many of them Cornellians, are scattered across three continents—Africa, Europe, and the U.S. Now, the team is focusing on raising enough funds to hire a full-time team.
"The friendship and respect we have for each other made this project very possible," says Koweda. It's what sustains them as they work through the project's inherent challenges.