Johnson Summer Startup Accelerator Takes NYC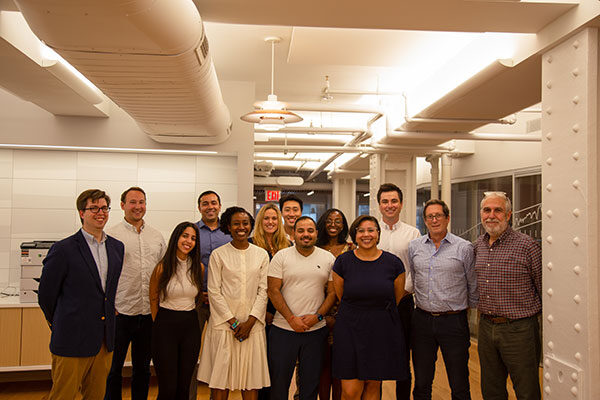 By Grace Collins
On Friday, July 15, the 2022 Johnson Summer Startup Accelerator (JSSA) student entrepreneur cohort convened in Manhattan for the first annual JSSA New York City Trek, a day full of workshops and discussions with New York City-based investors, founders, and entrepreneurs.
Offered through the Samuel Curtis Johnson Graduate School of Management, JSSA is a summer-long intensive program. Aspiring entrepreneurs from Johnson's MBA programs have the opportunity to explore their ideas for a startup venture and go through three phases of entrepreneurship education: customer discovery, developing solutions, and testing.
Founder insight
"The NYC Trek provides access to investors and founders that gives us insights into what it takes for us to bring our companies to the next level," said James Duong, MBA '23, founder of PlutoStreet and recipient of the Vrinda Kadiyali Student Entrepreneur Fund.
Hosted in the SC Johnson College of Business space at 570 Lexington, the day was interactive, offering students the chance to raise their hands, ask questions, and engage with the guest speakers. The event opened with Loren Busby, director of the Bioventure eLab at Weill Cornell, leading the cohort through a healthcare technology case study, followed by Randy Kane P'24, managing partner at Profec Partners, presenting a workshop on angel investors and offering advice to the cohort on finding the right fit and making the right moves.
Next, David Stein, Cornell Tech MBA '20 and CEO of Ash Wellness, told the story of his entrepreneurial journey. Stein shared what it was like to found a startup right out of grad school, and the experience of watching his company grow. He fielded questions and led discussions on finding the right investors, learning to manage day-to-day operations, finding work-life balance while running a startup, and more.
Startup funding and making connections
In the afternoon, program codirectors and Johnson faculty Greg Ray, PhD '14, and Ken Rother each led a session on startup funding, covering everything from making connections with venture capitalists to getting the most out of equity crowdfunding.
The day closed out with Momo Bi, MBA '15, senior director at New York Ventures, and Sakib Jamal '19, senior associate at Crossbeam Venture Partners, sharing the investor perspective when it comes to working with early-stage startups. Bi talked about the factors the investors look for when they're considering a company, as well as the priorities that exist in investing within New York State, while Jamal talked about his story and how he's created opportunities for himself along the way.
"I'm thrilled that we were able to offer this exciting opportunity for our cohort to gather in-person and learn from industry leaders," said Ray. "I couldn't be more grateful to our guest speakers for taking the time to join us, and I look forward to holding the JSSA NYC Trek annually for years to come."
Renewed inspiration
In addition to a dose of entrepreneurship education, many students in the cohort also walked away from the trek with a renewed sense of inspiration for their own startup journey. For Christina Coleman, MBA '23, founder of ScriptLink, the trek served as a critical reminder that startups can find success anywhere.
"Each of the guest speakers had such an invaluable wealth of knowledge," she said. "You always hear about Silicon Valley being the place to go. However, it was really inspiring and encouraging to know that there are so many resources for startups in New York. I left feeling more motivated than ever."
Grace Collins is a marketing and communications coordinator for Cornell's Center for Regional Economic Advancement.