Driving Social Impact, One Bag at a Time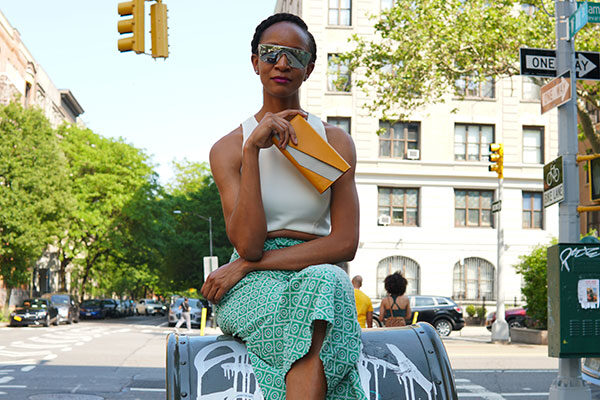 Growing up in the Galveston suburb of Texas City, Texas, Stephanie Evans '10 loved to play store with her younger brother—"having a cash register, opening up lines of credit, and saying, 'Grab anything in the house—what do you wanna buy?' That just fueled my entrepreneurial spirit," she says.
A decade after graduating from the Charles H. Dyson School of Applied Economics and Management, Evans made good on that early promise as founder of Pamoja, a leather goods brand she launched in 2020. That's on top of her ongoing role as senior digital product manager at Tapestry, where Evans leads digital transformation initiatives focused on developing brand storytelling and customer-centric experiences in the e-commerce space for three iconic fashion brands: Coach, Kate Spade, and Stewart Weitzman.
Juggling her day job and her passion project, Evans is blazing a trail in the fashion industry as a manager and entrepreneur. "I would say my brand ethos is around designing for the modern trailblazer—something that's great quality and is built to last while driving social impact, one bag at a time," Evans says. She spoke from her childhood home in Texas City, where she's based temporarily while "saving up as much money as possible" to buy a place in Los Angeles next year.
A Cornell experience that exceeded all expectations
When Evans started looking at colleges, she discovered Cornell in the pages of The African American Student's College Guide. After visiting campus during Diversity Preview Weekend, she applied early decision. "I thought that Cornell would be close to New York City—I could have done a little more research," Evans admits with a laugh.
Geography notwithstanding, her Cornell experience exceeded all expectations: In addition to gaining insights from guest lecturers in classes such as Professor Edward McLaughlin's marketing course, she traveled the world during Study Abroad Semester at Sea. And on the extracurricular front, "Drake performed during Slope Day my senior year," Evans notes, "so I didn't need to go far for entertainment."
Evans discovered her career path while interning with Procter & Gamble's customer business development division following her sophomore year at Cornell. She was working in the company's pet food division, selling Iams and Eukanuba products to national retailers, when she learned about the buyer role: "If there are people who buy pet food for Petco and PetSmart, I thought, there must be someone who buys clothes for department stores."
Mentor (and fellow Texan) Zawadi Bryant '95, MBA '97, MEng '97, president of Acute Care Pediatrics and cofounder of NightLight Pediatric Urgent Care, put Evans in touch with a cousin of hers who worked for Macys.com—and after graduating from Dyson, Evans landed her first job as a merchandise assistant (and later a merchandise planner) for the retailer's online division.
Building Pamoja, a fashion brand focused on quality and craftsmanship
The seeds for Pamoja (which means "togetherness" in Swahili) were planted when Evans was an MBA student at UCLA's Anderson School of Management, where she enrolled after four years with Macy's. She wanted to start her own business—and after ruling out apparel, she landed on leather goods as a category "where I could invest in quality and craftsmanship and deliver something great at a competitive price point."
"While I was in business school, I was starting to sketch bags," she recalls, "and I had no clue where to go after that." She found a manufacturer in Los Angeles, who told her the next step was to get technical specifications. Eventually, she would connect with a designer in London and a manufacturer in Ubrique, Spain, and Pamoja sold its first bag in August 2020.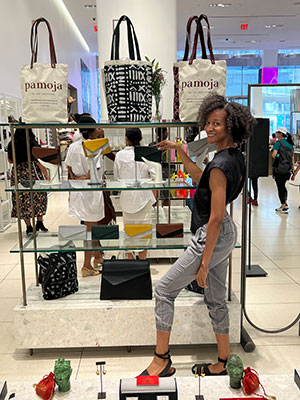 Even before she launched Pamoja, Evans began using social media to grow an audience. Pamojabags has nearly 2,400 followers on Instagram, and Evans also runs "a very small ad program" to build brand awareness. In early August, Pamoja was part of a pop-up at Nordstrom's flagship store in New York City—an opportunity that came about thanks to the Fifteen Percent Pledge, a call to action for major retailers to dedicate 15 percent of their shelf space to Black-owned brands. "It's crazy," Evans says, "because in my business goals in the month of July, I literally wrote down 'Nordstrom pop-up.'"
Addressing ESG values in product and brand development
Sustainability is a big issue facing the fashion industry, says Evans, who recently joined the Dyson Advisory Council. In "Conscious Consumption," a Cornell webcast, she says that sustainability starts at the product development phase and speaks about responsibly sourcing product materials. She chose to make Pamoja bags with leather as opposed to "vegan" leather because most of the latter are plastic, oil-based alternatives that are not biodegradable.
In thinking through how to make smart choices around supply chain decisions, she decided to cut down on packaging material. Pamoja bags arrive in a dust bag and in a "nice product box," she notes, "but what I excluded was the tissue paper that comes around the [leather] bag and dust bag. It's a nice added element but it doesn't serve a purpose."
Pamoja promotes social responsibility by donating a percentage of its proceeds to the Kujuwa Initiative in Kenya, which trains and support girls on sexual and reproductive health. "When women and girls are empowered, communities thrive in a big way," Evans says. On a separate front, she's working on launching a podcast in which she'll interview "modern trailblazers" in the hopes that their stories will inspire and empower the community around Pamoja while building more brand awareness.
Getting it right: Designing the best bags to carry what you need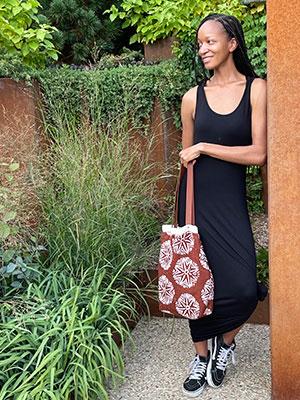 Regarding her own fashion sense, "I'm a minimalist at heart and don't own a lot of clothes," Evans says. "I have a core foundation of clothes that are designed to last for a long time." One constant to her look, of course, is her Pamoja bags. "I always carry my Pamoja tote if I need to carry more than what I basically need. But I'm always walking around with my Nia 3-in-1 Bag," she says, referring to the company's best-selling item.
Evans is also developing a convertible backpack tote that (not to get too technical here) "carries a lot of stuff," says Evans. "I use it every time I travel on a plane. I can fit two laptops in there, my Nia bag, and even one of my mini-purses." Evans gets a lot of compliments on the prototype, specially from friends who travel with her. "They keep saying, 'When are you launching that one? And I tell them, 'It takes time. I'm still working on getting it right.'"