Johnson to Honor Distinguished Alumni at Diversity Awards Ceremony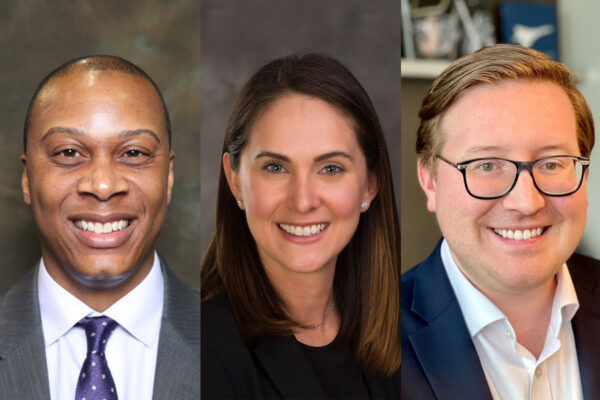 The Office of Diversity and Inclusion (ODI) and Alumni Affairs at the Samuel Curtis Johnson Graduate School of Management will celebrate three distinguished alumni, selected for their leadership excellence and community contributions, at the upcoming 12th Annual Johnson Diversity Alumni Awards ceremony, to be held Oct. 22, 2022.
The event will be led by Andrew Karolyi, Charles Field Knight Dean, Cornell SC Johnson College of Business, and Mark W. Nelson, Anne and Elmer Lindseth Dean, Samuel Curtis Johnson Graduate School of Management, and will honor three outstanding Johnson alumni: James Nixon, MBA '05, recipient of the Wilbur Parker Distinguished Alumni Award; Christine Marie Monjer, MBA '14, recipient of the Carlos R. Quintanilla Distinguished Latino/Latina Alumni Award, and Michael Beck, MBA '13, recipient of the Out in Business Distinguished Alumni Award.
"I'm so grateful that our community can join together to celebrate the achievements of these outstanding alumni," said Johnson Dean Mark Nelson. "They balance professional success with active engagement that makes a real difference in the world and serve as a shining example for all of us.  We are incredibly proud to honor them as recipients of these distinguished alumni awards."
The Wilbur Parker Distinguished Alumni Award is named for its inaugural recipient and Johnson's first African American MBA graduate, Wilbur Parker '50, MBA '50. This award recognizes African American alumni who demonstrate outstanding professional achievement and commitment to their community, and who embody Johnson's shared values of mutual respect, collaboration, integrity and trust, pride and accountability, professionalism, and investment in self.
James Nixon, MBA '05, will be presented the Wilbur Parker Award. He is a Senior Vice President of digital at the company Neighborly and is responsible for driving billions in revenue across digital marketing, customer relationship management, marketing technology, digital product, and user experience. Prior to Neighborly, Nixon served as the Vice President of Digital Product Management, Marketing Technology for Hilton and was responsible for defining the marketing technology platform strategy that personalized guest journeys and optimized spend across channels.
Nixon's professional experience started at Microsoft where he held a variety of consulting, product management, and full stack development roles. He is also a best-selling author of The Pursuit of Happiness at Work: A Practical Guide to Having a Purpose-Filled Career.
"Over my professional career, I've had the privilege of hiring and developing leaders from top institutions, including Johnson. I have also mentored and coached many diverse professionals worldwide," said Nixon. "These experiences have provided me a unique set of principles and lessons, that I made accessible through my book, to any career professional who aspires to achieve success in having a purpose-filled career."
While at Johnson, Nixon was a member of the committee that created the Wilbur Parker Award. He also served as fund-raising chair for the Black Graduate Business Association, participated in prospective student recruiting functions at Black MBA conferences, and hosted Johnson Means Business events.
Christine Marie Monjer, MBA '14, will be presented the 2022 Carlos R. Quintanilla Distinguished Latino Alumni Award which recognizes alumni for exceptional achievements and significant contributions to their professions, community, and society as a whole, for their demonstrated commitment to Johnson, and for promoting the advancement of Latinos in the business world. This award is named for its 2011 recipient, Carlos R. Quintanilla, MBA '80, who is a champion of the school's efforts in Latin America and generously supports Johnson and the development of student scholarships.
Monjer is an executive consultant focusing on business strategy and operations for sports franchises and leadership teams throughout the US. Drawing upon her previous experience operating a sports franchise, Monjer manages day-to-day operations at Gotham FC and leads business strategy for a Las Vegas-based startup sportsbook. Prior to her consulting work, Monjer was Vice President of Business Operations for the WNBA Champion Las Vegas Aces.
While at Johnson she served as HABLA President and led the effort to bring back HABLA after it was combined with LBSA. She was a Consortium Fellow, CWG Leader, marketing and held leadership roles within WMC and Marketing Association.
"As a Hispanic woman leading a franchise, I had a distinct perspective that helped shape how we showed up as an organization. Whether highlighting off court player stories, or creating community programs, we were always intentional and deeply committed to driving meaningful change throughout the minority communities in the Las Vegas valley. This experience brought together passion and purpose for me, and I've never felt as connected to championing diversity and inclusion as I did during my time in the WNBA," said Monjer.
Michael Beck, MBA '13, will be presented the third annual Out in Business Award, which recognizes alumni who have demonstrated a commitment to the LGBTQ+ community in business and society, attained outstanding professional achievement, and made a significant impact on the Cornell MBA community.
Beck is a Managing Director in Evercore's Private Funds Group, with distribution responsibilities for institutional relationships in North America. He was previously a Portfolio Manager at Evercore Wealth Management. Prior to joining Evercore in 2020, Michael was a Vice President in the Goldman Sachs Partner Family Office, where he advised financial services executives and institutional clients including family offices, foundations and endowments. He has served on the Boards of several charitable organizations, most recently as Board Vice Chair of Change Machine.
Michael currently serves on Carnegie Hall's Explorers Committee. He also champions diversity, equity and inclusion initiatives at Evercore and serves on Evercore's Global Diversity Council and is co-lead of EverProud, the firm's LGBTQ+ network. While at Johnson, Michael served as President of Out For Business and was a founding member of the Johnson Diversity Council.
Derron Borders, the Director of the Office of Diversity at Johnson, looks forward to attending the diversity awards event and is enthusiastic about his work with ODI.
"When I started working at Johnson, it was clear right away how much impact the alumni have not only had on our current and prospective students, but in their respective roles. Black, Indigenous, Latinx/Hispanic, and LGBTQ+ alumni are eager to give back and pay it forward," said Borders. "It's an honor to be a part of an organization that recognizes distinguished alumni who are doing so much to bring about change in the business world."
For more information regarding the Johnson Diversity Alumni Awards Ceremony and to register for the event, please refer to this link.