Johnson MBAs and Network Power Builders Honored on Forbes 50 Over 50 List
Linda Latsko Lockhart and Karen Derr Gilbert, both MBA '85, share their career trajectories and offer aspiring woman leaders career tips.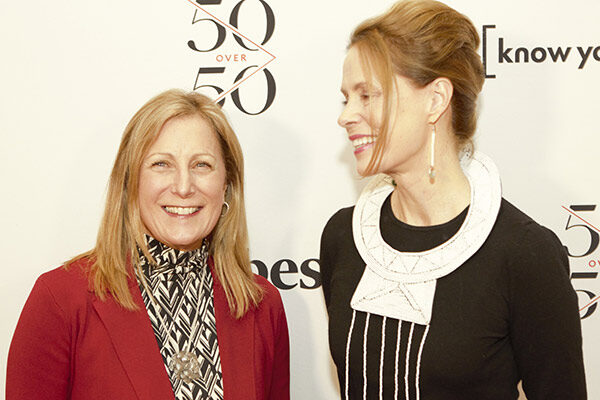 Two Johnson MBAs inspired by their knowledge and experiences, driven by their desire to optimize unique and effective approaches to achieving goals, and determined to address inequities have been named to Forbes' 50 Over 50 lists. Linda Latsko Lockhart, MBA '85, was named to the inaugural Forbes 50 Over 50 "Impact" list in 2021, and Karen Derr Gilbert, MBA '85, was named to the 2022 Forbes 50 Over 50 "Money" list.
The Forbes 50 Over 50 list, produced in partnership with Morning Joe cohost Mika Brzezinski's "Know Your Value" initiative, recognizes women over the age of 50 "who are shattering age and gender norms across every sector of business, politics, the sciences and society."
Latsko Lockhart and Derr Gilbert certainly fit the bill. They were MBA students at the Samuel Curtis Johnson Graduate School of Management when the school was housed in Malott Hall and women made up only 25 percent of the school's student body (by contrast, women constitute 39 percent of the class of 2024 in Johnson's Two-Year MBA program). They both went on to successful careers in financial services, a male-dominated industry, and continued to buck trends. Both are firm believers in the power of networks and are themselves network power builders. And both are champions for diversity and inclusion. Their achievements represent a proud legacy for Johnson MBAs.
Keys to success: transparent relationships and consistent communication
Derr Gilbert is a partner at growth equity investment firm FTV Capital, where she leads the firm's efforts in strategic business development, investor relations, fundraising, and marketing. Over her 23 years at the firm, she has played a key role in institutionalizing FTV's Global Partner Network, a network of more than 500 executives that Derr Gilbert describes as a key differentiator for FTV that has played a significant role in its ability to deliver consistently high returns. She led record-breaking fundraising campaigns for FTV—campaigns that topped out at $1.2 billion in 2020 and $2.3 billion in 2022. In addition to being named to the Forbes 50 Over 50 list, Derr Gilbert was recognized by GrowthCap on its list "The Top Women Leaders in Growth Investing of 2022."
Derr Gilbert helped spearhead FTV's approaches to diversity, equity, and inclusion (DEI) and has developed the firm's environmental, social, and governance (ESG) principles. "At the highest level, the outcomes that ESG and DEI programs strive for are very important to me," she says. "I personally feel that it is the responsibility of each of us to be a good citizen of our planet and a compassionate neighbor to all people." Noting the importance of ESG to FTV's institutional investors, she says that through working with them, she has been able "to think about and apply realistic ESG principles that make sense for the size and type of companies we invest in."
Derr Gilbert attributes her success to her ability to build honest, transparent relationships with consistent communication. "Being able to articulate the key attributes of our model and why we have had sustained success has also been critical to our ongoing success," she adds.
A path less traveled: From finance to Global Give Back Circle
Latsko Lockhart earned her undergraduate degree in fashion design and began her career as a buyer for Bloomingdale's before enrolling in Johnson's MBA program. As she puts it: "I was a bit like Reese Witherspoon's character in Legally Blonde. My close friends called me Barbie—get the picture?" she jokes. "I moved from a world of predicting fashion trends to regression analysis." She recalls being terrified about taking Finance with Harold "Hal" Bierman Jr. and "his nail-biting exams," but once the class started, she thought it was fun and "a lot like fashion design in the way it taps into the creative side of the brain." Looking back, she says, getting her MBA "was a critical move because it helped me practice something that has become one of my go-to strengths—demystifying complexity."
Latsko Lockhart's financial services career culminated in her role as the Paris-based international director of Cohen Brown Management Group, provider of performance-based behavioral change programs for the financial services industry. "Being stationed in Paris while covering business in Europe, the Middle East, and Africa allowed me to experience things that cannot be learned in movies and books," says Latsko Lockhart. "My frequent trips to Africa opened my eyes to extreme poverty; barbaric, harmful cultural practices; and the unfair marginalization of women and girls. I had a passion to help underserved women and girls. I believed other women shared my passion but did not know where to begin, so I designed, funded, and piloted the program in Kenya to prove the hypothesis that at-risk girls and young women can be economically empowered through a holistic approach to education, mentorship, access to networks, and critical life skills."
So at the pinnacle of a successful financial services career, Latsko Lockhart decided to switch gears and launch the Global Give Back Circle (GGBC), a nonprofit dedicated to enabling underserved women and girls to transition from poverty to a state of economic empowerment. "When I made the decision at 50 to stop the talk and be a part of the gender equality solution, I knew it would be impossible to continue my work in financial services at the pace I had been running," she says. "I discussed a transition plan with the partners of the firm, and they were incredibly supportive. I dove into the deep end wearing a life preserver."
Latsko Lockhart founded GGBC in Kenya in 2006, and since then, it has grown to benefit more than 6,000 girls in six countries, more than 3,000 mentors, and 33 private sector partners. GGBC alumnae include more than 600 IT and business professionals, 500 teachers, 300 nurses and health professionals, 39 engineers, 14 lawyers, 11 doctors, and a Rhodes Scholar.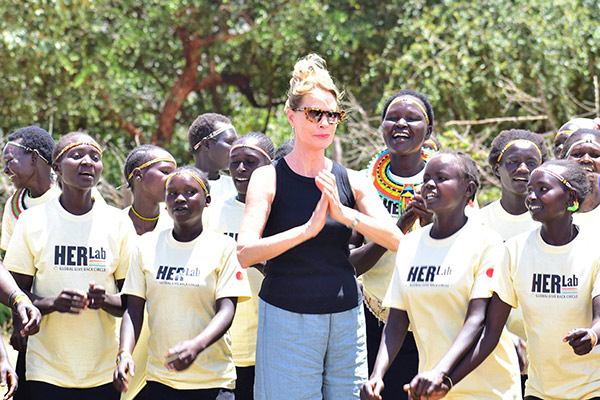 "My experience and education at Johnson validated the importance of breaking into new worlds if you want to grow," says Latsko Lockhart. "This set the stage for being fearless when it came time to move from the private sector to development work."
Champions for diversity: The power of mentoring and leading with soft skills
For Derr Gilbert, the experience of being a woman in the male-dominated financial services industry underscored the importance of championing women in the workplace through support and mentorship, while Latsko Lockhart learned to appreciate the strength and power of interpersonal communication, listening, inclusive leadership, and critical thinking.
 "Being a woman in financial services who started on Wall Street in the mid-1980s has greatly shaped my desire to support women in the workplace," says Derr Gilbert. "It was challenging to be one of four women on the equity trading desk in 1987 in the days before 'sexual harassment' was a defined term. You had to be tough, and there weren't many role models to provide advice and guidance."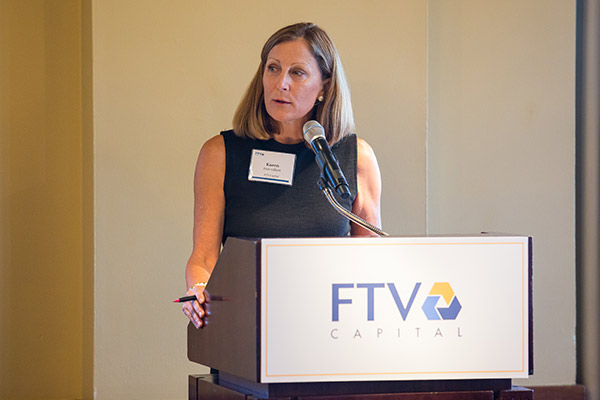 Derr Gilbert has made it a priority to try to support and mentor women over the years. "At FTV, we established a diversity, equity, and inclusion committee a year or so ago," Gilbert says. "We included colleagues from all parts of the organization, and we identified key priorities, including attracting and retaining diverse talent, building a foundation of equity in the workplace, and fostering an inclusive environment.  We have already been able to move the needle on attracting and hiring a more diverse employee base."
Latsko Lockhart recalls that when she became a senior vice president, she struggled to advance her agenda among the five male colleagues on the firm's leadership team. "Fortunately, I worked under a male CEO whom we would call a feminist today," she says. "He suggested—strongly—I attend a 'goddess training program.' 'Seriously?' I thought. But I gave it a go, and it was transformational—so much so that we now have goddess training as part of the curriculum for the girls and young women in the Global Give Back Circle."
By studying the different goddesses, Latsko Lockhart says, "you come to understand the real meaning of soft skills and realize that women have an edge in this area: listening deeply, asking thoughtful questions, nurturing relationships, not judging, and leading with empathy and compassion. When we study the traits women have by nature, we learn to value them and trust that they are our power in all aspects of life."
Network power builders
Global Give Back Circle mentors
Latsko Lockhart began building the GGBC network of mentors with her "A team" network of women who I knew could "exponentially expand our mentor network through their passion and their professional networks," she says. She called on 10 friends, including classmate Laura Ahto, MBA '85.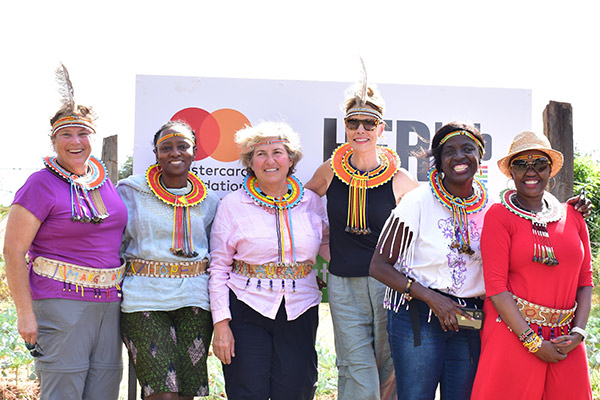 "Today, the GGBC mentors are a network unto themselves," says Latsko Lockhart. "There are mentors who work for SAP in the U.S., U.K., and South Africa, and they have come to know each other better through their mentoring journeys in GGBC."
Private sector partners like Microsoft, which contributes $25 for each hour one of its employees spends mentoring for GGBC, enable GGBC to provide scholarships in East Africa, where college tuition is $2,000 a year.  "We have over 500 Microsoft mentors," says Latsko Lockhart. "Collectively, they have sent over 800 girls to college in Kenya."
Latsko Lockhart says GGBC's sustainability model is grounded in community ownership, a "sticky" mentoring model, and private sector engagement. "With community ownership, we get the support needed at the grassroots level in Africa," she explains. "Our mentoring model is 'sticky' because most mentors walk with their mentees over the course of years. Our private sector engagement process is the secret formula for sustained funding. Mentoring is employee volunteerism at its best. The girls and young women in our program are matched with mentors from all over the globe."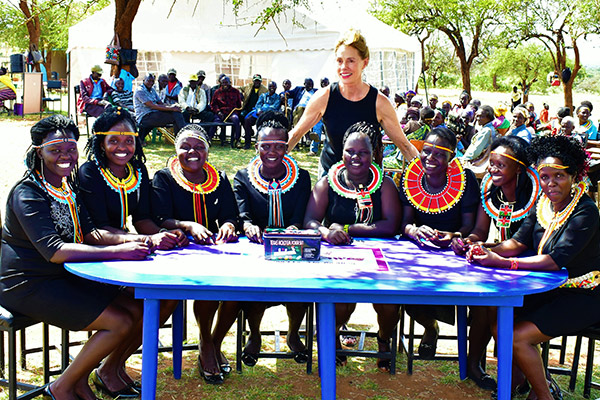 FTV's Global Partner Network
Derr Gilbert played a key role in institutionalizing FTV's Global Partner Network. "The idea for the Global Partner Network was the brainchild of our firm's founders in 1998," says Derr Gilbert. "What inspired me originally was how unique it was in the industry and how clear the benefits were to our entire model."
Derr Gilbert made it a priority to build a team and develop processes to identify and nurture strategic, mutually beneficial relationships in the financial services industry. "The result is that we have been able to consistently leverage these relationships for market themes and intelligence, diligence, and commercial introductions for our portfolio companies for nearly 25 years," she says.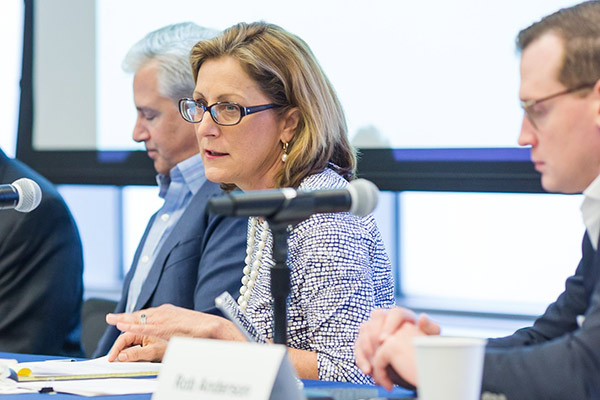 "Many other investors talk generically about their relationships," notes Derr Gilbert, "but we did the hard work to build a repeatable, institutionalized methodology for ensuring our Global Partner Network was truly distinct and drove results."
From the top: Career tips for women
Derr Gilbert and Latsko Lockhart offer women starting out in their careers these tips for career success:
Be open to the boundless possibilities that may present themselves. "Nothing I ended up doing in my career was part of my original plan, and yet I couldn't be happier with the choices I've made," says Derr Gilbert. "I never thought of myself as a risk-taker, yet most of the career choices I made were 'fliers' and came to me because I was open to new possibilities and willing to take a chance."
Network and spend time with all types of people in different careers and industries. "Find really amazing people to work with," says Derr Gilbert. "While all my FTV partners currently are men, they are smart, respectful, hardworking, and nice people. I really believe in the 'no jerks' rule—life is too short to work with people you don't respect."
Keep your big toe in the water. "If you decide to take a time-out due to other demands, such as having young children, don't disconnect entirely," says Derr Gilbert. "It is a lot harder to reenter the workforce when you have been completely out of it than if you have managed to maintain even a small role, such as part-time consulting. This helps you stay connected and relevant. I did this when my kids were young, and it led to my career at FTV."
Give back. "Giving Back is a privilege we all share, regardless of our station in life," says Latsko Lockhart. "The girls in Kenya always tell me: 'To whom much is given, much is expected.' These words are a reminder that wealth comes in many forms: skills and talents are wealth; health is wealth; wisdom is wealth; and time is wealth, too."
Worthy legacies: Do the hard things and help others
When asked, "What do you want your legacy to be?" here's how Derr Gilbert and Latsko Lockhart responded:
"I hope that I have been able to inspire a few young people to have the confidence in themselves to explore uncharted possibilities and/or to pursue their passion despite how hard the road might be," says Derr Gilbert. "I hope I have inspired my two children to do hard things. My son is a mental health therapist dealing with complex, life-threatening situations on a daily basis. My daughter wanted to be a surgeon since she was 12; she is now a doctor in her fourth year of a seven-year general surgery residency—keeping Cornell in the family, I might add, at New York-Presbyterian/Weill Cornell Medical Center in New York City. Every step of the way, it was hard, but she had the confidence in herself to follow her dream."
Latsko Lockhart would like her legacy to be as "a catalyst who played a small part in helping thousands of once-marginalized women and girls in Africa embrace their goddess within, change their trajectory, and own their brilliant legacy."