Investor and Entrepreneur Nikita Gossain Champions Small Businesses and Global Health
Celebrating 10 Under 10 honoree Nikita Gossain, MBA '20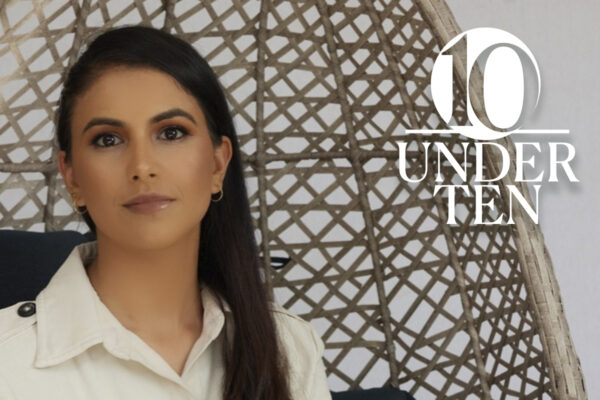 An investor in small businesses, the director of an innovative security company, and a philanthropist committed to improving global health standards, Nikita Gossain, MBA '20  (One-Year MBA), is one of the 2022 10 Under 10 Notable Alumni honored by the Johnson Recent Alumni Council (JRAC).
Gossain, a chartered financial analyst (CFA) who was a Cayuga Fund portfolio manager at Johnson, is founder and director of PPR Capital, an investment firm that purchases small businesses from retiring owners and leverages their infrastructure for innovation.  She is also director of Smokeshield, a security and training company she acquired in 2021. Smokeshield "installs advanced security systems with video analytics for actionable commercial insights and provides emergency training solutions through virtual reality," she says. Gossain was formerly an executive deal advisor at KPMG.
Gossain lives and works in her hometown of Melbourne, Australia and also spends a portion of her time in the Bahamas, where her partner lives.
Gossain's favorite quote is from Warren Buffet: "If you're in the luckiest 1 percent of humanity, you owe it to the rest of humanity to think about the other 99 percent."
Learn more about Gossain in this Q&A.
Small businesses, immense potential
As an investor and director of PPR Capital, Gossain safeguards the legacy of small businesses and uses their infrastructure for rapid expansion.
What drives your commitment and focus in your professional career?
Gossain: Over the next 20 years, millions of baby boomers will retire and look to transfer ownership of their thriving small businesses. Retirement is usually a cause for celebration, but for small business owners generating a profit between $1 million and $5 million, reaching this stage can result in having to close their business due to the scarcity of potential purchasers. I have frequently observed this throughout my career, but the aging population and accompanying surge in small businesses for sale will only worsen the situation.
The closure of these businesses has far-reaching effects for all involved: employees, customers, partners, local communities, the economy, and the owner who must say goodbye to their years of hard work and sacrifice. I am motivated to invest in small businesses as I believe they have immense potential for future prosperity, and their closure is a tragedy.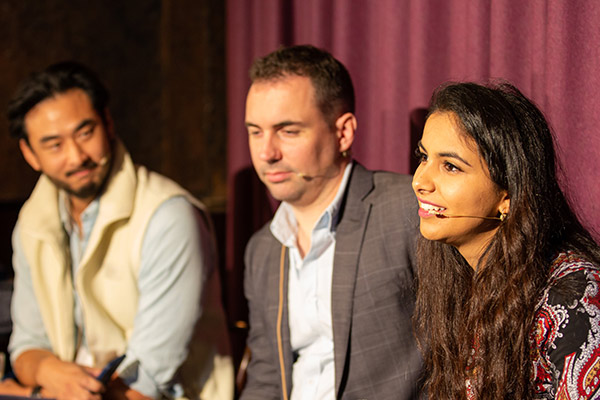 A personal commitment to improving global health
Motivated by the devastating suffering she has observed in over 50 countries, Gossain has dedicated her earnings to global health interventions.
What inspires you to dedicate your time and energy to your community service? What impact do you want to have in the world?
Gossain: I chose to focus my efforts on improving global health standards for two reasons. Firstly, the sights and stories I encountered during my travels left a lasting impact on me. Secondly, philosopher Peter Singer's powerful analogy about helping a child in distress motivated me to take action.
At present, I am utilizing my skills in mergers and acquisitions to accumulate financial resources and allocate them instead of dedicating my time to volunteering activities. I currently believe that the Malaria Consortium, Helen Keller International, and New Incentives are organizations at the forefront of providing evidence-based solutions.
Throughout my life, my aspiration has been to provide significant financial support to organizations that have a demonstrated impact. I have set a bold financial target in the high eight or nine figures, recognizing the power of challenging objectives, and the potential of financial resources to address prevalent global concerns. While I am open to regularly reevaluating and adjusting my approach to maximize my impact, currently, this strategy seems to be the most effective for me.
Cornell: A transformative experience
What does being selected for the Johnson 10 Under 10 Notable Alumni list mean to you?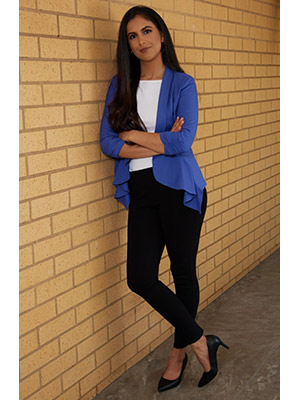 Gossain: Being a recipient of this prestigious award makes me feel grateful and energized. Attending Cornell University was a transformative experience and helped shape who I am today.
What made the experience even more memorable were the inspiring individuals I was fortunate enough to call my classmates. I have integrated their invaluable insights and wisdom into my life, both personally and professionally.
I look forward to giving back in 2023 by sharing my knowledge of entrepreneurship-through-acquisition with Cornell's entrepreneurship community and reinforcing Cornell's role in the small business acquisition ecosystem. I am always happy to discuss the obstacles I faced and my methods of overcoming them with anyone within the Cornell community, especially those who are working towards similar goals for making a difference.
What are the most valuable things you learned at Johnson that have helped you in your career?
Gossain: Coming from a finance background, the breadth of the MBA program gave me the crucial, broad-based understanding of many areas essential for business success. I acquired valuable knowledge in strategy development, change management, lean operations, product design principles, negotiation techniques, brand positioning, and digital marketing tactics. These insights have played a significant role in my work transforming and unlocking the full potential of small businesses. My passion for learning also led me to delve into a wide range of subjects, from mycology to American Indian culture to renewable energy.
Did any particular faculty member(s) influence you on your chosen career path?
Gossain: Johnson is home to some of the most esteemed educators. For me, the faculty exemplify the power that lies in dedication and commitment. Their passion for helping students reach their goals serves as a remarkable example to us. They put an immense amount of effort into each student's growth and development, allowing us to become our best selves.
The two faculty members whose classes and perspectives had the most transformative impact on me and my path were Drew Pasceralla [associate dean for MBA programs, the Rempe Wilson Distinguished Lecturer, and a senior lecturer of finance] and Peter Balnaves [lecturer of management].
Using VR to revolutionize emergency training
Describe a challenge you encountered as you built your career and how you overcame it.
Gossain: We had a bold vision at Smokeshield: revolutionizing emergency training with virtual reality (VR) solutions that were both affordable and engaging. Despite considerable initial success among early adopters, our product's sales momentum evaporated because many were hesitant to embrace the new technology, opting instead for traditional training methods rooted in half a century of familiarity.
After a couple of iterations, we were able to develop and deploy innovative strategies and tailor messaging that better enabled us to challenge our consumers' preconceptions. Despite a few bumps in the road, we remain committed to our mission of making safety training accessible for everyone, not just employees within large companies, and we are excited to see this technology's true potential realized.
What is the proudest moment of your career or of your personal life?
Gossain: Acquiring Smokeshield and entering the security sector has been very rewarding, as it gives me the opportunity to contribute to people's well-being and provides the intellectual stimulation of scaling a business with tremendous growth potential. What took me aback when I began at the company was the immense sense of pride and connection the team has to the solutions we install. Together, our goal is to expand by putting proactive security first and enjoying the camaraderie of an awesome team on the journey towards success.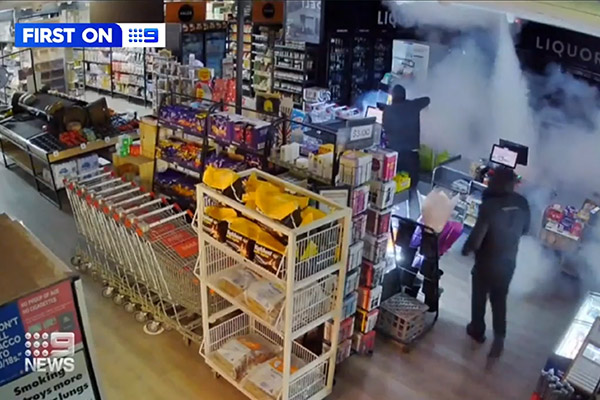 After a lengthy negotiation process, our team collaboratively pulled off an exciting win in 2022:  securing the sole Australian distribution rights for a ground-breaking, Italian-engineered fog-security solution. When activated, this proactive security product releases a heavy fog to immediately obscure visibility in any sized space. It has already gained significant popularity in Europe and is installed in Amazon's European warehouses. We believe this product will transform the security landscape for organizations and homes in Australia with its capacity to thwart theft and vandalism combined with its straightforward installation and minimal upkeep.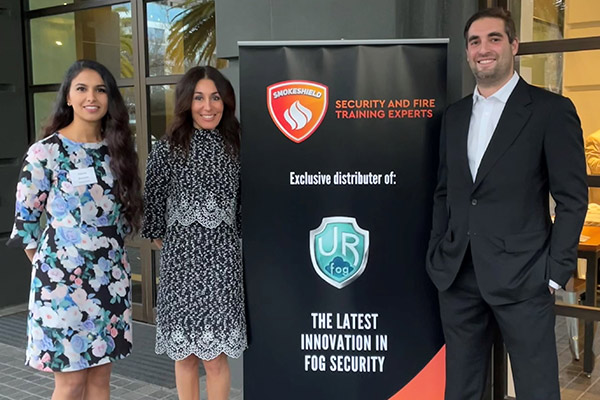 A love for learning, natural beauty, and exhilarating experiences
What do you do to recharge?
Gossain: It's easy to feel constantly inspired when you're around the best team in the world. Every member of the Smokeshield team is remarkable and plays a crucial role in shaping what we're building. I must commend CEO Natalie Vogel for her exceptional leadership in establishing a highly innovative company that embodies the highest standards of ethics and integrity.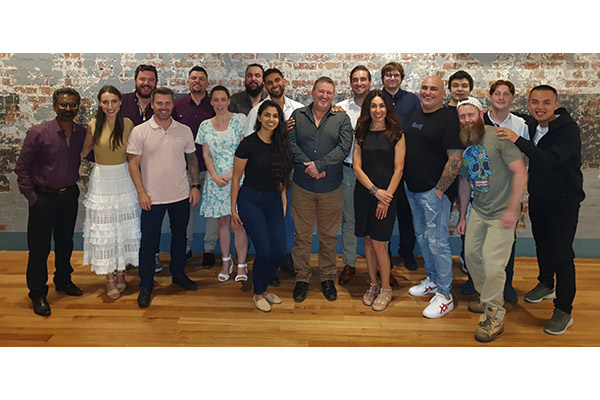 When I'm not working, I'm spending time with family or travelling around the world attending interesting conferences and enriching my perspective within and beyond my professional sphere.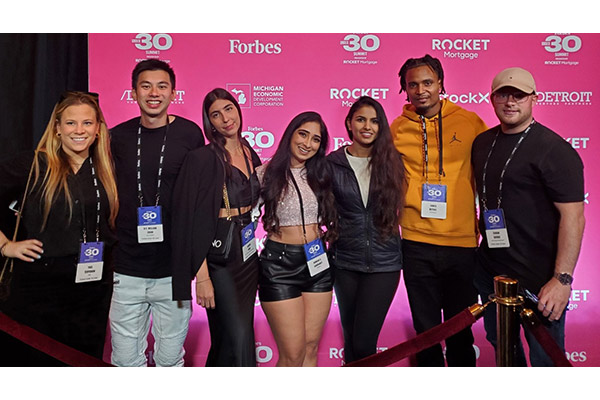 My attention is currently focused on artificial intelligence and the potential it has to shape our lives, for better and for worse, in the years ahead. I am a thrill-seeker and relish the chance to explore nature's breathtaking landscapes through activities like windsurfing, paragliding, and canyoning. This year, I've got my sights on capturing the beauty of Antarctica while also documenting evidence that highlights the fragility of our planet.
A tip for MBA students: Invest in yourself
What do you wish you'd known as a Johnson student and what advice would you give to Johnson students today?
Gossain: Being a Johnson student is not just a path to professional advancement; it's a unique opportunity to invest in yourself and experience true personal growth. As Charlie Munger says: "Knowledge is an asset that compounds over time, so keep learning and you will keep rising."