Cornell Hospitality Icon and Innovator Awards Commend Industry Leaders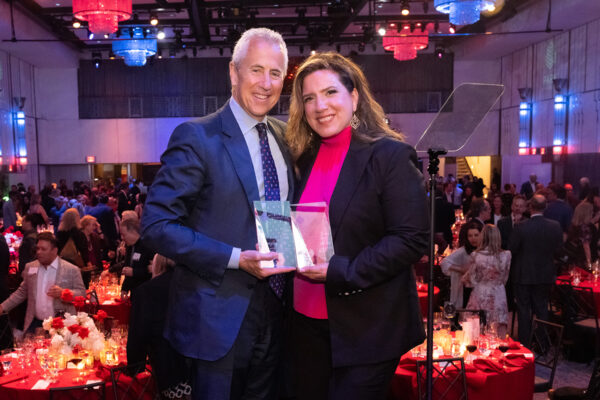 Laughter filled the room as Randy Garutti '97, CEO of Shake Shack, and Will Guidara '01, restaurateur and author of Unreasonable Hospitality, kicked off the 14th Annual Cornell Hospitality Icon and Innovator Awards earlier this month, held at the Ziegfeld Ballroom in New York City.
The two emcees joked about their shared experiences at Cornell as they welcomed the audience, which had gathered to celebrate Mia Kyricos, MMH '03, the recipient of the Cornell Hospitality Innovator of the Industry Award, and Danny Meyer, the recipient of the Cornell Hospitality Icon of the Industry Award. The Icon and Innovator awards are selected by the Leland C. and Mary M. Pillsbury Institute for Hospitality Entrepreneurship (PIHE) and the Cornell Peter and Stephanie Nolan School of Hotel Administration.
Following a warm welcome from Andrew Karolyi, Charles Field Knight Dean of the Cornell SC Johnson College of Business, and Kate Walsh, dean of the Nolan Hotel School, the keynote speakers celebrated the honorees with moving tributes.
The love-centric Innovator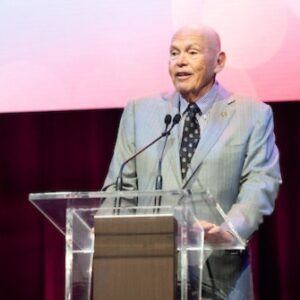 Lee Pillsbury '69 took the stage first to share his appreciation for the work that Cornell alumni do to strengthen the school's reputation, especially standout individuals like Cornell Hospitality Innovator of the Industry Award honoree Kyricos. The award honors extraordinary leaders who have created, built, or sustained contemporary, market-leading innovation in hospitality and travel enterprises, and Kyricos' career exemplifies these qualities.
In the world of hospitality and wellness, there are disruptors and game-changers—but then there are innovators, like Kyricos, who lead with their hearts. Her approach to innovation is centered around love, authenticity, and a deep understanding of the connection between business success and human well-being.
From humble beginnings as a dishwasher to leading prestigious spa brands at Starwood Hotels, Kyricos' career trajectory has been nothing short of extraordinary. Her commitment to wellness and integrated health led her to help reposition Westin into one of the hotel industry's first wellness-focused brands and to pioneer the concept of workplace wellness, bringing it to companies like Google, LinkedIn, and Walgreens. Kyricos' desire to legitimize the business of wellness and educate business leaders led her to establish industry organizations and shape the global wellness economy.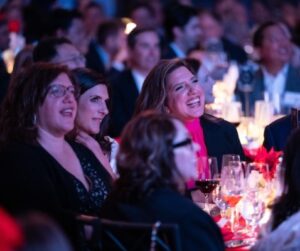 "Mia has championed data-driven research, emphasized authenticity, and helped elevate the role of spas in the industry. Her commitment to Cornell University and her involvement in promoting the institution globally have also played a significant role in positioning it as a leader in hospitality education. She stands as an exemplary figure in the hospitality and wellness industries, not only for her professional achievements but also for the genuine care and love she brings to her work," said Susie Ellis, chair and CEO of the Global Wellness Institute, as she welcomed Kyricos to the stage to accept her award.
In her acceptance speech, Kyricos thanked the various individuals and organizations that have shaped her career. She also emphasized the importance of injecting the key principles of hospitality into all areas of work and business.
"When I talk about the power of hospitality and my innate desire to serve, that should apply to all businesses, not just hotels and restaurants," she said. "There's a host of smart, mission-filled people around the globe that I get to represent tonight: people who've worked hard to be considered innovative business leaders amongst their peers in sales, marketing, finance, HR, operations; people who, in this post-pandemic world, should be invited as chief wellbeing officers to sit on your boards, become essential members of your communities, your healthcare systems, your school committees, and governments; people who not only want to make the world a better place, but actually also know how to do so."
Igniting a fire and creating a lasting legacy
In the fast-paced world of hospitality, few individuals leave a lasting impact on both their industry and colleagues the way restaurateur Meyer has. Guidara and Garutti, who have worked closely with Meyer at Union Square Hospitality Group (USHG), returned to the stage to present him with the Cornell Hospitality Icon of the Industry Award. The award honors the lifetime achievements of hospitality visionaries for their contributions that have transformed the global industry and society.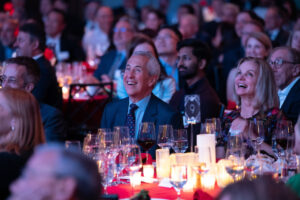 Together, Guidara and Garutti offered a glimpse into the remarkable qualities that make Meyer a true icon. Guidara recalled the first time he attended USHG's new hire meeting. It was here that Meyer showcased his commitment to fostering a strong company culture. Despite his busy schedule, Meyer personally dedicated an hour to welcoming and connecting with each new employee. He emphasized the importance of understanding the company's values and purpose, going beyond mere training and service. By giving equal importance to listening and getting to know his team, Meyer demonstrated the power of relationships and genuine connections.
As Garutti reflected on his 24-year journey alongside Meyer, he acknowledged the vast number of lives Meyer has touched. From the countless individuals he has hired and mentored to the establishment of exceptional restaurants, his generosity and passion have had a ripple effect throughout the industry. His teachings on leadership, making people feel valued, and shining a light on team successes rather than failures have become cornerstones in the lives of those he has influenced.
"One of the things that I always call out is he taught us about fire. He taught us how to use our fire. And how when the team succeeds, we shine a light on them. And when the team fails, we shine a light on ourselves as leaders. That is leadership," Garutti said.
In his acceptance speech, Meyer acknowledged the lasting impact of his work and the rewarding feeling it brings. He also shared an intimate detail that few may know about him. Though he is a confident, world-renowned leader, he often experienced imposter syndrome and the need to continue proving himself.
"I always think, 'Whatever I did last time, there was so much luck involved, that I have to do it again to make sure it wasn't a fluke,'" he explained. He humorously described his business strategy as "it seemed like a good idea at the time," highlighting the opening of Union Square Café, Gramercy Tavern, 11 Madison Park, Blue Smoke and Jazz Standard, The Modern, and Shake Shack.
In closing, Meyer reflected on the importance of hospitality and how it can positively impact people's lives. Well into his career, he still aspires to create essential experiences and make a difference for individuals beyond just opening another restaurant.
"What can we do that actually makes a difference for people? Not just another restaurant, not just another boss, not just another job, but what can we do where someone says, 'My life got better because of that leader. My life got better because that restaurant opened in my neighborhood,'" he said. "That is the outcome of hospitality. And that's something that we strive for."
Photos by Diane Bondareff