Meet Vishal Gaur, the Johnson School's New Dean

Vishal Gaur, Emerson Professor of Manufacturing Management and professor of operations, technology, and information management, was appointed the Anne and Elmer Lindseth Dean of the Samuel Curtis Johnson Graduate School of Management. He took office July 1, succeeding Mark W. Nelson.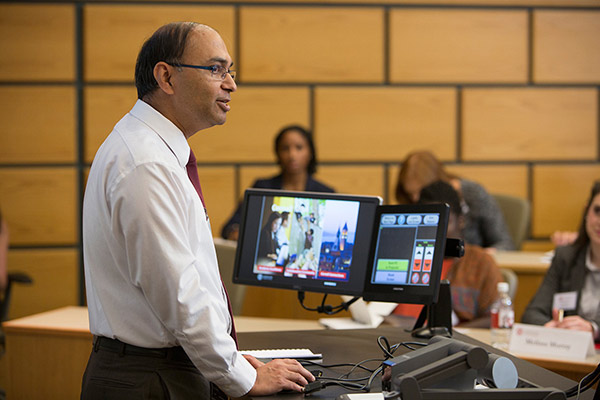 Gaur, who joined the Johnson School as an associate professor in 2007, had served in a leadership role at the Johnson School before, when he was associate dean for MBA programs, 2014-19, and rolled out several new initiatives and programs. In 2014, he took the lead in implementing a new curriculum for residential Two-Year MBA candidates the faculty had voted on that emphasized leadership, data analytics, and critical thinking skills. In 2017, he launched the digital technology immersion, in which MBA candidates and students earning their Master of Professional Studies (MPS) in data science or applied statistics develop skills in coding, databases, and advanced analytics and learn to leverage them to tackle business challenges in high-technology companies. That same year, he oversaw the launch of intensives in finance technology and digital marketing, offered on the Cornell Tech campus in New York City to both Ithaca-based Two-Year MBA and Johnson Cornell Tech MBA students.
After stepping down as associate dean, he created Digital Business and Retail Operations, a popular course based on his research, and in 2021, Gaur created the Master of Science in Business Analytics, the Johnson School's first program focused on providing working professionals a hands-on opportunity to learn about data analytics tools for optimizing business decisions.
Gaur earned his bachelor's degree in computer science and engineering at the Indian Institute of Technology Delhi and his MBA at the Indian Institute of Management Ahmedabad. He continued his studies at the University of Pennsylvania's Wharton School, where he earned his PhD in operations and information management. After that, he served as an assistant professor at New York University's Stern School of Business and worked part-time for a startup venture in supply chain optimization. Later, he was a visiting associate professor at Harvard Business School. A leading expert in data science and supply chain optimization, he keeps abreast of industry challenges and trends as an advisor to several businesses.
Analyzing data sets to construct a broader picture that yields actionable information is central to a lot of Gaur's research, and he has instilled the same curiosity in his Johnson students. He has won many teaching awards throughout his career at the Johnson School, including the Core Faculty Award, which he won four times; the Class of 1992 Apple Award for Excellence in Teaching; the Cornell Tsinghua Dual Degree Finance MBA Class of 2021 Gravitas Award; and the Stephen Russell '60, MBA '61 Distinguished Teaching Award.
In a recent interview, Gaur responded to questions about himself as a leader, scholar, and teacher; his goals for the Johnson School going forward; and his own life.
Q. What interests you about this deanship at this point in time? What's compelling about it?
I am really excited for our degree programs at Johnson and in the SC Johnson College of Business. One is that I have been teaching and doing research at the school for a long time, so I am very interested in giving back to the school by working with my colleagues, students, and alumni to think about our MBA education and programs. Also, AI and analytics are becoming a big part of what we do, and I have research and teaching expertise in related areas. So I am interested in exploring how these technologies are transforming MBA education for the future. I am also keenly interested in online learning after the successful launch of our MS in Business Analytics program. For these reasons, I believe I can bring useful skills and relationships to the school deanship.
Q. You served as Johnson's associate dean for MBA programs, 2014-19. Did the leadership experience you gained then give you insights into leading the Johnson School as dean?
Absolutely, yes. I found that role very fulfilling; that is a part of why I became interested in this role when Dean Nelson announced that he planned to step down. In my role as associate dean, I was able to work together with staff and faculty to create new curriculum; we created the new digital technology immersion and established a collaboration with Cornell Tech. Working together collectively as a team to create something new is a key leadership experience that is often very useful.
As faculty members, we are individual performers; both research and teaching are largely solitary activities. The teamwork aspect of running an MBA program was different. I liked it, and I wanted to get into it once more.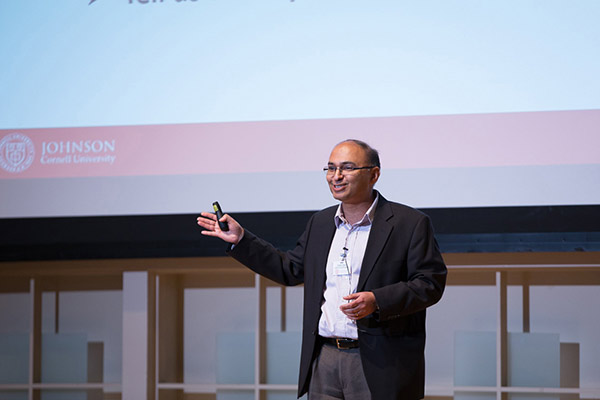 Q. What drives your dedication to continually assess and innovate business education?
The MBA landscape is changing; what students need today is different from what they needed before. And a lot of input comes our way: We have a really strong community. We listen to feedback we get from students, and alumni tell us how their careers are advancing and what's important to them. That input and all of the resources at our disposal put us in a good position to innovate.
For example, the impetus for the digital technology immersion came from MBA students in the High Tech Club who saw the need for a stronger digital curriculum. The faculty in Computing and Information Science were also interested in collaborating because their students and graduates often take classes at the Johnson School. And personally, I can understand both languages because I have a computer science education as well as an MBA. So that enabled us to create something new.
We have always been an innovative school, and it's good to continue that tradition of creating new things. Think about our immersion learning approach, the Cornell Tech MBA—the first tech-focused MBA in the country—or the distance-learning Executive MBA Americas program. We are in a competitive market, and we have to continually assess our business education and keep innovating.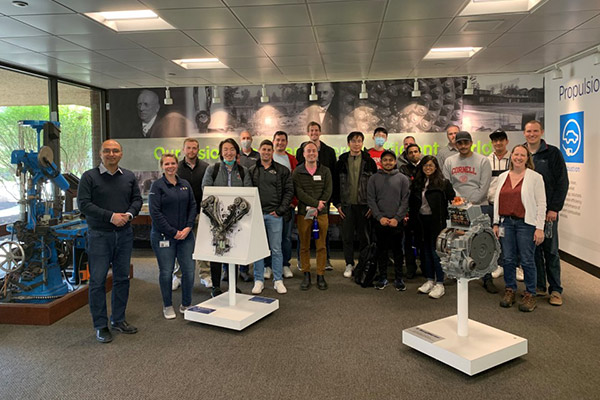 In 2021, you created the Master of Science in Business Analytics. What inspired you to launch that program?
The inspiration for the MSBA came from talking to industry experts and alumni, and the mandate to consider developing this program came from Mark Nelson. After Mark asked me to explore the possibility of creating the program in December 2019, I looked at what other business schools were offering in this area. Then I spoke with industry leaders and confirmed that they were feeling a need for business analytics professionals. There was a clear need for a program like this.
I had personally experienced this challenge when I worked part-time for a startup venture in supply chain optimization for about four or five years after finishing my PhD. At that time, I found it was very hard to come by people who could do analytics and also apply an intelligent business perspective, then distill results in a clear presentation to business professionals. You either found engineers or businesspeople; it was hard to find someone who could combine the two skills to create good solutions. When I saw what other schools were offering, it was really clear there was an opportunity to create a new program in this area. And eCornell [Cornell University's external education unit] has been a great partner with us in creating an online degree program.
Did the pandemic experience influence the decision to offer this new program online in collaboration with eCornell?
We felt the need for online education before the pandemic and began exploring the launch of this program in December 2019. However, the pandemic, which began in March 2020, increased enthusiasm for this program, which the Johnson School faculty approved in May 2020.
Also, there is a large demand from working professionals who do not wish to leave their jobs and are interested in getting a strong, practically relevant business analytics education. That market is expected to grow.
In the article announcing your selection as the Johnson School's new dean, you said: "I'm really excited to work towards the mission of the school." Could you talk about that mission and why it resonates with you?
The Johnson School's mission is threefold: to instill academic excellence, to educate future leaders, and to create impact through our values and thought leadership. Our method of delivery has unique aspects because we are very community-oriented and collaborative, and we emphasize practice-based learning.
This resonates with me partly because of my experience as associate dean, when I saw how our program impacts our students, and partly because of my own experience, having interacted closely with alumni, both through research and in the classroom.
For instance, several of my research projects have been inspired by or directly use data obtained from alumni—cutting-edge research I also bring to my classroom and share with students. So my own research and teaching have benefited from our mission and culture.
In another example, one of our alums reached out during the pandemic, asking for help in supply chain optimization. He asked, "Can we work together?" I assigned this project to a current MBA student, and we worked together, created a solution for the company, and wrote a case study. I now use that case study in my classroom to discuss how supply chain shortages during the pandemic impacted small and medium-size companies in the country.
So I've seen research, teaching, and connections with alumni come together to create something really strong and new, which resonates with me as a part of Johnson's mission.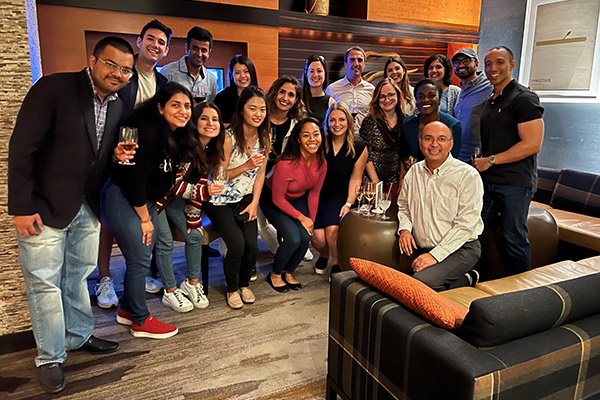 What are your top priorities and goals for the Johnson School?
Advancing our curriculum and introducing curricular innovations in our programs is a top priority. That is what we do at Johnson School—continually refresh our content to train our students with the most up-to-date material and business thinking. We are starting a new curriculum review that is timely because of the changes happening in the post-COVID world.
Growing enrollment and investing in the quality of our programs is a second priority. We have leading program offerings in the pre-MBA market, in the MBA market, and in the executive MBA market. We offer specialized master's programs for the pre-MBAs; the MSBA program is an example of that. Then, of course, we have the full-time MBA programs here in Ithaca and on the Cornell Tech campus. And we have very successful executive MBA programs—the EMBA Americas, EMBA Metro New York, and EMBA/MS in Healthcare Leadership.
The third priority is working together in the college with faculty, centers and institutes, and many events and activities. For example, we now have access not just to Johnson School alumni, but to alumni from the Charles H. Dyson School of Applied Economics and Management and the Cornell Peter and Stephanie Nolan School of Hotel Administration. That opens up the world we can tap into for the benefit of our students. We have been really successful in hiring new faculty since the [founding] of the college because faculty are attracted to working in a larger group with more resources. We also have the opportunity to draw on leading Dyson School and Nolan School faculty to teach some of our courses.
Your research focuses on data-driven analysis of problems in supply chains, retailing, e-commerce, and marketplace operations, and current projects involve the reduction of food waste and supply chain risk. Why are these topics important to you?
In operations management, we mostly work with optimization problems and do mathematical analysis. However, the approach I have taken in my research is to utilize the increasing amounts of data available from industry to analyze and draw insight from. I've found that using real data is like basic science, where you're observing how companies do things, and you can make discoveries that one may not have imagined otherwise. So progressively, over my 25 or so years as an academic, I have found that data reveals patterns completely new to the field. And I have been able to publish meaningful and impactful papers by doing that.
For example, after the dot-com bust and 9/11, the stock market went down, and there were many news reports about retailers going bankrupt. A colleague and I set out to research that, asking: "How are the sales of retailers affected by market risk? Can we use that information to improve forecasting of demand or to provide methods by which retailers can hedge their risk?" We wrote a series of papers on that topic that became really impactful.
I also found interesting patterns in food waste data. Food waste typically occurs either at the retailers or at people's homes, but the reason for that wasted food can be anywhere in the supply chain. For example, I may have bought a carton of milk that only has five days remaining instead of 15 days because it was slow in going through an inefficient supply chain. So we were able to obtain data from the entire supply chain and study that problem as it exists in the practical world.
The ability to make new discoveries in data and to find new and impactful phenomena attracted me to this research, and it also translates well into the classroom. I created a new course directly based on my research, Digital Business and Retail Operations, and it has been very popular.
You are an award-winning teacher, recognized many times by the Johnson community. How will you bring your teaching approach to your new role as dean?
I try to make my teaching practically relevant and based on real-life business data. I am excited to support these elements in our teaching. Also, because of having taught for so many years, I have a very good relationship with many alumni who have graduated from the school over the last 15 years or so. That's a big advantage now, in this new role, of having been a teacher. If we need some industry information or advice, I can reach out to any one of them, and I know they will respond.
How would you characterize your leadership style?
My leadership style is about consensus building. We have outstanding people among our staff who do amazing things, and I want to enable them, to give them the space to develop initiatives and to experiment. At the same time, we need to have priorities, and it's also my job to create and communicate specific priorities within which we work.
What is the absolute best, most satisfying thing about the work you do?
I would say watching the journeys of our alumni who graduate from here and do amazing, interesting things. That is the most satisfying thing—when we make a difference and we see that difference in action. For example, an alum called me about a year back and said he made partner in his consulting company, and I congratulated him. Then, a few months later, he called again, saying, "I left my job to start a company." That is now his journey, which is fulfilling to see.
That is the most satisfying thing apart from writing my own research papers, which is a lot of fun.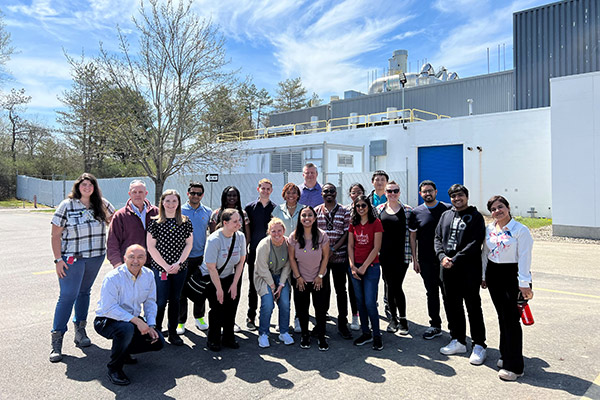 What do you do to recharge?
I enjoy Ithaca—running, cycling, and playing board games with my family. I have a daughter who is a junior at Cornell and a son in Ithaca High School. My wife and I spend most of our free time with our kids. Ithaca is just a lovely place to do different things; we like hiking and cycling together a lot. And we like to eat ice cream, of course. My favorites are Cornell Dairy or Cayuga Creamery or Sweet Melissa.
I'm also a kind of local history buff—not political history, but the history of development. I find it interesting, for example, that Ithaca had a passenger train until 1962. My wife volunteered at the History Center in Tompkins County, so she told me stories about how Ithaca was a movie capital and had an airplane factory where the Hangar Theatre is now. I enjoy the history of manufacturing and factories because my area of work is operations. In fact, I like visiting factories. Sometimes, even when we are on vacation, we will find a factory, and I'll say, "Let's go in here and see if they offer tours."
Who has had the biggest impact on your life?
My parents have had the biggest impact by being role models. My father was self-educated, but he became a nuclear scientist and an educator himself. Both my parents are very hardworking and quite intellectual. They grew up in small villages in Northern India, and I did, too. I was the first person from my small town to go to an Indian Institute of Technology, which was a shocker.
My wife has had a big impact by being a partner in my academic journey. She gave up her job to stay at home and bring up the kids while I was doing my research, writing, and teaching. People in the field, my colleagues, have had a big impact on me as well.
You have been at the Johnson School for 16 years and made Ithaca your home. What keeps you here?
My colleagues at Johnson are leaders in their fields, and I've been lucky to be here and work alongside them. Reflecting back, I have been able to realize my professional ambitions, to do impactful research, and teach new topics in the classroom. Personally, our group of friends in Ithaca has grown over time. Cornell is a big part of it, and the Johnson School and my colleagues are a huge part of it.
What is most appealing to you about Cornell?
The most appealing to me is the interdisciplinary nature of Cornell—the ability to easily interact with people in different disciplines, learn about different areas, and create new collaborations. It keeps one intellectually stimulated and makes it easier to be innovative.