"3 C's" to ensure amazing Americas residential sessions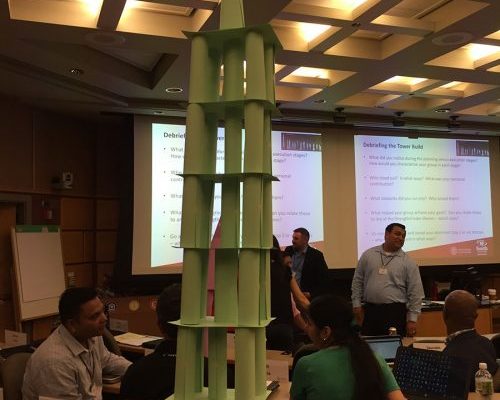 With summer on the horizon, memories are flooding back of my first residential session at the beginning of my studies in the Executive MBA Americas program at the Samuel Curtis Johnson Graduate School of Management and the Smith School of Business. The excitement was palpable: new program, new friends, and new experiences all on the soil of two world-renowned campuses, Cornell University and Queen's University. The memories are unforgettable. The feeling of being surrounded by the best and brightest students on their journey to becoming future business magnates was electrifying.
I didn't know what to expect; however, I do know that the experience exceeded whatever expectations I had. If you are like me and wondering what is in store for you during the Americas program residential sessions, and how to make the most of this component of the MBA program, I have shared my "3 C's" for elevating your residential session.
1. Courage
Residential sessions, three in total, comprise close to 40 percent of class time in the Americas program. The sessions vary from seven to 15 days in length and are split between the Cornell University campus in Ithaca, New York, and the Queen's University campus in Kingston, Ontario, Canada. Residential sessions are powerful opportunities that provide a platform for faculty and students to build meaningful relationships. The sessions allow for comprehensive and intensive in-class sessions for students who have been brought together from across the Americas. It takes bravery and tenacity to enter an MBA program. The key is to bring this courage to the residential sessions in order to make the most of your experience with the stellar faculty and students.
Being outgoing and making new connections with classmates can lead to your success in group assignments and projects. It also jumpstarts meaningful, lifelong friendships. Introducing yourself to the accessible professors and not being afraid to raise your hand in class are the first steps to a bold beginning in your MBA journey. First impressions are important, so bring your confidence game to the plate, and you are sure not to strike out. The sheer fact that you are making steps to embark on your MBA shows that you have the courage to reach for your dreams.
2. Confidence
An MBA from Cornell and Queen's University equips you with the tools to be confident when facing complex challenges and addressing novel initiatives in business. At the residential sessions, it is important to use your confidence in a constructive way by feeling encouraged to participate in class discussions, debate constructively, and challenge opinions respectfully. Know that even if you don't feel confident at first, there are supportive faculty, teaching assistants, and classmates to encourage you and assist in your endeavors.
Keep in mind you and your fellow classmates are the future purveyors of innovative business ideas and leadership initiatives; thus, there is no time like the present to practice using your confidence, especially when you are in such a rich learning environment. Express your ideas, share your thoughts, and be an active listener and contributor in group sessions. Be confident in your path, and you will find that your MBA experience will develop into a rich and exhilarating experience.
3. Creativity
Learning on two beautiful campuses will definitely fuel your creative juices, so make sure to harness your energy into making your experience an unforgettable one. While on the Cornell campus, classes are held at Sage Hall and the Statler Hotel. You will also stay at the Statler, an on-campus hotel managed by Cornell's internationally known Nolan School of Hotel Administration, which one of Johnson's sister schools as part of the Cornell SC Johnson College of Business. While on the Queen's campus, you will attend classes and stay at the Donald Gordon Conference Centre, a full-service facility managed by Smith School of Business. Be creative in how you learn and build your social intelligence–talk to professors after class or during off-times, sit in different areas of the lecture hall, discover new parts of the campus, and get involved with activities that excite you such as homecoming or other campus special clubs and events.
Utilizing the frameworks and case studies during the residential sessions is of the utmost importance so you can find new, innovative ways to lead and transform business. The approach of testing, learning, and refining without fear is creativity at the forefront. Remember you have the license to be creative, and it will be expected from you once you embark from the residential session, so utilize it.
I remember walking around the campus at Cornell and Queen's for the first time in the summer of 2016. I took in the views, took a deep breath, and was so glad that I had made this monumental decision to do my MBA at these top-notch schools. This investment in my future is absolutely worth it.