Can I keep working while in the Americas program?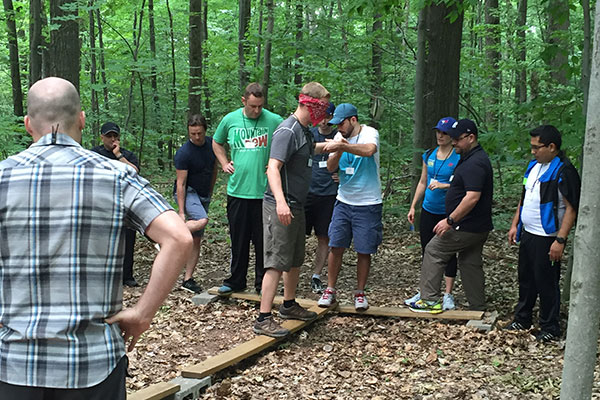 With the summer in full swing, ice cream cones melting, and fireworks bursting, I am taken back to the Canada Day and 4th of July weekend when I started pursuing my MBA in the Executive MBA Americas program at Cornell and Queen's universities. The first residency session was an exceptional experience that is banked in my memories.
Meeting new friends, learning new concepts, and gaining novel experiences were at the forefront of my mind; however, I also had many concerns. Will I be able to keep up with the pace of school? Will I make a good group of friends? The most concerning question of all was: will I be able to balance a full-time job while studying for my MBA? The answer is a big, resounding YES! I have compiled three key ways—the three "I's"—to help executive MBA students succeed in balancing work and MBA studies.
#1. Integrate
The key to staying on track and not becoming overwhelmed with working and studying simultaneously is to learn to apply your knowledge in your daily work. In meetings I try to use communication skills that are instilled in class. While engaging in team projects, I apply negotiation tools taught in the program. Most importantly, for my individual management consulting project, I investigated a breakthrough product at my company.
I try to ensure that I am leveraging the knowledge gained from the MBA curriculum at work, so I don't feel like work and study are two separate aspects of my life, but, instead, one continuum that blend seamlessly with each other. Another useful strategy is to talk to your superiors at work and get their take on how you can plan to use your MBA in the future at your workplace. Having an understanding and supportive leadership team is also key to my success at balancing work and school. Career planning is an ongoing process, and it's never too early to start!
#2. Inspire
As an MBA student, I have a responsibility to mentor and share my experience with fellow colleagues and classmates. Encouraging others to reach further in their careers can add lots of meaning and happiness to your own career. I have a group of colleagues that are in the earlier phases of their careers, and being able to lead them through their career and life goals is definitely a rewarding part of studying my MBA. Keep in mind, it's easier to try to find an equal balance between work and school when you are inspired by your own future career goals and keeping your eye on the prize. Inspiring others is a great way to stay motivated and to keep your mind on your primary goals of learning how to manage better and become a stellar leader with your MBA.
#3. Innovate
Balancing work and school can be challenging; however, creating environments open to improvement and innovation are extremely valuable in excelling in your MBA. For instance, I have created new initiatives at work that weave concepts from school into their foundation. Using core theories and innovation, I have analyzed a product at my company from many unique angles. In doing so, I have learned so much more about myself and my role at my company. It also opened the doors to areas we can improve, and, in turn, fuel the company's mission. Additionally, I have developed relationships with leaders and mentors at my workplace by going the extra mile and exercising inventive ideas. The main tenet is that studying and working at the same time can help you build capacity for innovation and propel you to flourish both in work and life. Enjoy the balancing game and trust that you will make it through!
Nearing the home stretch in my MBA program, I am still learning how to balance life, work, and school, but I know one thing for sure: I'm so glad that I am on the road to mastering the art of attaining this harmony.