Why Johnson? 5 reasons why I chose the Cornell Executive MBA Americas program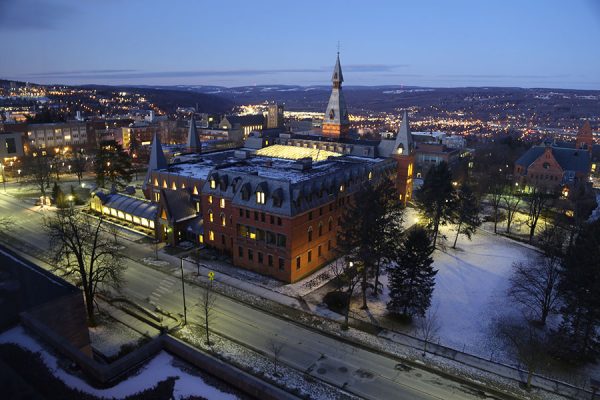 With spring arriving and nature boasting fresh and fearless change, I realized that my incredible MBA experience is really shaping me, building my capacity, and transforming me into a learner with endless potential for personal growth. The Executive MBA Americas program is proving to endow me with powerful tools to lead in business. A new season comes with new opportunities.
I've been seeing the notifications for Information Sessions for prospective MBA students and it brings me back to the time when I made a life-changing decision. I intend to share my top reasons for choosing the Executive MBA Americas program for my MBA journey, in the hopes that this inspires students to pursue their dreams and take the first step in their own life-changing expedition.
1. Academic Distinction Times Two
The Samuel Curtis Johnson Graduate School of Management at Cornell University and the Smith School of Business at Queen's University both have excellent reputations. Graduates from Executive MBA Americas program receive a dual degree from both of these institutions and benefit from the prestige of learning at two top-tier schools. I found this to be a huge deciding factor when I began pursuing higher education. I know that when I leverage my MBA in the workforce, my degrees from both schools will be recognized worldwide, and my resume will stand out because I'll have an MBA from an Ivy League school in the United States as well as from an esteemed Canadian school.
2. World-Class Faculty
The faculty at Johnson and the Smith School of Business is composed of some of the brightest and most innovative minds that advance students' understanding of business and management. My professors have played key roles in motivating me to improve myself not only in the classroom, but also in my day-to-day life.
My professors also promise an international perspective and have always been accessible and open to offering academic advice, career direction, and life guidance. They are engaging during our in-class sessions and play a huge role in encouraging our class to reach new heights in our projects and initiatives. The takeaway message is that the two institutions that comprise the Americas program have professors that care. They care about their students and they instill creativity, innovation, and collaboration.
3. A Modern Learning Environment
The Executive MBA Americas program has really captured the essence of learning in today's society. For busy working professionals it offers enough flexibility to balance full-time work, personal life, and family, as well as ensuring a solid academic experience that will provide a long-lasting impact. Classes take place every other weekend where you'll meet with your local team at a boardroom location while connected to students and faculty across the Americas via real-time video conferencing. There are also on-campus residential sessions in Ithaca, NY and Kingston, Ontario where you'll meet with larger groups of students from the Americas program.
The Executive MBA Americas program integrates experiential learning with hands-on learning with new venture opportunities. Bonding with my boardroom group in Toronto, Ontario during the weekends allows me to immerse myself in a collaborative community and work on my team-building skills. Then, creating valuable friendships during the residency sessions in the heart of the largest Ivy League school and on the beautiful campus of Queen's University with my international classmates has allowed me to create a strong, supportive network all across the globe. These are invaluable aspects of an MBA program that I will carry with me long after graduation.
4. Diverse Class Profiles
Johnson is proud of its legacy as the first top-tier business school to establish an office dedicated to supporting students from underrepresented groups. Based in Ithaca, the Office of Diversity and Inclusion supports the next generation of women, minority, and LGBTQ business leaders. Johnson and Cornell University emphasize the diversity of global business and help students feel ready to be global leaders regardless of their differences. The Executive MBA Americas Class of 2018 is diverse in their personal backgrounds, industry profiles, and geographic location. The bottom line is Cornell encourages students to leverage their unique backgrounds as sources of strength and innovation and embraces diversity on campus and in the professional world.
I've felt an overwhelming sense of belonging when stepping onto the campuses at Cornell and Queen's. It's a feeling you just can't beat when you know your school supports you for all that you are. It is also so important to me that my soon-to-be alma maters are recognized as being pioneers in inclusivity and diversity.
5. Becoming Part of the Family
Enrolling in the MBA program means that you are bound for total immersion in a vast network of successful alumni, lifelong connections with amazing friends, and affiliations with two prestigious schools that are committed to student success.
Johnson and the Smith School of Business have comprehensive career services, alumni networking events, and learning opportunities well beyond graduation that ensure students reach their dreams and ambitions with all the support they require. The career support is impeccable and the Johnson alumni network introduces students to a wonderful system of successful, thriving, and passionate Cornellians—many of whom are eagerly awaiting to help students. All you need to do is ask! This aspect of a program is as important to me as earning an MBA—it's the first step to reaching my life's goals and dreams.
The personal encouragement and business foundation that Cornell and Queen's are providing me with will be with me on my lifelong journey to advancing my professional career and fostering my abilities and growth. This is why I'm so glad I chose the Americas program for my MBA, and I hope you do too!