6 tips for talking with your manager about executive education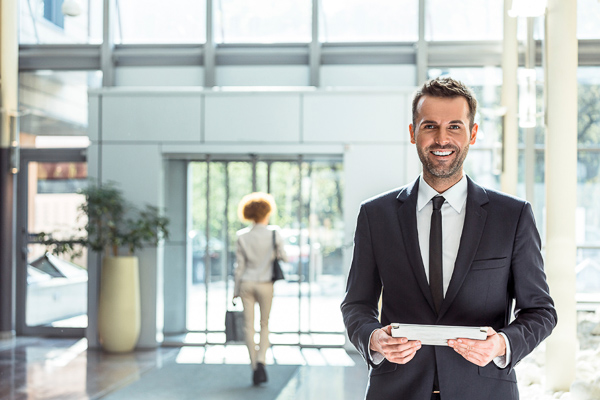 When it comes to asking your boss for permission—and possibly sponsorship—to attend an executive education program or take an online course, it's understandable that you may not know where to begin. However, continued training and development is key to your professional success and satisfaction. With careful planning, plenty of research, and a solid set of potential benefits, you can secure yourself a way to continue your education and grow your career. Here are six tips for facilitating a positive discussion with your supervisor about professional development and executive education opportunities.
Tip #1: Timing is everything
In order to have a productive conversation, you need to have your boss's full attention. Ask your supervisor to set aside some time to have a meeting about your professional development and career goals. Make sure to meet when both of your schedules are clear. Additionally, if you are planning to ask for permission to leave for a conference, aim to have this conversation as early as possible to ensure that your boss has time to plan for your absence and you have time to make Visa and travel arrangements if necessary.
While you need to have a conversation at the right time, you also need to give an explanation about why now is the perfect time for you to participate in a program or to start an eLearning course. Is the program taking place during your business's slower months? Are you launching new programs or products soon that will require new levels of expertise? Whatever the case, perfect timing will help yield the results you want.
Tip #2: Do your homework
Nothing says you're prepared to take the next steps in your career development like coming into a meeting fully prepared to answer any and all of your manager's questions. Do as much research as you can! Know how much the program or course costs, when it is taking place, how long it will take to complete, and the reputation of the program or course. For off-site professional training, familiarize yourself with the program agenda, the professors and faculty, and the topics that will be covered. For an online course, know the content of each section, and how it is taught. It will speak volumes about how serious you are if your boss can see how much thought you have put into this meeting.
It might also prove helpful to bring marketing materials into the meeting with you. Give your boss the program brochure or any print outs that provide additional details, as this will help them get a stronger sense of what you wish to sign up for. If you want to be extremely proactive, give them to your boss to flip through in advance of your meeting.
Tip #3: Justify the ROI
Thoughtful justifications for your attendance will prove to your boss that this is a good investment not only for you, but also for your company. Ultimately, you want to be able to show how your additional training will create long-term value for your company. Make sure to have specific examples of how your company will benefit before going to your meeting. Here are a few examples to get you started:
Employee training provides benefits to both the individual and the business with increased performance and productivity.
Your training will be an investment to your company when you come back with the latest information about industry changes and trends.
You will learn where potential gaps are that will help you stay ahead of your competitors.
All the new information you learned can be shared with your co-workers.
At a conference, it is an opportunity to network and make corporate connections that could prove helpful in the future.
Tip #4: Reach for the sky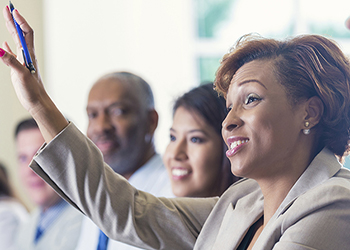 What are your career goals, and how will attending this program or taking an online course help you get there? Have an honest conversation with your boss about how you have outlined your development and how this is an important next step. They will care that you take your career seriously. Being enthusiastic about your career can be contagious, and your boss might see the energy you have and be more inclined to grant you permission to attend.
Tip #5: The art of the ask
Often times we dance around a question because we are scared of what the answer might be. However, it's important for you to know where you stand. Be direct and succinct with your request. An organized thought process will demonstrate your readiness and seriousness about this opportunity. Be sure to emphasize that you want to attend the program or take the class and you would like the company to sponsor it because it is in the companies' best interest. If you have a track record of good performance, bring that into the conversation. Many companies reward rising stars by providing them with ample opportunities to grow in their professional advancement.
Tip #6: Offer some icing on the cake
Any way you can sweeten the deal at the end of the conversation is just bonus points for you. Talk about ways for the company to save money even if they sponsor you. Are there any corporate incentives? How about early full-payment discounts? Now the company will have an employee with a credential that will help them establish long-term credibility!
After your conversation, make sure to send a follow-up email outlining everything in detail again. It might help to send some links to the courses you are going to take, or to the review page of past participants. Be polite and treat your boss fairly, and they will likely do the same for you.