Johnson celebrates 20 years of diversity and inclusion
Johnson's Office of Diversity and Inclusion honors diversity awards recipients and marks 20 years of supporting woman, underrepresented minority, and LGBTQ leaders.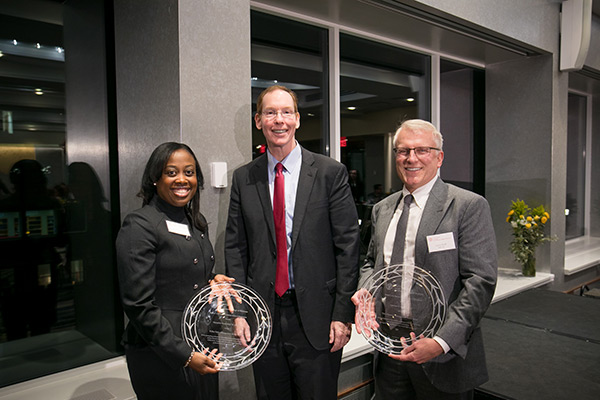 "Belonging in Business" was the theme of this year's Diversity Symposium at the Samuel Curtis Johnson Graduate School of Management, hosted on Nov. 2 by the Office for Diversity and Inclusion and held in conjunction with Johnson Means Business, the MBA program's diverse and LGBTQ student hosting event on the Cornell University campus. More than 160 prospective students, alumni, and friends, along with Johnson faculty and staff, attended the weekend's events, which culminated in the Johnson Distinguished Alumni Diversity Awards Dinner honoring alumni for their outstanding professional achievement and commitment to their communities, and who embody Johnson's shared values of mutual respect, collaboration, integrity and trust, pride and accountability, professionalism, and investment in self.
"This year's theme, Belonging in Business, speaks to both a personal sense of belonging that each professional deserves, and an environment of belonging that we all must help create," said Mark Nelson, Anne and Elmer Lindseth Dean and professor of accounting,  in his welcome message to symposium participants. "I hope today's discussions empower you to use your knowledge, talent, and unique perspective to help bring about a more welcoming and inclusive business world — one in which any individual can feel a sense of belonging and be given every opportunity to succeed."
"This year is especially significant for our community, because it marks the 20th anniversary of the Johnson Office of Diversity and Inclusion," said ODI director Jamie Joshua. "As the first top business school in the nation with a dedicated office working to disrupt the business landscape status quo, we are excited to celebrate the progress we have made up to this point and determined to keep that momentum building."
Joshua also announced that, going forward, the Diversity Symposium is being renamed the Johnson Inclusion Summit "to better reflect both our growing community and the strategic thinking and active work we are taking on as leaders and change agents. With a new name and a greater reach across our campus and global communities, the Johnson Inclusion Summit will drive Johnson into the next 20 years of diversity and inclusion."
A leader in diversity and inclusion
A key speaker at the Alumni Diversity Awards Dinner was Angela Noble-Grange, MBA '94, who, in 1999, proposed establishing an office to increase programming focused on attracting and retaining diverse students and who became the founding director of Johnson's Office for Women and Minorities in Business, predecessor to the Office of Diversity and Inclusion (ODI). Speaking of what has remained the same at Johnson in the past 20 years, Noble-Grange, now a senior lecturer of management communication, paid tribute to the students, faculty, and staff that make Johnson such a close-knit community, a place where you are challenged but where you always feel welcome, where you gain a top-notch education, where the faculty are dedicated both to research and to excellent teaching, and where your mentors and your peers are all committed to your success. Speaking of what has changed, she said: "We are now leaders when it comes to diversity and inclusion among the top business schools. That wasn't the case 20 years ago, and I'm super excited to be able to say that others are trying to do the things that we're doing here. Our engagement with our students and our alumni is far greater and far deeper than it's ever been. Remaining a leader in this area is very, very important to us."
Johnson Distinguished Alumni Diversity Awards
Larry Ruff, MBA '82, inaugural Out in Business Distinguished Alumni Award recipient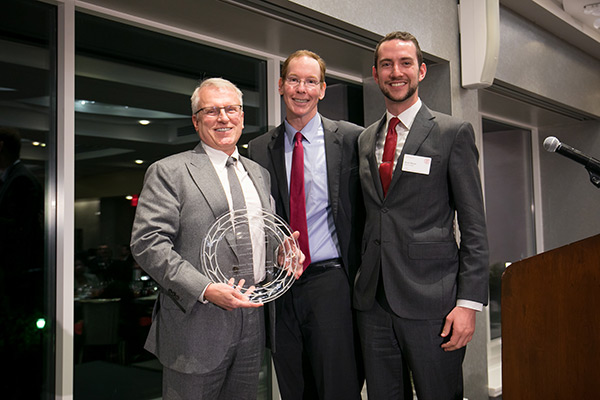 In honor of ODI's 20th anniversary, Nelson announced a new diversity alumni award: the Out in Business Distinguished Alumni Award. Created with the support of ODI, Alumni Affairs and Development, and Out for Business, Johnson's LGBTQ student organization, the Out in Business Award recognizes alumni who have demonstrated a commitment to the LGBTQ+ community in business and society, outstanding professional achievement, and who have made a significant contribution that has impacted the Cornell MBA community.
Larry Ruff, MBA '82, who was also the keynote speaker at this year's Diversity Symposium, was honored with Johnson's inaugural Out in Business Distinguished Alumni Award. The founder and CEO of Larry Ruff & Associates Consulting, Ruff serves as vice chair on the board of Fair Trade USA. A former advisor to the CEO and COO of Pinpoint Predictive, a pioneer in psychometric marketing, Ruff was also board director, CEO, and president of Eat Real, a social enterprise dedicated to fighting diet-related disease. He held many executive positions over 25 years at Levi Strauss & Co., culminating with his role as global marketing and chief strategy officer.
"During his time with Levi's, Larry and his team received more than 50 awards for product and marketing innovation, brand building, corporate social responsibility, and sustainability," said Nelson. "Larry is a passionate advocate for social impact, environmental stewardship, economic justice, sustainable development, diversity and inclusion, LGBTQ+ rights, and health and wellness. He is a mission-driven leader focused on building purpose-driven organizations, driving growth, developing diverse teams, and delivering impact. I can't imagine a better person to celebrate."
In expressing his gratitude for this honor, Ruff said: "I'm so proud to be the first recipient and I'm so thankful that the Office of Diversity and Inclusion and the school decided to create this award because I think it's an important symbol as you think about diversity and inclusion even more broadly than it's been thought of to date." Ruff said his journey of being out in business "required the support of family, friends, and colleagues who enabled me to be able to be who I am in a more fulsome way. And I think that's what all belonging is about — it's being able to show up as you are and being able to contribute to the best of your abilities. When we do that with our teams and with our people, we enable better results. So it's a good thing to do for business, but it's also the right thing to do for people."
Marmeline Petion-Midy '95, MBA '00, 2019 Wilbur Parker Distinguished Alumni Award recipient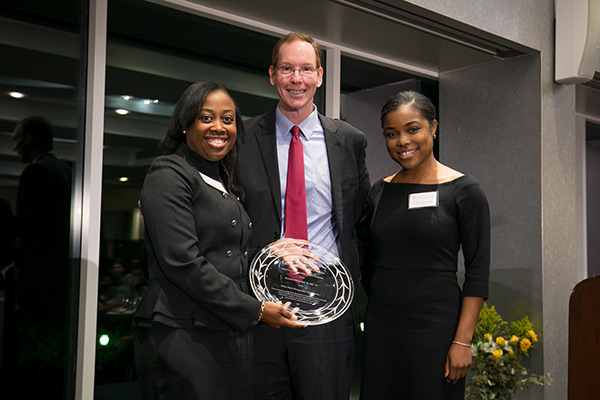 Marmeline Petion-Midy, '95, MBA '00, was honored with Johnson's 2019 Wilbur Parker Distinguished Alumni Award, which recognizes African-American alumni who demonstrate outstanding professional achievement and commitment to their community, and who embody Johnson's shared values of mutual respect, collaboration, integrity and trust, pride and accountability, professionalism, and investment in self.
A certified corporate financial planning and analysis professional, Petion-Midy is head of financial planning and analysis, Americas marketing, at Invesco, a global asset management firm. In that role, she is responsible for strategic planning and budgeting, financial reporting, profitability reviews, and financial planning and analysis for the organization. Petion-Midy joined Invesco in 2019 when it was acquired by OppenheimerFunds, where she was VP and business controller supporting sales and marketing. Prior to OppenheimerFunds, she worked for General Motors' treasury office in New York City, rotating through various functions, including capital markets, where she helped GM raise several large tranches of long term debt and managed the short-term cash portfolio; business development, where she worked on mergers and acquisitions and troubled suppliers; planning and analysis, where she covered General Motors Do Brasil; and pension accounting, where she oversaw GM's large pension liability. Petion-Midy started her career with the Bank of New York, where she rose to assistant treasurer before leaving to pursue her MBA. She served three years as board president for St. Joseph School, a private Catholic school in New York City, and serves as a member of the Johnson Advisory Council.
"Marmeline's achievements and commitment to the Johnson community serve as inspiration for alumni as well as current and prospective students, and enrich Johnson in so many ways," said Nelson.
Upon accepting the award, Petion-Midy spoke of the award's namesake, Wilbur Parker '50, MBA '50, concluding her remarks by saying: "No matter what your goals are, remember the example of Mr. Parker and forge ahead with hope, purpose, excellence, and a sense of community."
Eduardo Padilla Silva, MBA '81, 2019 Carlos R. Quintanilla Distinguished Latino Alumni Award recipient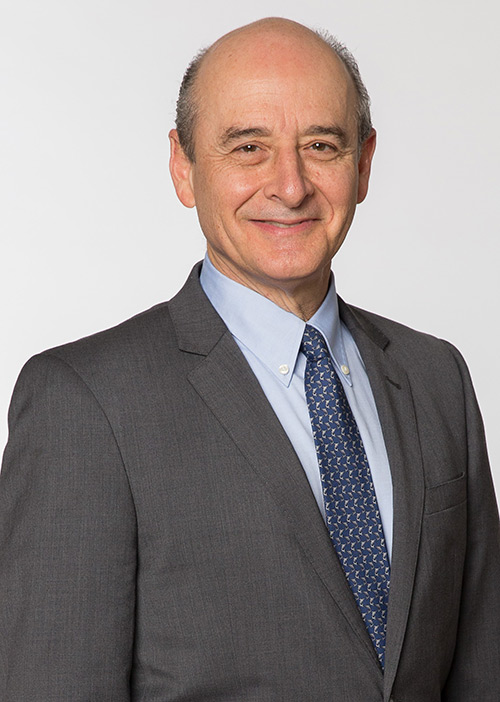 Eduardo Padilla Silva, MBA '81, was honored with the 2019 Carlos R. Quintanilla Distinguished Latino Alumni Award, which recognizes alumni for exceptional achievements and significant contributions to their professions, community, and society as a whole, for their demonstrated commitment to Johnson, and for promoting the advancement of Latinos in the business world.
Padilla Silva is CEO of FEMSA, a Mexican multinational beverage and retail company headquartered in Monterrey, Mexico. Padilla Silva joined FEMSA in 1997 as director of strategic planning and control and became CEO of FEMSA Comercio, the company's retail operation, in January 2000. During his tenure, FEMSA's flagship convenience store chain, OXXO, grew to become the largest small-format chain in the Americas while achieving industry-leading profitability levels. He was appointed chief financial and corporate officer of FEMSA in January 2016 and named CEO of FEMSA on January 1, 2018. Prior to joining FEMSA, Eduardo spent 19 years at another major Mexico-based corporation, ALFA, where he rose to be CEO of Terza, its carpets and rugs operation. Padilla Silva, who holds a BS in mechanical and industrial engineering from Tecnológico de Monterrey, also serves on the boards of directors of several corporations and institutions, including Grupo Lamosa, Tiendas Coppeland, and Universidad Tecmilenio.
"Unfortunately, Eduardo couldn't join us this evening; he was really sorry to miss out," said Nelson. "Instead, he wrote out some remarks he wanted to have shared with you." Jorge Morales, MBA '20, treasurer of the Hispanic American Business Leaders Association (HABLA), read Padilla Silva's remarks and accepted the award on his behalf.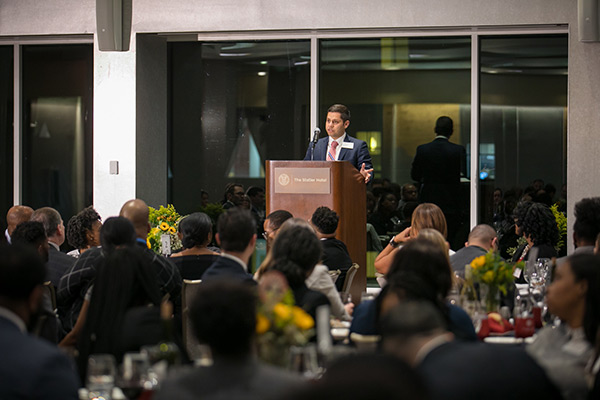 In his message, Padilla Silva expressed his gratitude in being honored with the award and paid tribute back, writing: "A lot of what I have achieved in my professional career is founded on the building blocks I laid during my time at Cornell. … I received an extraordinary education, with amazing professors who were always there to challenge us. I cherish the discussions we had with both students and the faculty; everyone was always open to understand and consider different points of view. … It was a competitive atmosphere, always healthy, where learning was the goal. I remember a great camaraderie among students, and I was able to foster wonderful friendships that I still cherish and maintain today, 40 years later."
Padilla Silva noted that he and his wife, Federica, whom he married while he was a student and who joined him in Ithaca and also took classes at Cornell, are such devoted fans of Cornell that they sent their son, Eduardo Padilla-Sada, MBA '13, to study here. "Cornell marked me for life, it forged me as a professional, it laid the footing to my marriage, and has been present in my life ever since," Padilla Silva wrote. "A lot of what I've done I owe to this great institution, which is why I'm truly humbled to be recognized by Cornell."
20th anniversary reflections
Following the awards presentations, two Johnson alumni took to the podium to share reflections on ODI's 20th anniversary they had gathered from current students and alumni and to pay tribute to two women of Johnson who have had such a deep impact on the lives of so many students and alumni: Angela Noble-Grange and Ann Richards, senior associate director of admissions, who retired this fall after 32 years at Johnson. Steven Martinez, MBA '18, who was a co-chair of JMB and president of HABLA as a student, and Christian Duncan, MBA '10, director of corporate strategy at Verizon, had shared the stage before, at the 2017 Diversity Symposium, when Duncan was the keynote speaker (Commanding your own legacy: Christian Duncan, MBA '10, delivers symposium keynote).
Duncan's remarks were met with whoops and applause when he said: "The work led by ODI is extremely important work and it wouldn't happen without the full support of the community here at Johnson," said Duncan, "but it also wouldn't happen without two pillars here at Johnson we want to recognize: Angela Noble Grange and Ann Richards."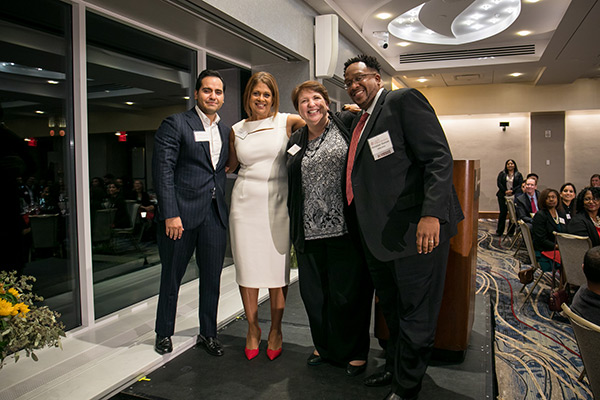 A tribute from Sara Schmitt, MBA '19, encapsulates the quality and character of the many glowing remarks and stories Duncan and  Martinez shared about Noble-Grange and Richards: "I will never forget Ann Richards encouraging all of us at Johnson Women in Business 2017 to be 'fierce and fearless.' Angela exemplifies what it means to be a mentor and a coach: supportive, tough, generous, honest, strong, and courageous. Learning from her was an absolute delight."
"As we celebrate this milestone," Joshua said in her concluding remarks, "we are also looking to the future and how we want to continue to change the business landscape for the next 20 years and beyond. You all are the business leaders who are going to keep that change going. So as we end, I want to send the message to our JMB participants. You have heard stories from our alumni and current students. You have learned a little more about our academic and co-curricular programming, and you have had the chance to spend time with our Johnson community here in Ithaca and beyond. And we hope you are leaving with the deeper understanding of what it means to be a part of the Johnson family and who you might be as a business leader."