Celebrating diversity in the workplace
Diversity Symposium speaker Larry Ruff, MBA '82, believes that diversity and inclusion is good for business as well as the right thing to do.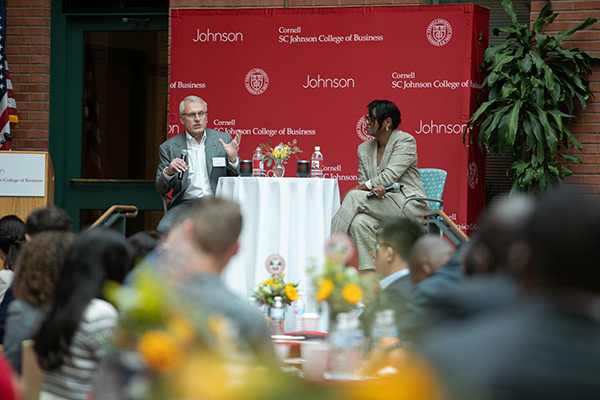 Larry Ruff, MBA '82, described diversity and inclusion in the workplace as a "personal passion" when he shared his insights as a guest speaker for the 2019 Diversity Symposium at the Samuel Curtis Johnson Graduate School of Management, hosted on Nov. 2 by the Office for Diversity and Inclusion (ODI) and held in conjunction with Johnson Means Business, the MBA program's diverse and LGBTQ student hosting event on the Cornell University campus. Cynthia Saunders-Cheatham, assistant dean of Career Management for the Cornell SC Johnson College of Business, engaged Ruff in an informal, lunch-time chat focused on "Belonging in Business," the theme of this year's event.
The founder and CEO of Larry Ruff & Associates Consulting, Ruff serves as vice chair on the board of Fair Trade USA. A former CEO of Eat Real, he held many executive positions over 25 years at Levi Strauss & Co., culminating with his role as global marketing and chief strategy officer. Overall, Ruff has more than 35 years of experience working with startups, for-profit corporations, major U.S. and global brands, social entrepreneurs, higher education, and nonprofits.
As Saunders-Cheatham noted in her introduction, Ruff is also the inaugural recipient of Johnson's Out in Business Distinguished Alumni Award, a new diversity alumni award created with the support of ODI, Alumni Affairs and Development, and Out for Business, Johnson's LGBTQ student organization, in honor of ODI's 20th anniversary. The award "recognizes alumni who have demonstrated a commitment to the LGBTQ+ community in business and society, outstanding professional achievement, and who have made a significant contribution that has impacted the Cornell MBA community." Read more about Johnson's diversity awards in Johnson celebrates 20 years of diversity and inclusion.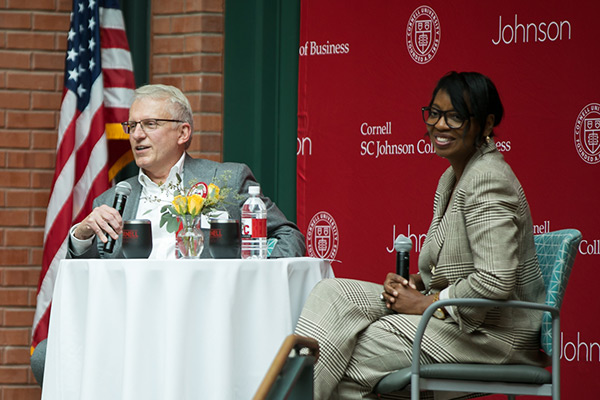 Do the right thing
Asked about his ongoing commitment to diversity, Ruff responded: "I believe that inclusion and diversity are good for business; diverse teams are more productive and more innovative. And it is the right thing to do—it's a moral choice and has been an important part of my work for many years."
He explained that he did not come out as a gay man, either to his employer or to his family, until he turned 30 in the late 1980s. "I was not public about it. After Johnson, I worked at Procter & Gamble and did well there, but as I approached my 30th birthday I realized I was not being who I am, and the company I worked for had a very conservative environment with zero LGBTQ role models or mentors," Ruff said.
That all changed when he left P&G to join Levi Strauss & Co., a more progressive and inclusive organization with a more welcoming environment. "At Levi's, I got involved with discussions about benefits for unmarried and gay couples, which led to changes in company policies and helped me evolve as a leader in inclusion and diversity," he said.
A supportive environment
The decision to come out was not an easy one to make, said Ruff, given the social climate at the time. But he felt it was the right thing to do because he was relocating to Europe for a promotion, and he felt the need to inform his employer and his family that he was making the move with his male partner. The company was supportive, as was his family over time.
As an executive at Levi's, Ruff said, he learned that diversity is critical in creating effective teams. "Inclusion is about how you create the team, while belonging is about having team members show up as their real selves," he said.
Levi's was ahead of the curve in the 1990s in offering diversity training, Ruff said. "This is how businesses think about training now. It is now more sophisticated and multi-faceted. It's now about the outcome, with plans for equity for all," he said.
Diversity in the boardroom
Diversity is now discussed in boardrooms, too, said Ruff. "It's about recruiting more diverse board members who represent different ethnicities, sexual orientations, and geographies. Any board has a responsibility for organizational health, including diversity."
The key for organizations is to take a multi-dimensional approach so that diversity and inclusion become a way of doing business, impacting product development, marketing, and hiring. "You need to listen before you respond, and to have empathy skills," he said.
Challenges and solutions
During the Q&A after his talk, Ruff spoke of the challenges going forward for businesses addressing diversity. "You have to make sure that the organization has a strong commitment from the middle and lower levels as well as from leadership," he said. "It can't just be a top-down thing. You have to make sure everyone understands the case for inclusion. Progress is slow, but companies can move forward if they push for allies in the LGBTQ community and drive both awareness and commitment."
An audience member who has started a diversity program at his company asked for advice on motivating employees to see the importance of the initiative. "Appeal to the head and the heart," Ruff said. "That means describing how inclusion affects the bottom line, and getting people committed to change through personal experiences with inclusion and diversity. Make time for conversations about these topics—make it easier for people to support them."
Ruff lives in San Francisco with his husband.