Michelle Duguid to lead college push for diversity, inclusion, and belonging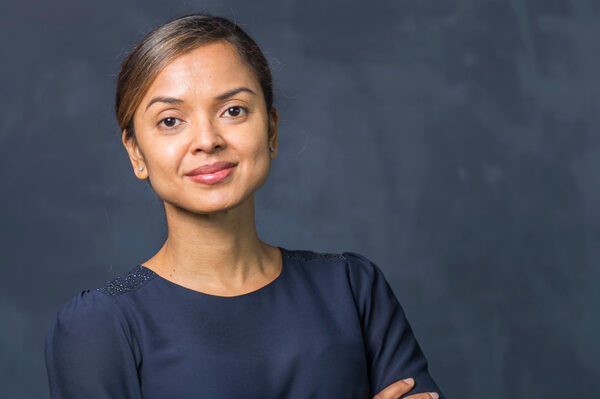 At a pivotal moment of racial reckoning in American society and across its institutions, Michelle M. Duguid has begun to lead a newly determined effort to make diversity, inclusion, and belonging central to the life of the Cornell SC Johnson College of Business. An associate professor of management and organizations in the college's Samuel Curtis Johnson Graduate School of Management since 2017, Duguid became the college's second associate dean for diversity, inclusion, and belonging on July 1, 2020.
"I'm hoping that, now more than ever, people will be on board to see that change needs to happen," she said. "I hope it's really salient to people that this role and these issues are important and that we haven't done enough in terms of changing systems and processes to address discrimination. I want to use this opportunity to make a real difference."
One of Duguid's initial tasks will be to revitalize and lead the college's council on diversity as a representative advisory group of students, staff, faculty, and alumni. Kevin Hallock, as dean of the SC Johnson College, will sit on the council. As he explained in a message to the college community on July 7, "The group will assess our college's current efforts to address racism and promote diversity, inclusion, equity, and belonging; address progress on specific action steps; discuss new steps being developed; and review and recommend modifications to our approach." The group will convene by the end of August 2020.
Duguid is also already at work bringing together the four diversity and inclusion officers who are based in the college's three schools—Jamie Joshua and Caitlin Fields in Johnson, Jennifer Majka in the Charles H. Dyson School of Applied Economics and Management, and Victor Younger in the School of Hotel Administration (SHA)—as one team. Johnson's Office of Diversity and Inclusion celebrated its 20th anniversary in 2019 as one of the first such units to be established at a top-tier business school, while Dyson's office was created only after the establishment of the college in 2016 and the appointment of its first diversity dean, David Wooten, in 2017. SHA has had a single officer in charge of student diversity recruitment and support for more than a decade.
"We want to increase our diversity, but more important than just recruiting more diverse faculty, staff, and students is that, once they're at Cornell, our minority members really do feel that they're a part of the community and that they can bring the best of themselves," Duguid said. "When everyone feels that they're a part of the culture, it benefits everyone—and not only our ability to work but our ability to function as a college. In the end, everyone flourishes."
Having allyship as a priority, in the college as everywhere, is important, said Duguid. "Allyship means not only 'I am not a racist' or 'I am not a sexist,' but also being active in challenging systems or individuals that may be racist or sexist and consistently reflecting on our and others' decision-making and behaviors to address unconscious bias. You can say, 'I'm not a racist, I'm going to be different.' That's great, but you can see how much more impactful it is if we also put our energy into changing the system."
Duguid graduated summa cum laude from Howard University with dual bachelor's degrees in psychology and political science. She did her graduate work in the School of Industrial and Labor Relations at Cornell, earning MS and PhD degrees in organizational behavior. Her research interests include social status and power; group creativity and decision-making; inter- and intra-group relations; diversity; and social categorization. Her research has appeared in Administrative Science Quarterly, the Journal of Applied Psychology, Organizational Behavior and Human Decision Processes, Organization Science, and Psychological Science. She serves on the editorial boards of several top academic journals in her field, and her research has been cited in media outlets including Forbes, the New Yorker, Fast Company, NPR, the New York Times, and the Economist.
"I am someone who is very data-driven," Duguid said. "I plan to be very systematic in collecting data and creating concrete, actionable steps that will move the needle on diversity and inclusion together. Data collection is nothing if we don't use our data to make real changes that will be impactful for our faculty, staff, students, and all of our stakeholders—and ally everyone.
"Cornell is a renowned institution that was founded on the principle of 'any person, any study.' With this as a core value, we should be leaders in creating a welcoming and cohesive community that other organizations will look to as a model of diversity, inclusion, and belonging. We must do all we can to make this happen."