Interim Dean Ed McLaughlin returns to lead Dyson at a critical point in time
Ed McLaughlin once again became the interim David J. Nolan Dean of the Charles H. Dyson School of Applied Economics and Management on July 1.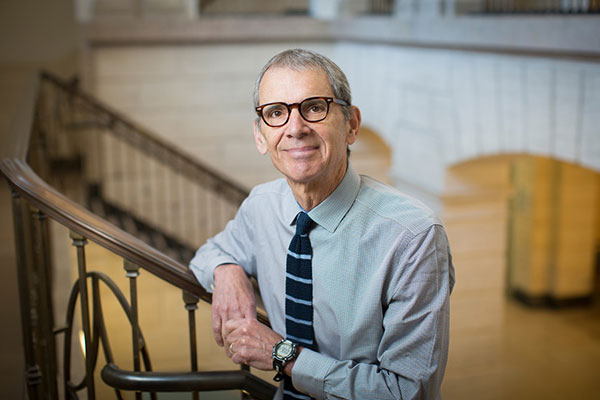 Early this year, Kevin Hallock, dean of the Cornell SC Johnson College of Business, canvassed Dyson's faculty to get their take on who would be the best choice to step in to lead Dyson after then-dean Lynn Perry Wooten announced she was leaving Cornell. Ed McLaughlin stood out as their clear choice, and he was Hallock's top pick, too.
McLaughlin, the Robert G. Tobin Professor of Marketing, emeritus, had been a Dyson faculty member since 1983 and had served as Dyson's interim dean in 2016-17, right after the formation of the Cornell SC Johnson College of Business. Before the college was formed, McLaughlin served as the associate director of the Dyson School and for 20 years he directed the undergraduate business program, the largest undergraduate major at Cornell.
"With his background and experience, Ed was the right choice to lead Dyson at this critical point in time," says Hallock. "He knows the players and he knows the policies—in fact, he helped formulate many of them."
But there was a catch: Although he had retired from his teaching and research roles in the summer of 2019, becoming a professor emeritus, McLaughlin had myriad ongoing commitments as director of several Cornell executive education and international programs, including Cornell's Food Executive Program (now in its 56th year) and the United Fresh Produce Executive Development Program as well as programs in Holland, in Japan, and at Vin University, a new university in Hanoi, Vietnam, developed in collaboration with Cornell University and the Cornell SC Johnson College. As McLaughlin said to Hallock in February, "I'm honored, but my plate is already full."
Then COVID happened, "and like a series of dominoes, every single one of my commitments was canceled," McLaughlin said. "The decks were clear." So when Hallock and other Cornell SC Johnson College leadership team members asked him to reconsider, he gladly accepted.
To the great satisfaction of the Dyson community, McLaughlin once again became the interim David J. Nolan Dean of Dyson on July 1.
"I had a chance to do something useful for an institution that has been very good to me for a long time," McLaughlin says. "I'm very happy to be back as part of this team." 
Experience in teaching, research, and outreach
McLaughlin brings a unique understanding to all three dimensions of Dyson's mission to use business for the greater good thanks to the three-part appointment he held over his 37 years as a faculty member. "I was involved not only in teaching and research but also had responsibilities for extension and outreach," he says.
Outreach is integral to Dyson's role in Cornell's legacy as New York's land-grant university. In its work with Cornell Cooperative Extension and other Dyson outreach activities, Dyson shares research outcomes and insights with practitioners and policy makers in New York State, the U.S., and the world.
A dynamic teacher who has been honored with many teaching awards, McLaughlin was named a Stephen H. Weiss Presidential Fellow, Cornell's highest award for distinguished teaching, in 2006. Recognized as a distinguished expert in the efficiency of food distribution systems, his research appears in numerous academic journals including the Journal of Marketing, Journal of Marketing Research, American Journal of Agricultural Economics, and Journal of Retailing, where he has won several best paper awards. He is also the author or co-author of three books. McLaughlin's outreach roles included work with food industry companies, trade associations, and public policymakers over many decades.
Dyson's initiatives to address racism and inequity
Although July 1 marked his first day as dean, McLaughlin began working with the SC Johnson College leadership team in May. As it did for so much of the country, addressing issues of racism and inequity quickly moved to the top of their agenda following the May 25 murder of George Floyd.
In June, McLaughlin made it a priority to participate in town halls and smaller meetings with students, staff, and faculty as well as college leaders to discuss the forms of racism that persist at Dyson. And on July 8, he sent a message to Dyson students, staff, and faculty focused on antiracism. "It is clear that we have longstanding issues with racism to deal with in our school, at structural, cultural, and interpersonal levels," he wrote in that message. "And it is clear that we must work on these issues with more urgency and clarity than we have done in the past. I want you to know that I am fully committed to this work."
In addition to the actively embracing the action steps Hallock outlined in his July 7 message to the college of business, McLaughlin pledged to take further steps to address issues of racism and inequity specific to Dyson's context and mission.
Classrooms, safety, and COVID-19
Cornell's plan to reactivate the Ithaca campus for the fall 2020 semester includes a hybrid approach to instruction, with in-person, online, and hybrid teaching modalities. While students and also many faculty welcome a return to in-person education, safety remains high priority.
"We can't possibly accommodate everyone in the classroom given social distancing guidelines," says McLaughlin. "Even in-person classes will have some online complement. Social distancing guidelines will determine the student capacity for each particular classroom. Many at Cornell are working on lots of different scenarios that are evolving literally every day as we're learning what might be optimal."
At the same time, faculty are reworking their course materials to "make them more accessible and align them to the strengths of the online instructional environment to ensure they will deliver a high quality product," says McLaughlin.
"We're going to take great precautions to protect the safety of everyone—students, faculty, and staff," says McLaughlin. "We are asking everyone to adhere to the behavioral compact with regards to masks, appropriate hygiene, and social distancing. It's up to the whole community— not just professors, not just deans, but students and everyone—to be vigilant and monitor one another."
Inspired by Dyson's outstanding, dedicated community
Because Dyson's community is so strong, McLaughlin is energized to take the lead at Dyson during this challenging, historic point in time.
"Our community is under great pressure to evolve quickly in new ways," says McLaughlin. "But I am genuinely heartened by how many smart, dedicated people have been working so hard to produce an outcome for all stakeholders in our community—students, staff, faculty, alumni—that will make Cornell proud and continue to distinguish us among the world's leading universities.
"I am inspired by our wonderful, accomplished, and generous alumni, who have stepped forward in the wake of COVID-19, not surprisingly and very characteristically, to ask, 'How can I help?'" notes McLaughlin. "They have helped with financial contributions and in town halls and one-on-one mentoring sessions with students, giving them advice on what to do in this hard time, and in many other ways.
"I am hugely comforted by the outstanding faculty and staff at Dyson, with whom I now have the privilege of working again," McLaughlin says, "and I am grateful for the strong foundation across the school that has been put into place by our colleagues over generations and nurtured by Dean Wooten, her leadership team, and the Dyson community."