Meet Andrew Karolyi, new dean of the Cornell SC Johnson College of Business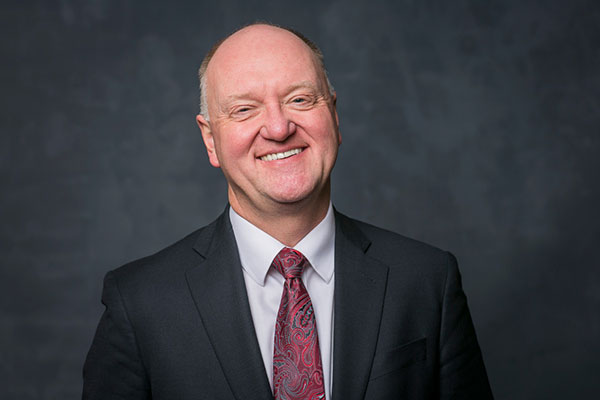 Andrew Karolyi, who stepped in as acting dean of the Cornell SC Johnson College of Business after Kevin F. Hallock stepped down March 4, was appointed dean of the college for the remainder of Hallock's term on April 8. A financial economist and investment management and international markets scholar, Karolyi served as deputy dean and dean of academic affairs of the college, 2018–21. In his announcement, Cornell University Provost Michael Kotlikoff referred to Karolyi as "an extraordinary scholar, leader, and strategic thinker who is internationally respected for his research contributions. Having served as the deputy dean for nearly three years, there is no one more familiar with the initiatives and challenges facing the college."
Karolyi first came to Cornell in 2009 when he was recruited, along with Professor Yaru Chen, to enhance global programming and ultimately launch the Emerging Markets Institute at the Samuel Curtis Johnson Graduate School of Management. Joe Thomas, then Johnson's dean, and Mark Nelson, then Johnson's associate dean of academic affairs, recruited Karolyi from the Fisher College of Business at Ohio State University, where he had been a faculty member for 19 years. Karolyi is the Harold Bierman Jr. Distinguished Professor of Management and professor of finance and international business.
A widely published and highly respected scholar in the area of investment management with a specialization in the study of international financial markets, Karolyi is recipient of numerous awards for his research and scholarship and has served in a number of leadership roles in his field over the years. He was editor and then editor-in-chief of the Review of Financial Studies, one of the top journals in that field, 2011-18. He is a director of the American Finance Association, a former president of the Western Finance Association, and a former president and trustee chair of the Financial Management Association.
In a recent Zoom interview, Karolyi responded to questions about himself as a leader, scholar, and teacher, as well as his outlook on the college and his own life. Get to know more about the college's new dean in this Q&A.
You have served in several faculty leadership positions at Johnson and in the SC Johnson College. What led you to take on these roles, and what insights have you gained from them?
I remember exactly where I was sitting when we got the announcement about the creation of this college in 2016. My immediate reaction was, "fantastic!" I had seen early efforts toward collaboration across the Dyson School, the School of Hotel Administration, Johnson, and ILR through what was called the Business at Cornell Initiative. I got myself involved in some of those efforts because I saw the potential. Upon the announcement of the college, I wondered whether I could serve in a leadership role. I knew it was going to take some effort to build this college. [Newly-appointed Johnson School Dean] Mark [Nelson] saw potential in me, and I'm glad he chose me to step up as his associate dean for academic affairs. While I had taken on a number of leadership roles in my field, this was my first serious administrative role in a school, and I relished it.
There were certainly some challenges in those early days. What I most enjoyed was interacting with my colleagues about their goals and aspirations. I found joy in seeing faculty colleagues succeed and advance professionally in terms of promotion and tenure. To enjoy academic dean roles like that is to celebrate the successes of others and take some pride in being a part of it.
Later, when the college's dean of academic affairs position opened up, they thought of me. I'm grateful for that and was honored to be considered. I took it on because I felt, again, like this was the right time to step up.
How would you characterize your leadership style?
I describe myself as collaborative. First and foremost, I'm always ready to engage with whomever I'm sitting across the table from to work to understand what motivates them to succeed. If we've got a problem to resolve, then my approach is that we both roll up our sleeves and brainstorm to figure it out together.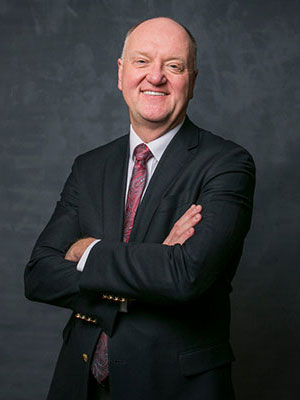 I try to be an active listener. I work to speak less and to listen more. Certainly if you're trying to understand a problem that needs to be solved, you'd better listen first so you fully understand it. There are undoubtedly times when I am enthusiastic about an opportunity, and that leads me to get more animated and speak actively. But I hope that is received as affirmation of the idea I am hearing and learning about.
Third, I always seek to be respectful. You have to not only listen to understand, but you also have to be respectful of different ideas and perspectives to understand. Everybody who is part of an organization like ours is a successful person and every successful person has a story that defines their path and their perspective. I want to be respectful and acknowledge that path and perspective toward working out the problem at hand.
Everybody is motivated differently. I believe a successful leader wants to understand what motivates individuals to be successful. When people sit down with me, I work to follow a process of respectful engagement, a genuine back-and-forth to reach a collaborative solution.
What interests you about this deanship at this point in time?
I have learned so much about this college—about the faculty, the staff, the organization, how it's structured, how it is functioning well, and sometimes, how it is not. Working with Kevin [Hallock] was a true collaboration and I enjoyed it. I'm really grateful for that opportunity. He involved me in many decisions as his deputy and I learned a ton from him. Given the challenges that lie before us, I want to believe I'm in a good position to help get us to the next stage.
What do you see as the key strengths of the SC Johnson College?
Definitely, our collaborative community. Faculty, staff, students, and alumni are always ready to step up and meet the challenges we face.
Our faculty constitute a key strength through their emphasis on research excellence, the excellence of their teaching in our many programs, the innovativeness of our various teaching modalities, and their agility to adapt to challenging environments, as they did over this past year of the pandemic. The faculty in our college take great pride in their work and are unbelievably dedicated.
Our staff are equally dedicated to our drive for excellence, and they are the backbone of everything that allows our faculty and students to succeed. During this year of the pandemic, they displayed incredible dexterity as they pivoted to offer up activities, conferences, webinars remotely, and to help our faculty's migration to teaching online. Our incredible Statler Hotel employees have come together, in service of the Cornell community, to provide quarantine and isolation space. This has meant, in many cases, taking on different roles than they had before. Their resilience and adaptability inspires me and has inspired us all. I cannot wait for the day when we can reopen the doors of the Statler Hotel to visitors.
When I think about our students, whether our undergraduates or our mid-level execs, I think about their enthusiasm and engagement. The pandemic forced them to have to shift to remote learning, virtual breakout rooms, and awkward hours involving time zones around the world. What we have seen is a lot of student-led events, new startups, creative internships, and our graduates continue to get good job offers. Our three schools in the college have always prided themselves in a strong sense of community, something that has really stood out to me during this challenging year.
What I also saw during this past year is our alumni generous in sharing their time, experiences, and expertise as guest speakers. It is almost impossible to count how many joined in a wide range of classroom Zoom visits and webinars, virtual case or pitch competitions. They are eager to connect with our students and generous in offering career advice. They clearly have the same confidence in the high quality of our programs and graduates that we do. It's awesome how they feel inspired to pay it forward.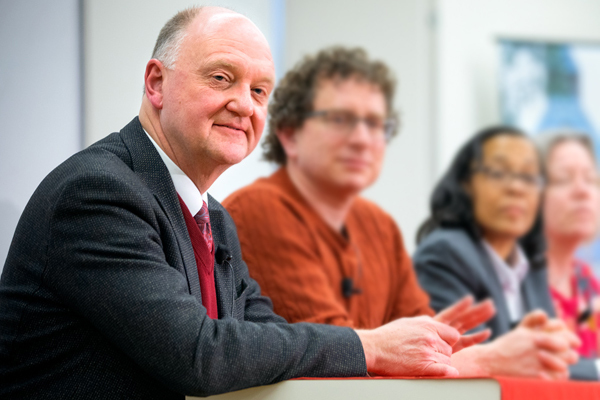 Another signature of our college, with all of its academic strengths across three schools and 19 different programs and their glorious legacies, is that our faculty seem to understand that excellence in research is not just about publishing in top-flight, peer-reviewed journals. It's not just about captivating our peers in the academy with the novelty of our research. Those are prerequisites for our success and, believe me, we've got that going in spades all across the college. It's not just about delivering excellence in teaching in a classroom. Our SC Johnson College of Business faculty members understand that those things are necessary but not sufficient for the success we aspire to. What I see is that our faculty members have an extra drive to advance our research and teaching to be relevant to a broader class of stakeholders—to our external community of chief executive officers, to directors of corporate boards, to investment officers, to central bank governors, and to policy makers in Washington, D.C., Beijing, Brussels, and beyond. They want to ensure that audiences who need to hear the important outcomes of their research do so. It's understood to be an important part of what it means to be a successful faculty member here. I believe our staff and students recognize this is a big part of what makes our college special.
I've only started to unravel why we are wired this way, and I think it comes, at least in part, from the grand legacy of extension and land grant activities over in the Dyson School through its vital link to the College of Agriculture and Life Sciences. Our Dyson colleagues think about a broader responsibility to New York State economic development and beyond to the developing world, the resilience of its food systems, the importance of clean water and responsible environmental management.
For nearly 100 years, our School of Hotel Administration faculty have focused their research on the needs and wants of its stakeholder industries, including hospitality, travel, business services, real estate, and beyond. They translate that research and broadcast it to industry stakeholders through their centers and institutes for maximum reach.
At Johnson, you see that same instinct in the innovative, career-oriented immersion tracks in the residential MBA program and in the novel connections built into the Cornell Tech MBA's studio-oriented learning programs. Faculty members appointed to joint positions at Johnson and Cornell Tech understand their mandate to be actively engaged in industry, and the startup incubator function built into the Johnson at Cornell Tech infrastructure is fantastic.
What do you envision as top priorities and goals for the SC Johnson College, going forward?
I see our college as one that continues to anticipate needs and meet the future of business and society head-on. I serve on boards and advisory groups for several nonprofit organizations along with current and former business school deans, senior faculty, and current and former editors of top business and management journals. We are brainstorming about how business education needs to change and adapt to the modern realities of business.
We recognize that businesses operate and finance themselves differently today: Their responsibilities have broadened to stakeholders beyond shareholders, including their workforce, the environment, and the biosphere. Businesses recognize the need to create better governance principles and the overarching importance of advancing diversity, equity, belonging, and inclusion. These boards and advisory groups debate how our respective business schools and discipline-based academic associations are struggling to figure out how to adapt and change given these shifting tides.
Here is the most intriguing part of these discussions, for me: I realize that at Cornell we are already well-attuned to our broader community of stakeholders in advancing our research and teaching. We have a significant head start relative to our peers in other business schools because of our land-grant history in Dyson, our 100-year dedicated industry engagement in SHA, and our decades-long focus on immersive learning in Johnson. I find myself bringing up examples of what we already do here at Cornell and I can see that others on these boards listen actively. I am so very proud of what we are and I know our college can be a beacon for other schools and colleges.
Thinking about corporate stakeholders beyond just their shareholders will help guide us at Cornell as we develop new curriculum, new programs, and new areas of research.
A second priority will be to streamline our college infrastructure. During the first couple of years after the formation of the college, our leaders worked together with faculty to build processes and protocols to integrate our schools. Over the last three years, we have stress-tested them, and they have held together; we know the structure has integrity.
Now we need to take it to the next level. We may need to do some additional work in terms of streamlining and flattening the organizational structure to make sure that we've got the right one in place, from a functional efficiency standpoint, to carry us forward. There are leadership roles that need to be clarified. If we get it right, we can turbo-charge our research and teaching programs to continue to push our competitive advantage in thinking organically about maximal impact for the broadest community of business and society.
Arguably, an even more important priority to streamlining our processes is about strengthening our culture of belonging in the college. I hear still from many faculty and staff about how hard the integration has been for them. Too often, they still feel disconnected from the overall mission of the college, which is to seize the distinct and yet common strengths of our three schools to be so much more. I know I need to focus my energies on building a work environment to help us all celebrate our diversity of backgrounds and histories and to build up our sense of belonging and inclusiveness in the college. I am eager to advance this priority.
You continued to teach a class in Managerial Finance at Johnson even while holding a key leadership role as deputy dean of the college. Why is teaching so important to you?
The truth of the matter is, I love teaching. It's a huge passion for me and it has been from the very beginning— for over 30 years now. I think most people think of me as researcher first and foremost. But I've always loved the classroom. I love the unstructured discussions that organically arise in a classroom with curious students who want to try to apply the concept of the day to something they are reading about in the markets. It's one of the reasons I chose the field of finance. Frankly, you can cherry-pick the headline news of the day in financial markets or the global economy and relate it immediately to any of the principles that you might be teaching on that day. It's great fun and extremely validating for an instructor.
You might think that going in on Saturday morning for an eight-hour executive MBA teaching block would be the last thing one might need after five full days of Zoom meetings as a dean. But walking across to the Breazzano building to our studios these past few weeks, I noticed an extra skip in my step. I'd been out of the classroom for a few years and I've missed it. I teach my Managerial Finance class to students in the Executive MBA Americas program—172 highly eager, highly energized mid-career executives—and they're just terrific!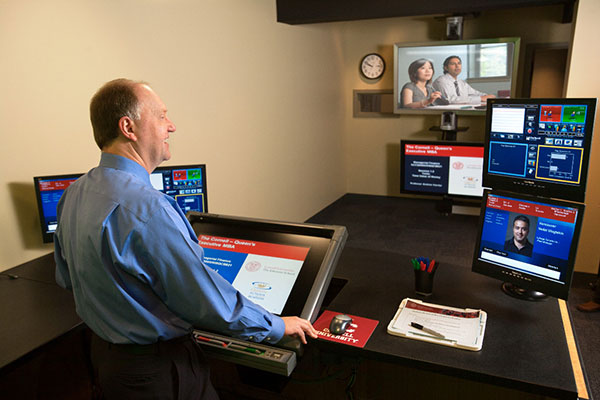 You first came to Cornell and helped to found the Emerging Markets Institute at Johnson and you wrote a book outlining the opportunities and risks of investing in emerging markets. What spurred your interest in studying emerging markets?
My research is focused on international capital markets and obviously, a big part of that is the study of emerging markets. I've been fortunate to be a regular consultant to the asset management industry for many years; I get to work a lot with advisors and their clients, both institutional and retail. In the immediate aftermath of the global financial crisis, there was a huge surge of interest in investing in emerging markets. And one question after another among advisors and their clients revealed they were craving some kind of synthesis, some comprehensive, but usable framework within which to think about the structural, institutional risks associated with investing in emerging markets.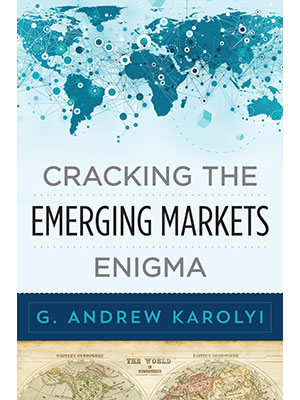 So, I wrote a book called Cracking the Emerging Markets Enigma. What I did in it was draw on research—not just my own, but that of many other scholars—to create an organizing set of principles, six identified risk indicators associated with investing in emerging markets. These indicators included market capacity constraints, operational efficiencies, accessibility restrictions for foreign investors, corporate governance, political risk, and even the legal environment.
To make it as practical as possible for investors (the target audience of advisors and their clients), I used data to enumerate standardized scores for each of these six indicators. The idea was that you could quantify the extent to which one particular risk is more acute for investing in a specific emerging market country than for another. The back third of the book seeks to cross-validate these risk indicators to match to actual asset allocations of global investors. I ask, "How does this framework do?" I work hard not to over-claim, so I state at the end of the book: "Well, not too bad."
As executive editor of the Review of Financial Studies, you introduced registered reports, a novel approach, to encourage research in fintech and climate finance and published two special issues, one on each. Why was encouraging research in these two areas important to you?
 The answer is easy. We pushed to launch serious research on fintech and climate risk because we were listening to our broader community of chief financial officers and investment officers who said there was not enough and they needed it.
When you're an editor of a major journal, the volume of submission flows can be just overwhelming. You mostly respond to what the marketplace of scholars delivers to you and do the best you can with the decisions you make. But when I was editor, I spent time talking to my friends and acquaintances in the finance industry. While a wonderful opportunity to listen and learn from them, it was sometimes humbling when they let you know that some of the work you were publishing in your journals was not the most relevant for them. On those humbling days, I drummed up the courage to challenge them back, saying, "Okay, come on then, tell me what it is that we should be encouraging our scholars to work on? Give me some suggestions and be specific."
Fintech was one I heard. The fintech industry was taking off at an incredible pace and, while it may seem absurd now, five years on, there was almost nothing in the top journals of finance about online and peer-to-peer lending platforms, Bitcoin, cryptocurrencies, cybersecurity or robo-advising. So my fellow editors and I launched a competition using the concept of registered reports with the prize of getting published in a special fintech issue of the Review of Financial Studies. I think it was a success and many journals in finance are publishing actively on fintech now.
The same clearly goes for climate finance. While environmental economics and management scholars had been writing and publishing about environmental sustainability issues for decades, financial economists had not. Chief financial officers and chief investment officers were beginning to think about climate-related financial risks about five years ago, but they were asking, "Where's the financial science in support of doing so?" As with fintech, my editors and I at the Review of Financial Studies saw this as an opportunity for us to step up. We did, and so did many top scholars. Now, there are multiple sessions focused on the climate at national conferences of financial economists and special conferences devoted to climate finance.
You have said you are passionate about research. Why?
I'm passionate about the impactfulness of research; not just research for the sake of doing research. I care deeply about the push for responsible research that is happening—not just in business and economic sciences, but across all academic disciplines out there. Part of the catalyst is what we call the "open research movement" advocating for greater transparency in research. That registered report idea we discussed earlier came from some engagement I had with the Center for Open Science that is advancing this open research movement.
Responsible research is not just about credible research. It is also about impactful, relevant research. The research I am truly passionate about has to be credible and it has to be able to change things; it has to impact how key decision makers out there take action.
What is the absolute best, most satisfying thing about the work you do?
Faculty development is incredibly rewarding. Recently, I was very proud to receive news directly from the provost that one of my colleagues was promoted to the next rank. It was an awesome feeling to be able to deliver that news to my colleague.
And next Saturday, I'm going into Breazzano again and I get to spend the day with these hungry EMBA students who just want to understand finance a little bit better. I've got something to offer them. So I cannot wait to walk into that studio again.
Your parents were Hungarian immigrants who escaped Hungary in the late 1950s, and you are the first in your family to graduate from high school. You've spoken about growing up in your family's restaurant in Vancouver, British Columbia. How have those things shaped your outlook?
Yes, those are all true. My mother escaped during the 1956 Hungarian Revolution along with her mother, my two half-sisters, and another 180,000 people trying to get away from a painful autocratic regime. They went from refugee camps in Austria and Germany to ultimately getting on the first ship out of Bremerhaven in Germany, and landed during the icy cold of January in St. John, New Brunswick. They found their way across the country to Vancouver. My father, who had come over a few years earlier, had been hired by the City of Vancouver to be a translator at the customs house, where all these 1956 immigrants were arriving. My parents somehow met in all that chaos.
I was the first one in my family born outside Hungary. I learned Hungarian first, and they threw me into school, starting from kindergarten, to learn English. As for many immigrant families, it was really important for them that I do well in school. They prioritized that, even though they hadn't finished high school themselves.
My mother and father bought a restaurant when I was young. It was understood that it was our obligation as family members to be actively engaged in it. From peeling potatoes in the back kitchen, to working as a sous-chef, to bussing, to washing the dishes, to mopping the arcade, to doing the books in the office, to carrying the soup from the kitchen over to the fast counter, there was there was no job there that I didn't do. It was the same for all of us in the family. I worked in the restaurant pretty much all the way through high school and even into university during the summers.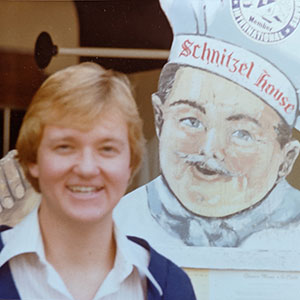 What did I learn? There wasn't room for much whining. Because my parents basically told me, "Look at us: We're working. So you work, too." I have great pride and admiration for all that we were able to do as a family with that business. At one point, I think we had almost 40 to 50 employees; it was a serious operation and it was doing very well until it was time to wind it down.
When I reflect on it, I credit my mother in particular, who was very conscious that I was the owners' kid. For her, it was especially important that I understand that I was one of the team, that I would also contribute, and that I was no different than anybody else. No special privileges. To make this all work successfully, everybody had to do their share. If there is a life lesson to be had, you needed to get to know everybody, work with everybody, and be respectful of everybody.
Tell us about your wife and children.
My wife, Anne, and I have been married for 38 years. We have two adult sons, both married, and two grandchildren, all doing well.
Anne is from Calgary, a fifth generation Canadian. We met at McGill University and, as soon as I finished university, we got married. She worked for a number of years as a special ed teacher. Once our sons were in school, she worked part-time for a psychologist, mostly on workman compensation support issues. Since we moved to Cornell and Ithaca, she's really doubled down as a quilter. Our family and friends have been blessed by a number of her beautiful quilts as gifts. She made the one that hangs in my office.
Where do your sons live?
Steve, the older one, is moving to Washington, D.C., to be a senior economist at the Office of the Comptroller of the Currency, which is part of the Treasury. And Paul is a professional podcast producer. He works for City Cast Denver, a brand new company that aims to become a national network of daily local news podcasts.
What do you do to recharge?
The most important thing we do to recharge is to go outside, especially during this pandemic! We cross-country ski in the winter, Anne and I, and we love to go on long, long walks—hikes—and just take advantage of all that there is here in upstate New York. And we really enjoy it when we can see our family.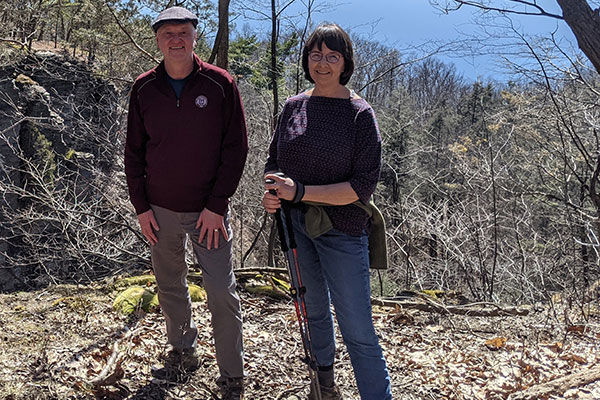 But if you're asking me about my own personal thing, I'm a hockey aficionado. Lifelong.
I've played hockey since I was a five years old. I've been a registered USA hockey referee and coach. Both of my sons played and I was actively involved in their hockey life. I am a fan of the sport and the game. I love the atmosphere of Lynah Arena. I love everything about the sport. Playing it. Watching it. The speed, the elegance, the agility of the men and women as athletes captivate me. It's free-flowing, dynamic, and I just revel in the strategies embedded in all that.
We have a Cornell faculty hockey team, a fun bunch with some very talented players. Basically, as a unit, we have served as a practice squad for the Johnson MBA men's hockey team. They're really, really good. And they always needed opponents to gear up for their tournaments, so we gather on occasion, at least in pre-pandemic times.
I like to put on my rollerblades and fly around my driveway and neighborhood. I read about the history of hockey. And I'll take on anybody for a history-of-hockey trivia challenge! 
Who has had the biggest impact on your life?
 Well, there's no question that my wife has had the most influence on my life. She is my partner and best friend. Certainly, the indelible mark of my mother, her very modest upbringing in pre-war Hungary, the trauma that she suffered to come over here to North America, the energy and effort she invested in her children and family, lies within me. Those two people, for sure.