Jonas Weil Entrepreneurship Fellowship helps pediatric telehealth founder make strides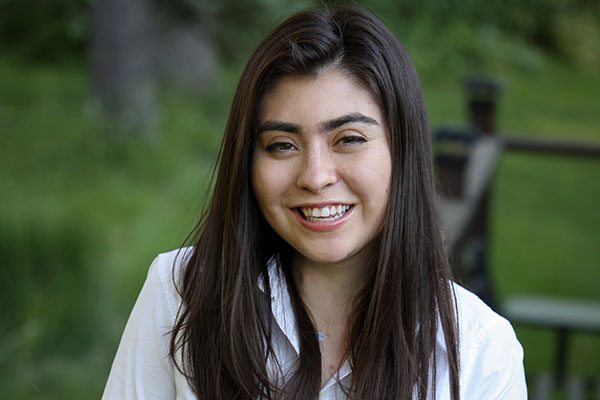 When Marla Beyer, MBA '20, MHA '20, was contemplating her next move after graduation, she saw two options. She could immediately launch the pediatric telehealth startup, Hopscotch, that she had been developing in grad school, or she could go back to working at a health insurance company to first make a dent in her student loans.
Receiving the Jonas Weil Entrepreneurship Fellowship made her decision much easier. Since 1997, the fellowship has provided funds to help 70 entrepreneurial alumni  of the Samuel Curtis Johnson Graduate School of Management repay their student loans. The idea is to make loan debt less of an obstacle for alumni trying to start a business. "It was a huge weight off my shoulders," said Beyer.
Telehealth services on the rise due to COVID-19
Timing can make or break a business venture. With a portion of her loans paid, Beyer could capitalize on just how right the timing really was for Hopscotch, a HIPAA-compliant platform for delivering virtual behavioral health care to children. She knew her product would benefit the up to 80 percent of kids unable to access the behavioral health care they needed in pre-pandemic times. Meanwhile, COVID-19 has dramatically increased demand for virtual services.
While working as a clinical trials project manager at a children's hospital, Beyer learned about the pitfalls of the behavioral healthcare system. "I became familiar with how inaccessible this kind of care was to patients and families," she said. "But there are also issues with engagement between sessions and adherence to care can be very low, leading to regression in between sessions and high rates of treatment drop-off."
Hopscotch, which can be used to deliver virtual care or to supplement in-person care, improves upon the system by providing greater accessibility and increasing treatment adherence. Pediatric psychologists, social workers, and licensed mental health counselors can use the platform's library of gamified interventions to drive interactivity in virtual appointments or create custom treatment programs for follow up care.
Providing personalized instruction and intervention for children
For a child diagnosed with depression, providers might prescribe Hopscotch's fun-scheduling activity. This personalized intervention instructs children to input a list of activities they enjoy. They are then prompted to engage in these activities throughout the week. The prompts act as behavior change cues to help with behavioral activation, a key component to mood disorder treatment.
Hopscotch's cognitive distortions exercise presents children exhibiting negative thought patterns with games to play to recognize these distortions in everyday life. They gain the ability to identify thought patterns they might be experiencing and learn coping skills to respond to different types of distortions. Interventions are designed for children with diagnoses ranging from attention deficit hyperactivity disorder (ADHD) to anxiety disorders and depression.
Hopscotch leverages Cornell's entrepreneurial ecosystem
"At our core, we want kids to be more engaged in their care and more incentivized to complete crucial follow-up work," said Beyer. Her company has received recognition for its potential impact from Poets & Quants, the widely read business education forum, which included Hopscotch on its list of 2020's Most Disruptive MBA Startups.
Last summer, the company was one of the winners of the National Children's Hospital's "Make Your Medical Device Pitch for Kids!" competition (Covid-19 edition). Hopscotch was selected to participate in the winter 2021 cohort of the Entrepreneurs Roundtable Accelerator in New York City. Beyer also won the $25,000 first prize this year at national Blackstone LaunchPad's Startup Grind Pitch Competition.
Beyer credits the flexible nature of Johnson's MBA curriculum with some of her company's success. "I was able to selectively choose what I thought would help the venture progress," she said. That flexibility allowed Beyer the time and bandwidth to participate in eLab, Cornell's student business accelerator, where she received mentorship, learned from the rest of her cohort, underwent customer discovery for her startup, and made pitches to potential investors.
Beyer found her involvement in Big Red Venture Fund, an early-stage venture capital fund run by Johnson MBA students, especially valuable. "That experience with learning the investor perspective, evaluating a startup, and the due diligence process helped me think through things like my business model and fundraising more thoughtfully as a founder," she said.
During her MBA education, Beyer and her team spoke with hundreds of clinicians and caregivers to understand the pain points of behavioral health care delivery at a deeper level. While many clinicians said they would not have been very interested in providing services virtually before the pandemic, they have now been doing their jobs online for months, without the benefit of platforms tailored to the services they provide. And the pandemic has only exacerbated their patients' symptoms, due to a lack of structure in kids' days, isolation, and anxiety about the pandemic itself.
"With startups, timing can be crucial to driving adoption—finding the right time and place when customers are hungry for your product and the market is ready for your solution," said Beyer. She formally launched the business in February 2021 and Hopscotch already has over 1,600 active clinician users across 46 states.
 Casey Verderosa is a writer for the Center for Regional Economic Advancement at Cornell University.