MBAs launch high-growth startups in deep tech through radical collaboration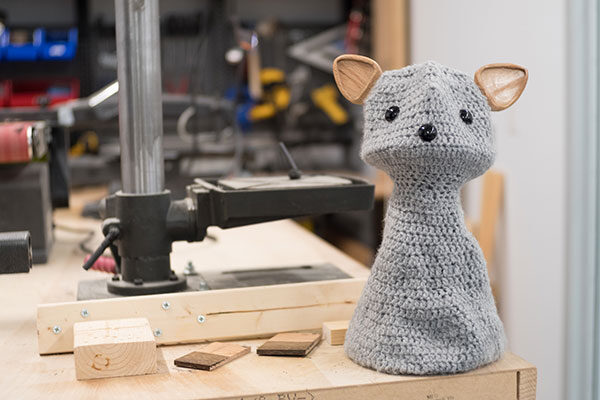 When it comes to applying classroom learning to the real world, Johnson MBA students waste no time. Big Red Tech Strategy (BRTS), available to first-year students, is an intensive, 12-week collaboration that matches MBA teams with Cornell Engineering Commercialization Fellows who are developing cutting-edge technology while earning their doctoral degrees.
BRTS offers ample opportunity for MBAs to gain practical experience launching a business, work with emerging technologies, and navigate team dynamics, all with the guidance of experienced mentors, according to 2021 BRTS co-presidents Angela Yllanes and Helen Delgerjav, both MBA '22. Yllanes and Delgerjav recently assumed leadership of BRTS and are continuing the work of 2020 co-presidents Param Kandhari and Nafisa Poonawala, both MBA '21. Focusing on strategy for deep tech innovations, BRTS students launch not just any startups; they help new ventures make an entrance into a high-growth area.
Applying classroom learning to the real world
Elyse Cianfarano, MBA '22, and her BRTS teammates developed a go-to-market strategy for technology that captures, converts, and stores carbon dioxide and other industrial waste materials—technology developed by Engineering PhD candidate and Commercialization Fellow Meishen Lu. "Johnson does a great job of teaching the fundamentals throughout the core, but BRTS gave me an opportunity to put those learnings into action, tackling business problems that weren't as clean as what we might find on a quiz or problem set," Cianfarano said.
Johnson Two-Year MBAs join BRTS projects armed with a foundation in business education, ready to experience what it's like to be accountable to a budding entrepreneur with a new technology. At the same time, they receive mentorship from expert entrepreneurs and form deep connections with founders, investors, and others active in the local entrepreneurial community.
Cianfarano described her team's mentor, Elisa Miller-Out, an Entrepreneur-in-Residence at Cornell Engineering and managing partner at investment fund Chloe Capital, as "instrumental" to many of their efforts. "She pushed us to both think bigger about what the company's value proposition could be and what markets we could target," Cianfarano said. "She also encouraged us to focus our efforts on what would be most impactful for the customer journey—what would make saying 'yes' to our business as easy as possible."
The Blossom team: Developing a commercial strategy for a social robot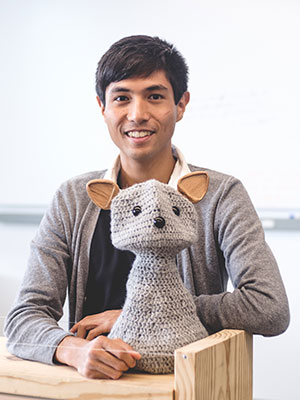 Another BRTS MBA team worked with Engineering PhD candidate and Commercialization Fellow Michael Suguitan, MS '20 (Engineering), on developing a commercial strategy for Blossom, a social robot that can be handcrafted from a kit. Suguitan helped develop Blossom in the lab of Guy Hoffman, associate professor in Cornell's Sibley School of Mechanical and Aerospace Engineering. The Blossom team—including Branden Karnell, Christopher Nowacki, Adi Sembiring, Caroline Tofflemire, and Phyllis Tu, all MBA '22—described BRTS as a "crash course on business ventures."
Working together on a commercial strategy for Blossom allowed the MBA students and Commercialization Fellows to hone skills introduced in the classroom, such as storytelling, market research, finance, and strategy, and invigorated their education with entrepreneurial spirit.
Powered by artificial intelligence, Blossom was created to "autonomously react to stimuli in its environment—from dancing to a familiar tune to shuddering away in fear at a sudden strike of lightning," according to the team. As part of the group's market research, they spoke with education and special needs experts who envisioned several applications for the technology, including introducing young students to robotics and helping children with special needs process social stimuli.
Experiencing the power of teamwork
One of the project components students find most valuable is working together as a team. "BRTS provided a laboratory for diversity of thought," said the Blossom team in a joint statement. "It presented an opportunity for a group of strangers of all different professional, academic, and cultural backgrounds to come together and think critically about how to identify, define, and realize the value of something that presented legitimate social-benefit potential."
Teamwork also requires members to assess one another's strengths, divide and delegate work accordingly, and be accountable to one another.
Although working with different entrepreneurs dictates that student experiences within the program are unique, BRTS participants agree on one universal truth: You get out of it what you put in. Reflecting on her experience, Cianfarano said, "All of the skills available—digging in on a new technology, engaging in customer discovery, creating value propositions and brand ideas, and doing it all with a new team — are so valuable."
Casey Verderosa is a writer for the Center for Regional Economic Advancement at Cornell University.