Venture capitalist Marlon Nichols invests in diverse, visionary founders
Celebrating 10 Under 10 honoree Marlon Nichols, MBA '11

A venture capitalist who makes it his priority inject greater diversity into venture capital, a champion for BIPOC- and female-founded companies, a master network builder and believer in the power of sports leadership philosophy, Marlon Nichols, MBA '11 (a Two-Year MBA graduate), is one of the inaugural 10 Under 10 Notable Alumni honored by the Johnson Recent Alumni Council (JRAC).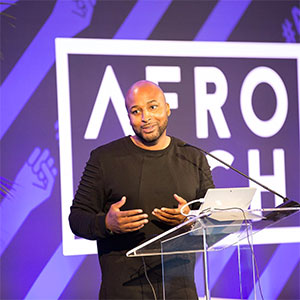 Nichols is a co-founder and managing general partner at MaC Venture Capital, a seed-stage venture capital firm that invests in visionary founders building the future the world wants to see. He credits his unique eye for global trends and shifts in consumer behavior in helping him to accelerate companies on the verge of their breakthrough moment, including Blavity, Pipe, PlayVS and Wonderschool, among others. A widely recognized and lauded entrepreneur and innovator, Nichols was honored with MVMT50's SXSW 2018 Innovator of the Year award and Digital Diversity's Innovation & Inclusion Change Agent award and was named a Techweek 100 winner in the investor category in 2017, when he was a founding managing partner at Cross Culture Ventures.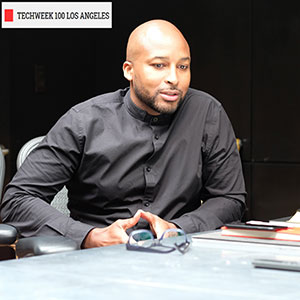 Nichols' name has appeared on Pitchbook's list of 25 Black Founders and VCs to Watch for four years running, 2018-2021, and on Silicon Republic's list of 26 VC professionals spearheading change in tech investment. Nichols has been featured on TechCrunch, Fortune, Cheddar, MSNBC, Blavity, and NBC.
A Roy H. Park Leadership Fellow at Johnson, Nichols focused his MBA studies on entrepreneurship and private equity. He hails from Jamaica, West Indies, and now calls Los Angeles home. He thinks about where the world is going, what he wants his place to be in that world, and how he can shape that future world into a place where he and his loved ones can truly be happy.
Nichols credits two great athletes with his favorite quotes:
"I know where I'm going and I know the truth, and I don't have to be what you want me to be. I'm free to be what I want." — Muhammad Ali
"It's the one thing you can control. You're responsible for how people remember you, or not." — Kobe Bryant
Learn more about Nichols in this Q&A.
Closing the representation gap in venture capital
What drives your commitment and focus in your professional career?
Nichols: I utilize sports leadership philosophy when working closely with CEOs to build the ventures of tomorrow. My diverse network of media and entertainment industry leaders, tech entrepreneurs, Fortune 500 executives and sports professionals helps me to develop strategic partnerships and promote brand expansions for my portfolio companies. I am committed to uplifting Black and Latinx problem solvers; my devotion to closing the representation gap in venture capital drives my passion for working with these entrepreneurs.
Each year in Austin, Texas, during South by Southwest (SXSW), MaC Venture Capital co-hosts a day-long event called Culture House that brings underrepresented tech founders together with investors, celebrities, Fortune 500 executives, and professional athletes to cultivate professional partnerships. It has become one of the hottest tickets during the festival.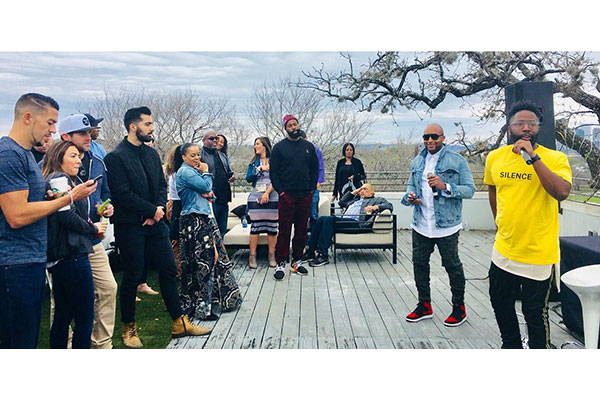 Offering Black and brown game changers a seat at the VC table
Nichols has made it his mission to uplift and accelerate BIPOC- and female-founded companies "on the verge of their breakthrough moment." Many of the companies he has worked with have shifted global and cultural trends, including Blavity, Gimlet Media, LISNR, Mayvenn, MongoDB, PlayVS, Pipe, Thrive Market, and Wonderschool, and others. Nichols is committed to encouraging more diversity and offering Black and brown game changers a seat at the venture capital table. He and his team at MaC Venture Capital prioritize diversity and inclusion when it comes to all of the future founders they invest in and this remained their focus even throughout the pandemic.  "We are grateful to have announced our inaugural seed-stage fund of $110 million," Nichols says.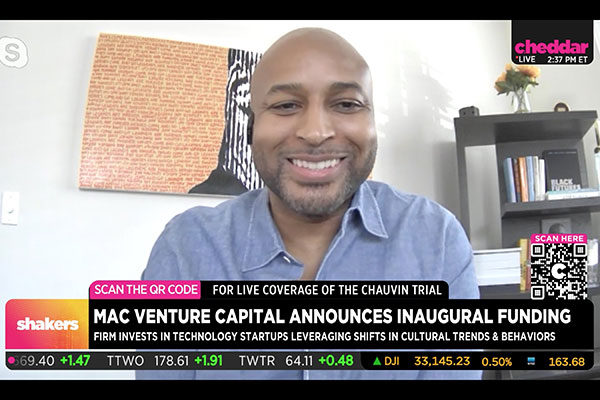 What inspires you to dedicate your time and energy to this community service? What impact do you want to have in the world?
Nichols: During my five-year tenure at Intel Capital, the lack of representation of and funding that went to BIPOC founders became vividly apparent. As I helped to launch Intel's $120M diversity fund and started to deploy capital from it, it dawned on me that I could do so much more if I were to create my own venture capital firm. I wanted to create a firm that would be grounded in culture and invest without racial or gender bias. I needed to create a firm that would function in the way that I believe the industry should—I wanted to lead by example. I strive to impact the journeys of Black, brown, and female founders by helping them accelerate the growth of their businesses and presence in culture. I believe that personal experiences are a super power that enables Black and Hispanic entrepreneurs to solve challenges unique to their communities.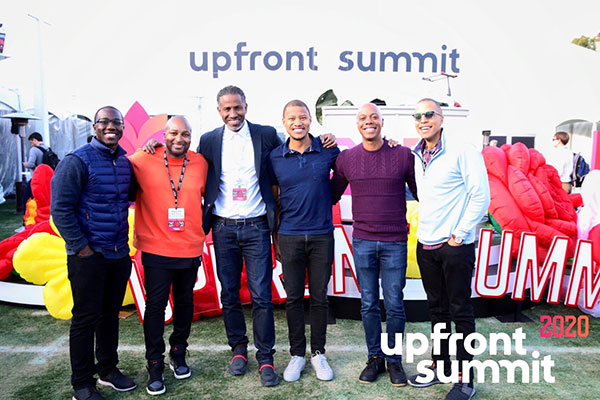 Thankful for life lessons learned and ready to pass them forward
As a former Johnson student, Nichols learned important life lessons that have impacted several of his professional and personal experiences. "I am thankful to everyone I have met during this time and the expertise they shared with me—lessons I strive to pass on to others following a similar path," he says.
What drives your continued engagement with and contribution to the Cornell community?
Nichols: My two years at the Johnson School were literally a life-changing experience. I learned tremendous amounts about the fundamentals of building successful enterprises, developed lifelong relationships with a community that truly has my back come whatever. I got to truly know myself, what drives me, and how to effectively engage with other personality types. And I learned how to bring the best out in teammates. Many of the things that contribute to the career I am building come from my time at Johnson.
What does being selected for the Johnson 10 Under 10 Notable Alumni list mean to you?
I am humbled, grateful, and proud to be selected for the Johnson 10 Under 10 Notable Alumni list. I consider my experience as a Johnson student to be a pivotal, positive influence in my professional and personal life, and I carry the lessons learned with me in many of the decisions I make.
Invest in people, dream big, and give it your all
What are the most valuable things you learned at Johnson that have helped you in your career?
Nichols: People drive all outcomes (good and bad), so invest heavily in people, in the development of your teammates, and in truly understanding what motivates the people around you.
Did any particular faculty member(s) influence you on your chosen career path?
Nichols: Yes! For me and I'm sure many others as well, Risa Mish [professor of practice of management] is synonymous with inspiration, pride, and drive. Risa was instrumental in helping me to shift my paradigm to a place where fear of failure was not acceptable, but not dreaming big and giving your all to succeed was the failure. I can honestly say that Risa believed in my potential and ability more than I did at times. Sometimes you need that kind of motivation. There wasn't a single time when she didn't answer the call. Thank you, Risa!
Describe a challenge you encountered as you built your career and how you overcame it.
Nichols: As we were raising our first fund, one of my co-founders made a decision that didn't sit well with what was to be our anchor investor. As a result, that investor backed out. This was a huge blow to our fundraising efforts because as our anchor, this investor's commitment drove the interest of several other investors. As you can imagine, once the anchor pulled out, the other dominoes started to fall. In the end, our first fund was much smaller than we expected. We stuck together as a team and shifted our strategy a bit so that it matched our capital under management. Then we went to work. We invested in the best founders and helped them to build impressive companies. At the end of the investment period, we had a fund that was recognized in the top decile for its vintage and proved to the market that we could find success if afforded the right amount of capital. We've since raised a $110M seed fund and are not looking back.
What is the proudest moment of your career or of your personal life?
Nichols: The proudest moment in my professional career was the launch of MaC VC's inaugural $110 million seed-stage fund. It is the largest inaugural venture capital fund raised by a majority Black-led VC firm. I'm grateful to be part of this exciting chapter alongside my team as we work to invest in the best founders who are building towards the future that we want to see. It's also wonderful to pioneer the concept of truly investing without racial or gender bias.
What do you do to recharge?
Nichols: One of my favorite ways to recharge is by staying active, specifically with indoor cycling—I'm an avid Peloton rider. Exercise is a big part of mental health and in times of stress and difficulty, I turn to exercise to find balance and comfort. Having my Peloton in my office has helped motivate me to remember to take a break from all the hustle and recharge.
What do you wish you'd known as a Johnson student and what advice would you give to Johnson students today?
This is best said with a quote from one of the most inspirational and successful people that I've ever had the chance to meet, Kobe Bryant.
"It's not the destination, it's the journey. And if you guys can understand that, then what you'll see happen is that you won't accomplish your dreams. Your dreams won't come true, something greater will." —Kobe Bryant