Adidas VP Aaron Seabron reinvented his career to align it with his passions
Celebrating 10 Under 10 honoree Aaron Seabron, MBA '12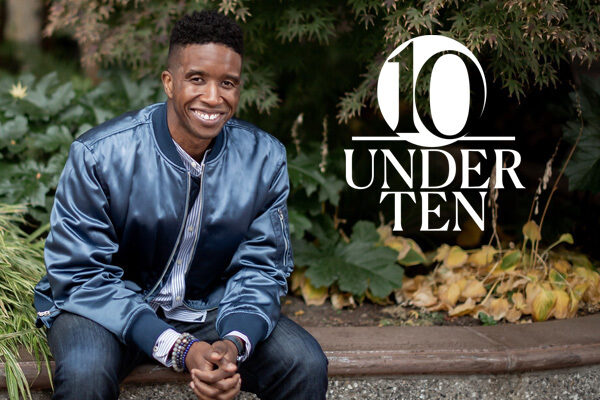 A vice president for a major sports retailer who has been named one of the most influential Black executives in corporate America, who is committed to using his own success to make a positive impact on others, and who believes that learning is the only competitive advantage,  Aaron Seabron, MBA '12 (a Two-Year MBA graduate), is one of the inaugural 10 Under 10 Notable Alumni honored by the Johnson Recent Alumni Council (JRAC).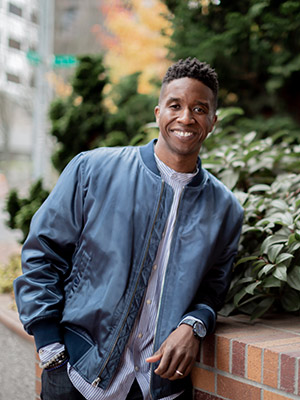 Seabron is vice president of US Sports at Adidas, where he has held a progression of business leadership roles of increasing responsibility since he joined the company in 2016. In 2020, he was named one of Savoy Magazine's Most Influential Black Executives in Corporate America. Before joining Adidas, he worked at General Mills—the company he joined right after earning his MBA—where he held various brand management roles and was honored with a champion's award.
As a student at Johnson, Seabron was a Roy H. Park Leadership Fellow, Student Council president, and a student liaison to the Consortium for Graduate Study in Management. Before coming to Johnson, he managed corporate partnerships across various industry sectors at Management Leadership for Tomorrow, a nonprofit focused on building diverse leaders and equitable workspaces. And he was an investment banking analyst at Lehman Brothers, where he worked on global communications, media, and technology transactions. He hails from West Bloomfield, Michigan and now calls Portland, Oregon home.
Seabrons's favorite quote comes from Marcus Aurelius: "The blazing fire makes flames and brightness out of everything thrown into it."
Learn more about Seabron in this Q&A.
Undeniable soul, unbreakable spirit
Q. What drives your commitment and focus in your professional career?
Seabron: I am blessed to have been born to amazing parents. They raised me in an environment that encouraged me to be competitive with anybody, fight for what I believe in, and never feel as though I am lacking in any way. Any success I have had is directly correlated to the foundation they laid and the example they set. My fuel for my journey will always be the pursuit of a life that makes them proud and has a positive impact for others.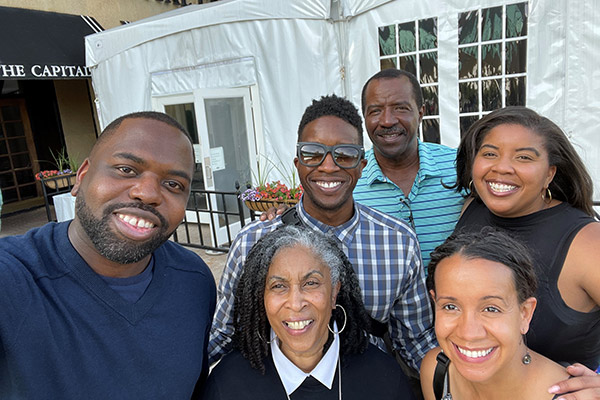 Make your path, then build a bridge
Seabron volunteers as a speaker and mentor for many organizations. He remains active with Management Leadership for Tomorrow, where he once worked, speaking at events geared to undergraduate students, pre-MBA professionals, and MBA students. For the Sports Business Association at the University of Michigan, where he earned his undergraduate degree, he is a volunteer mentor and guest speaker. He also serves as an advisory board member for the Michigan Sports Consulting Group. He's a startup mentor for Techrise. And in Portland, he serves on the board of directors for Sport Oregon and on the Portland State University's Athletic & Outdoor Industry Advisory Board.
Q. What inspires you to dedicate your time and energy to this community service? What impact do you want to have in the world?
Seabron: In addition to my parents, a multitude of people have answered my questions, given me advice, and guided my path (teachers, coaches, mentors). I care about community service and helping others because it is my way of paying back the collective investment so many people made in me. In terms of my impact on the world, I am a firm believer that leaders aren't driven to lead people; they are driven to serve them.  My job is what I do, but not who I am. Therefore, wherever my career takes me, I will always use any individual success to make a positive impact on others.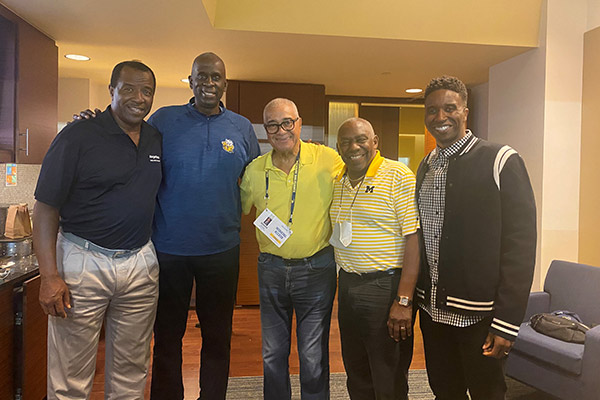 Cornell Johnson: A two-year experience that lasts a lifetime
Seabron is actively engaged as a volunteer, guest speaker, and panelist for many organizations at Cornell, including:
Q. What drives your continued engagement with and contribution to the Cornell community?
Seabron: The two years I spent at Johnson forced me to grow in extremely necessary ways. Before my MBA, I was always told I had potential. However, in looking back at who I was before Johnson, I realize that at times, I failed to live up to my potential. Several critical experiences outside the classroom reframed my formerly narrow perspective on leadership and unlocked my potential. Because being part of the Cornell community changed me (and continues to do so) in such meaningful ways, I am motivated to ensure that the institution does the same for as many others as possible.
Q. What does being selected for the Johnson 10 Under 10 Notable Alumni list mean to you?
Seabron: Being selected is incredibly humbling. There are so many deserving alums who are making an impact in the world across sectors and industries, which makes my selection such an honor. It also means that I have a responsibility to represent the Johnson community values and continue to deepen my relationship with Johnson.
Q. What are the most valuable things you learned at Johnson that have helped you in your career?
 Seabron: Four key things stick with me to this day from my time at Johnson:
Vulnerability is not a sign of weakness, it's a sign of strength.
Critical thinking is the best solution for big problems.
Taking people with you is the only way to build something that lasts.
To make the world better, you have to make your world bigger.
Q. Did any particular faculty member(s) influence you on your chosen career path?
Seabron: Clint Sidle [former director of the Roy H. Park Leadership Fellows Program], Risa Mish [professor of practice of management], and Nsombi Ricketts [former director of the Office of Diversity and Inclusion]. In their own unique ways, each of these individuals cared about me deeply, but also challenged me directly. They saw possibilities for me before I saw them for myself, and I am still trying to live up to their great expectations.
Embracing risk and taking the road less traveled
Q. Describe a challenge you encountered as you built your career and how you overcame it.
Seabron: My career has been all about reinvention. Instead of taking a linear path, I have pursued a range of industries and functions that each came with a steep learning curve. Each time I had to start from the beginning, I leaned on my community for encouragement and opened my mind to learn as much as possible before driving change. I am a firm believer that learning is the only competitive advantage. I don't think I am the best at anything; I am just really good at getting better.
Q. What is the proudest moment of your career or of your personal life?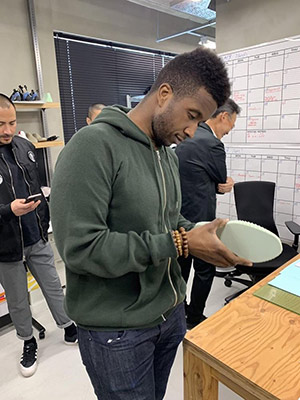 Seabron: It's tough to pick one moment, because I believe we are the sum of all our experiences. There's beauty in the struggle and ugliness in the success. I have had meaningful moments on both sides of that equation that have been instrumental in my journey.
If forced to pick one moment, it would be the moment I accepted a position at Adidas. I am particularly proud of this moment because it was a decision where I took a risk and bet on myself. I was already working for a great company with lots of runway in front of me and multiple trusted mentors advised me to continue down that path. Despite their wise council, I kept coming back to my own intuition and desire to pursue an industry that aligned with my personal passions. The leap of faith taught me to make decisions based on my own value system as opposed to the expectations of others. Taking the road less traveled has made all the difference.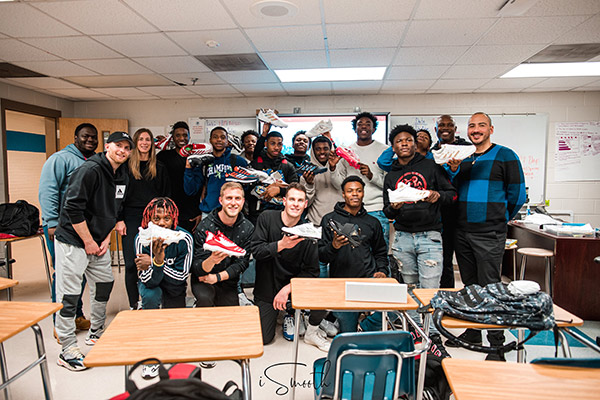 Q. What do you do to recharge?
Seabron: A good workout is the best recharge for me. Between running, spinning, and lifting weights, I try to always make time push myself through exercise.
Don't forget to live for today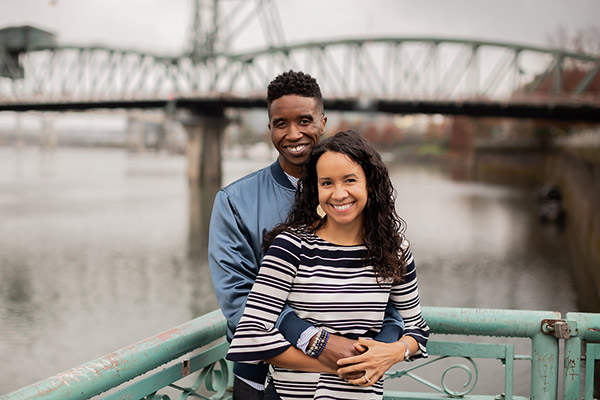 Q. What do you wish you'd known as a Johnson student and what advice would you give to Johnson students today?
Seabron: I wish I had let my hair down a bit more and had more fun as a Johnson student. I was probably a little too serious at times. My advice to Johnson students today is to make the most of the experience. The window of time you get to spend as a student is incredibly short. Don't become so focused on living for tomorrow that you forget to live for today.