Education and Green Technology Offer Southern Tier Renewal Opportunities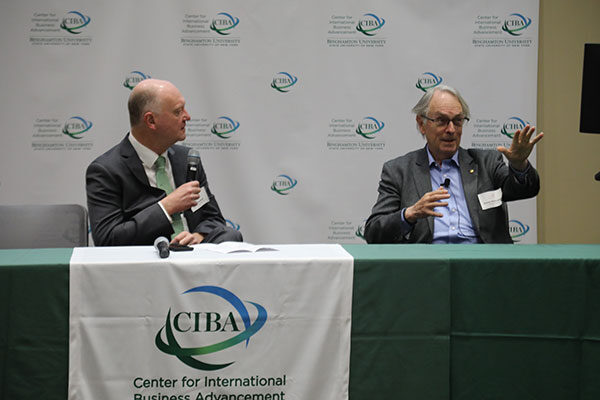 Once a major industrial hub, central New York State's manufacturing infrastructure has been woefully silent in recent decades. The area's renewal may be on its way in the form of next-generation clean energy products, which is the aim of the Southern Tier Soft Landing Program, a new collaboration among the Cornell SC Johnson College of Business, the Center for International Business Advancement (CIBA), and Binghamton University.
Speakers outlined plans and prospects for this development at CIBA's seventh Global Trade and Investment Forum, "The Southern Tier and the World: Recharging Sustainable Economic Growth with New Battery Technologies," held April 7 at Binghamton University's Innovative Technologies Complex. The event served as an informal launch for the Southern Tier Soft Landing Program, and CIBA founding director Elena A. Iankova described the program's purpose: to promote international business partnerships that boost economic growth and job creation in New York's Southern Tier by connecting the region's research institutions and businesses on green technology and workforce development. Iankova, who earned her master's and PhD at Cornell's School of International Relations, is also an adjunct assistant professor at the SC Johnson College and served as a senior lecturer and research scholar at the Samuel Curtis Johnson Graduate School of Management (2002-18).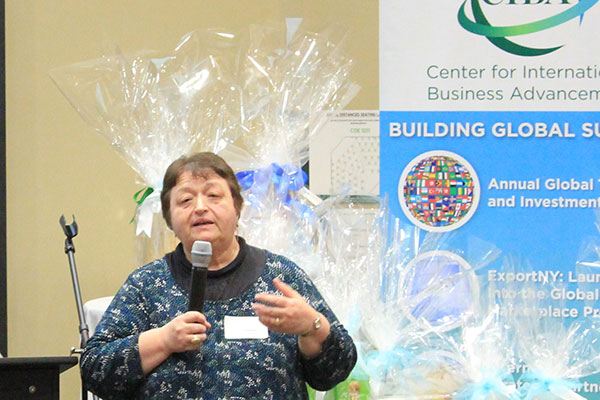 A three-year, $1.6 million grant from the U.S. Department of Commerce's Economic Development Administration will fund Soft Landing, creating high-paying jobs in upstate New York by bringing 45 foreign green tech businesses to the region and guiding them through the Koffman Southern Tier Incubator while student teams engage with the entrepreneurs on specific challenges.
Nobel Laureate M. Stanley Whittingham: We need regional supply chains
Andrew Karolyi, Charles Field Knight Dean of the Cornell SC Johnson College of Business and chair of the CIBA Advisory Board, introduced Global Trade and Investment Forum keynote speaker M. Stanley Whittingham, Binghamton University chemistry professor and Nobel laureate, who was honored for his development of lithium-ion batteries.
Sharing images of 2021 climate disasters, Whittingham pronounced the present global supply chain untenable. "Every country or region needs to create its own supply chain and infrastructure," he said. The U.S has the resources to create a regional battery supply chain, sourcing graphite, lithium, nickel, and sunshine, supporting a trained workforce, and designing or retrofitting manufacturing and testing facilities to be near one another. Doing so would save time and avoid wasting transport energy to produce batteries. The resource that's lacking is the will, he added. "These programs must be party-proof."
Central New York's clean energy enterprise network is already promising. The Koffman Incubator supports Soft Landings grant projects in various ways, recently connecting Portuguese energy software firm Cleanwatts Energy with the Ithaca Green New Deal, a bold commitment federal policymakers are observing. The New York State Energy Research and Development Authority (NYSERDA) supports initiatives that attract international companies, including the Southern Tier Clean Energy Incubator Program (SCI) and the 76West Clean Energy Competition. In addition, Empire State Development (ESD) invests in international and regional projects, including Rochester's Luminate, Syracuse's Genius NY, IDEA NY, and Grow-NY.
The demand for clean energy will only grow in the coming decades, and New York State is well equipped for leadership in the green economy, with ample tech and educational resources and business-friendly tax structures to support startups and scale-ups.
CIBA and Soft Landings are pursuing exactly this vision in the Southern Tier, as defunct facilities in the once-manufacturing-rich Southern Tier are being reclaimed and retrofitted. The independent lithium-ion cell manufacturer Imperium 3 New York (iM3NY) is now operating North America's first home-grown Gigafactory in Endicott's former IBM plant. Companies from Nigeria, Guatemala, and Switzerland have been accepted into the program, after which they will integrated into the Koffman Incubator for scaling from lab to manufacture in the area.
"It's actually a match made in heaven," said Karolyi. "You'll see teams of students from Cornell collaborating with one of the companies here in the Koffman Incubator on their business plan advancement. It's great for the students, very much a part of our Cornell roll-up-the-sleeves ethos. And of course, the companies benefit from incredibly smart students that they get to help them take their company forward."
Near the end, Iankova asked for partnership, a need also expressed by Endicott Mayor Linda Jackson. "A Soft Landings support network, including Binghamton University, Cornell University, legal experts, planners, and communicators," would help keep the project moving toward its immense potential.
The day's final event was a visit to the iM3NY Gigafactory, where Cornell engineering students were encouraged to apply.