Breaking the Status Quo on Sustainability
Sustainable business practices don't just ensure compliance and a favorable reputation; they also drive innovation and healthy growth.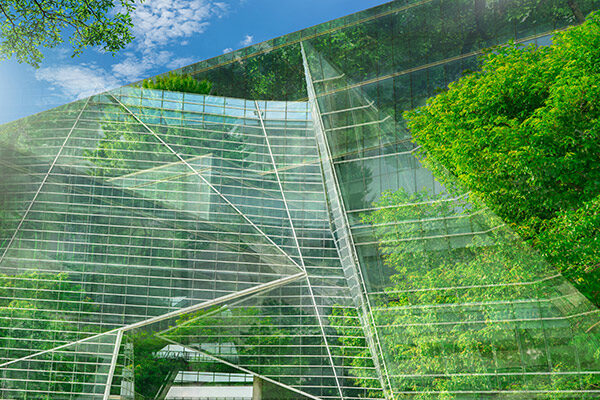 From changing water levels to the imminence of more back-to-back hurricanes, the global climate faces a bleak future. And while governments have taken the lead in issuing calls to action—the U.S. set a goal of achieving net zero emissions by 2050—it's the private and public sectors that have the power to ensure success. This was the focus of conversation for three thought leaders in sustainability during a live webinar on February 24 that kicked off the 2023 spring semester Lifelong Learning Experience, created for alumni of the Cornell SC Johnson College of Business and supported by the college's office of Alumni Affairs and Development and Business of Sustainability interdisciplinary theme in partnership with eCornell.
The webinar, "Business of Sustainability: History, trends, policy, and education," brought together alumni Delfina Govia '86, MBA '98, chief sustainability officer at Fracht FWO, and William Restrepo '80, MBA '85, chief financial officer at Nabors Industries, with Mark Milstein, clinical professor of management and director of the Center for Sustainable Global Enterprise. In a discussion moderated by Andrew Karolyi, Charles Field Knight Dean of the SC Johnson College, the panelists answered pressing questions about what companies are doing to fight climate change.
The key step many are taking? Bringing sustainability to the C-suite.
Today, more than 28 percent of public companies have a chief sustainability officer (CSO). This individual not only ensures companies adhere to environmental, social, and corporate governance (ESG) frameworks, but also drives innovation and collaboration efforts aimed at achieving sustainability.
"Sustainability looks different at every company," Govia said. "Companies that make products are looking for ways to innovate manufacturing to reduce waste or water usage. For others it might be looking for greater efficiency in how their supply chain operates."
But a shared goal for virtually all CSOs is increasing adoption, meaning a greater commitment to sustainability across the organization. In fact, it's a massive challenge—one that transcends individual companies. 
Teaching the significance of sustainability
Broadening the market's grasp on the potential benefits that come with sustainable business practices is a serious hurdle. Even at companies that pride themselves on sustainability efforts, the goal is often complying with regulations or ensuring that public perception of their operations is positive.
But sustainability is much more than that—it can be an opportunity for innovation, growth, and success. This deeper understanding and vision, however, requires a significant mindset shift.
And this shift doesn't happen overnight. It has to be taught and instilled into emerging leaders. Recognizing that, all three schools in the Cornell SC Johnson College of Business offer multiple courses that grapple with sustainability issues. The college's Business of Sustainability interdisciplinary theme brings together more than 150 faculty members who actively seek to address business of sustainability issues through research, teaching, and engagement. The aim is to cultivate leaders who view business endeavors through the lens of sustainability. It's part of the SC Johnson College's mission to inspire future business leaders dedicated to creating sustainable, shared prosperity for all.
"Thirty years ago, climate change was a pressing issue, but its impact was perceived to be 100 years away," Milstein said. "Now, the science is clear that we have a rapidly closing window in which we can make change. [It's up to academia to] get people up to speed to influence others and affect change. That's why our programs are focused on exploring what good business decision-making means in the context of sustainability."
Changing bad reputations
Although it's the goal, good business decision-making in the context of sustainability isn't always straightforward. One of the most complex questions in the space now is whether investors should fund companies in the oil and gas industry that are developing solutions to climate change.
"The market's answer is increasingly no," Karolyi pointed out. "Just look at investment policies that exclude oil producers from sustainable funds." Yet research from Harvard suggests the most influential producers of green innovation tech actually may be oil producers; in fact, the study found those firms invest about three times the average firm in climate change mitigation technology.
Overlooking the oil and gas sector is a missed opportunity for several reasons, Restrepo agreed. For one thing, oil continues to play an essential role in lifting people in developing countries out of poverty.
"The job isn't done," Restrepo said, "so starving these companies out of existence isn't wise." What's more, energy companies have a wealth of internal competencies, such as robotics and automation, that could be game-changing when it comes to expanding sustainable energy alternatives. "We need to lean on these resources to achieve sustainability. They'll be a big part of how we achieve net zero in the future," Restrepo added.
Forging ahead
Despite the massive environmental challenges that remain, there's positive news, too. "There's rapidly increasing pressure on companies to disclose their carbon emissions. Frameworks for Scope 1, 2, and 3 greenhouse gas emissions are emerging from regulators to offer guidance," Karolyi said, referring to the different emissions businesses produce via manufacturing or operations. "But the question remains: what's the world going to look like with these policies in place?" he asked.
Slowly, the outlook is becoming more promising. Even in the private sector, where companies are not necessarily legally obligated to disclose their carbon footprint, many are proactively sharing results in an effort to drive change.
"We have a shared responsibility," Govia said. "Don't wait for the government to tell you what to do. Collectively, we have to do what's right."