New Green Technology Innovation Fellowship Accepts First Cohort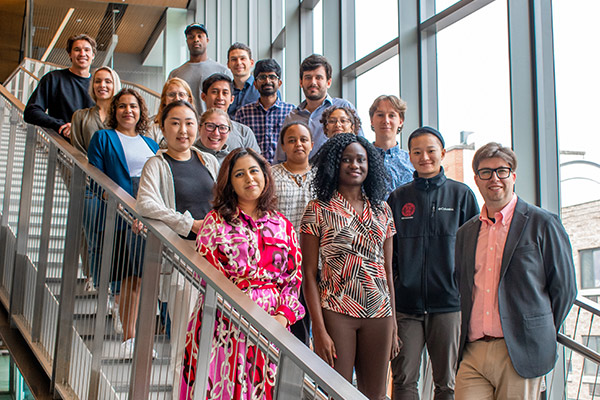 Nineteen Cornell MBA students, PhD candidates, and postdoctoral fellows have joined the inaugural cohort of the Green Technology Innovation Fellowship, an interdisciplinary entrepreneurship and translation program offered by the Cornell SC Johnson College of Business.
Created to prepare participants to lead science-based startups commercializing sustainable innovations, the program pairs graduate business students with researchers developing such innovations to collaborate on real-world startup creation.
"This program exists to develop the human capital that will lead the translation of Cornell research in high-growth potential startups. Our students are preparing to play an outsized role in driving New York's clean energy transition," said Gregory Ray, PhD '14, program lead and visiting lecturer in the Samuel Curtis Johnson Graduate School of Management. "We are preparing Cornellians across disciplines to lead innovative, thriving startups in the rapidly expanding sustainable economy." Participants will earn a certificate from the Johnson School upon successful completion of the program, which generally takes two to three semesters.
The program centers around a new course, Green Tech Innovation in Practice, in which teams participate in six workshop sessions from September to April as they de-risk business hypotheses derived from the researchers' dissertation topics. With regular guidance from seasoned entrepreneurs, investors, and faculty members, participants will explore how to test their hypotheses and develop entrepreneurial judgment.
Preparing entrepreneurs in clean energy and climate technology
Upon completing the program, participants will have the required entrepreneurial training, judgment, and mindset to lead a startup in the clean energy and climate technology fields.
"I hope to gain knowledge and confidence in moving a problem to a solution," said Maylin Murdock, a PhD candidate studying plant breeding at Cornell AgriTech in the College of Agriculture and Life Sciences. "I want to better position myself such that I can be understanding of all stakeholder needs and be skilled in addressing them. In the process, I also want to learn about what position I would fit best in a startup. Through this program, I will extend myself as a researcher and hopefully gain a new way of thinking as one."
"The research I have been doing over the past two years has excellent potential for commercialization," said Dheeraj Etta, PhD candidate in electrical and computer engineering at Cornell Engineering. "This program is my first exposure to the entrepreneurial world. Through this program, I would like to understand what it takes to build a successful startup and network with people from diverse backgrounds."
Meet the new Green Technology Innovation Fellows
Meet all the members of the inaugural Green Technology Innovation Fellowship cohort:
Joan Aburime, MBA '24
Bayu Ahmad, PhD (Chemistry and Chemical Biology)
Abdullah Alshuaibi, PhD (Materials Science and Engineering)
Kehkashan Basu, MBA '24
Dheeraj Etta, PhD (Electrical and Computer Engineering)
Moriah Frank, MBA '24
Reuben Frank, MBA '24
Kevin Grathwohl, MBA '24
Hailee Greene, MBA '24
Firehiwot Gurara, PhD (Electrical and Computer Engineering)
Ka Wah Sharon Lau, MBA '24
Ertai (Leo) Liu, PhD (Biological and Environmental Engineering)
Jonathan McCandless, PhD '23, Ignite Postdoctoral Fellow
Maylin Murdock, PhD (Plant Breeding and Genetics)
Min Nie, postdoctoral fellow (Food Science)
Eve Qian, MBA '24
Pihu Sharma, MBA '24
Simon Shindler, PhD (Chemical and Biomolecular Engineering)
Henry Williams, PhD (Mechanical and Aerospace Engineering)
Managed by the Center for Regional Economic Advancement, the fellowship is primarily funded by the SC Johnson College and the Johnson School, with added support from a Zalaznick Teaching Assistantship Award given by Entrepreneurship at Cornell.
Participants will earn a certificate from the Johnson School upon successful completion of the program, which generally takes two to three semesters.
Applications for next year's cohort will open in November on the Green Technology Innovation Fellowship webpage.