Johnson's biggest night: Big Red Bash brings together students, alumni, and honorees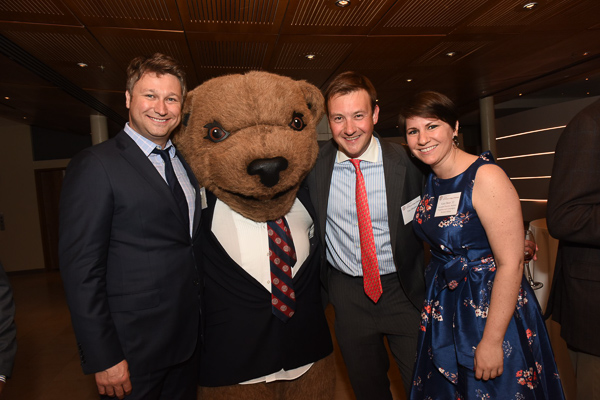 At a celebratory event held at New York City's Guastavino's restaurant, Johnson alumni and current students gathered to honor four exceptional members of the Johnson community—this year's alumni award recipients. The evening kicked off with an introduction by Mark Nelson, the Anne and Elmer Lindseth Dean of Johnson, who gave an overview of the school's newest programs and dove into the main event of the night—the awards ceremony.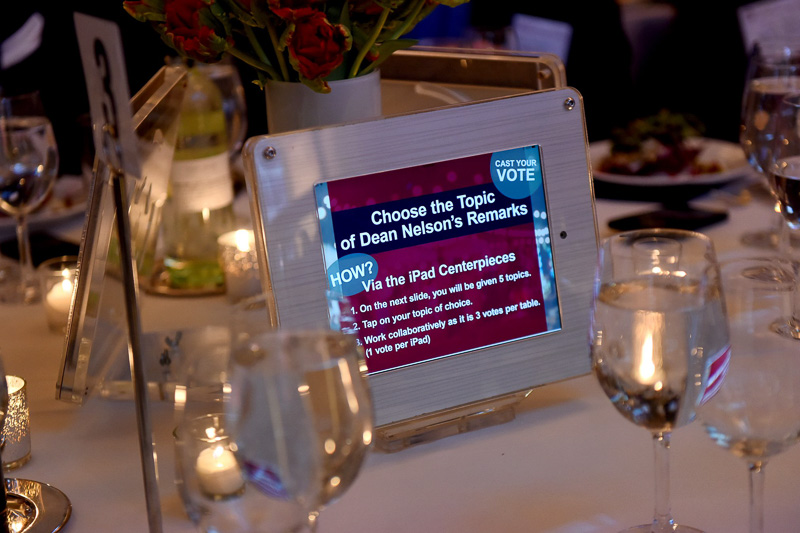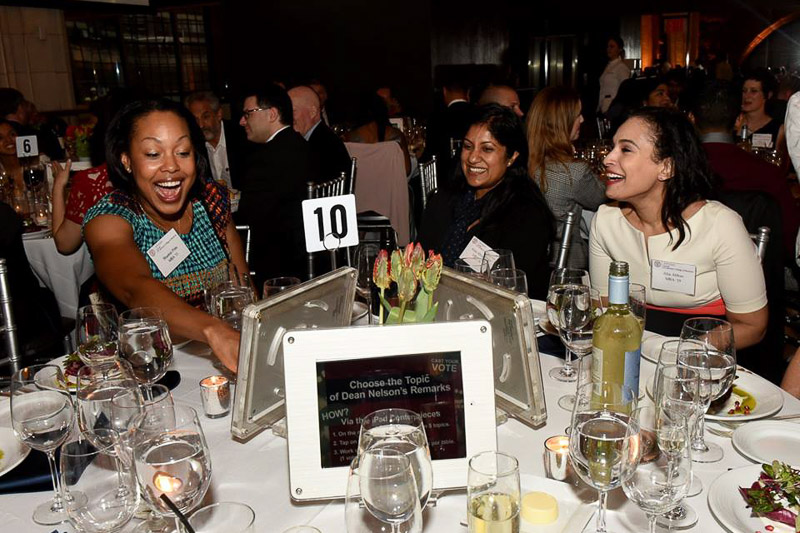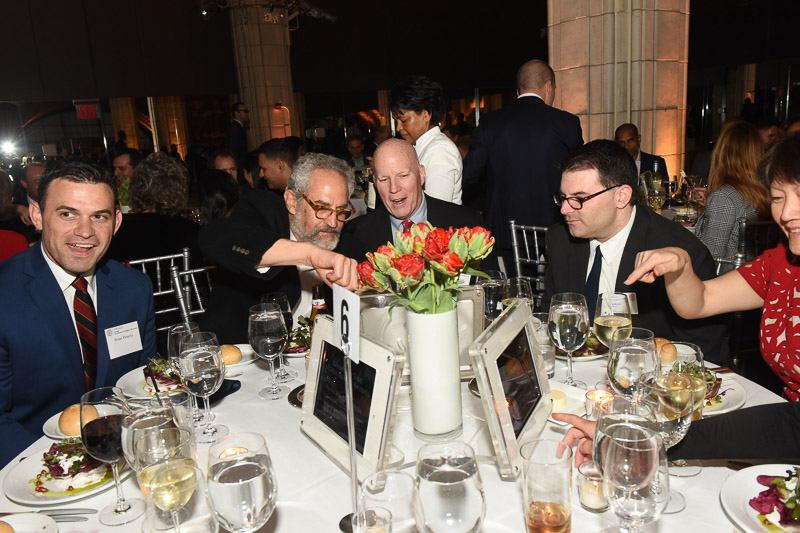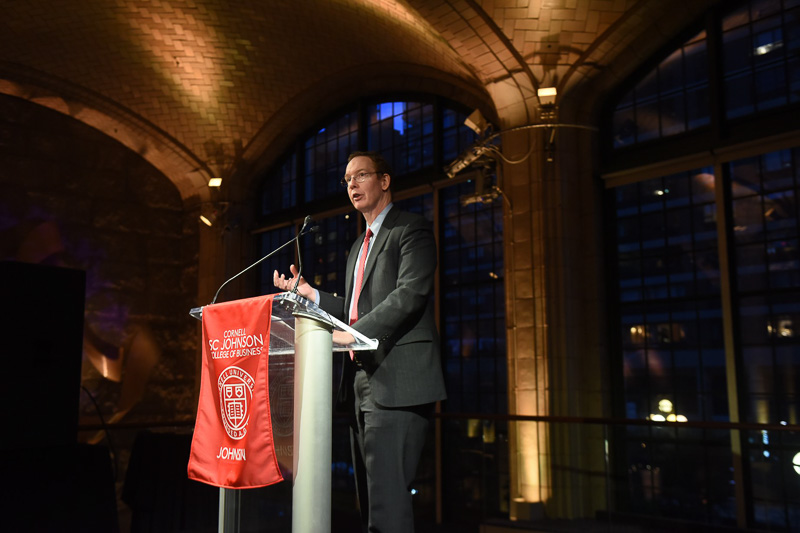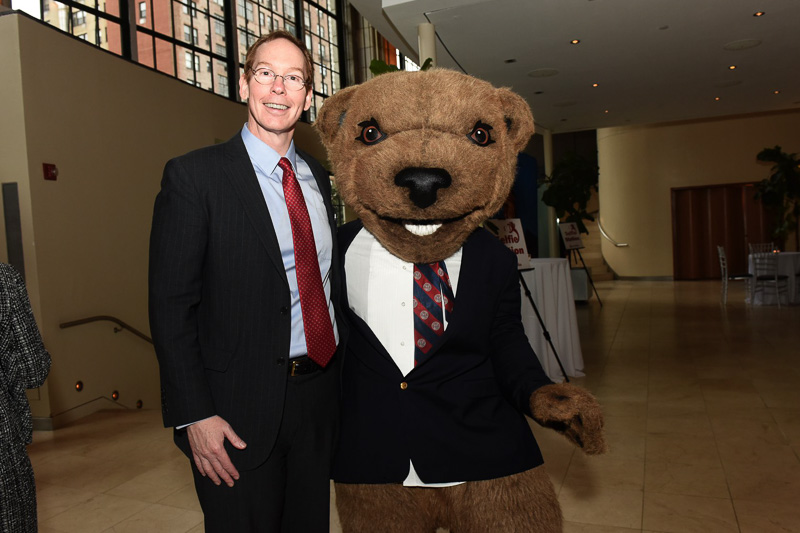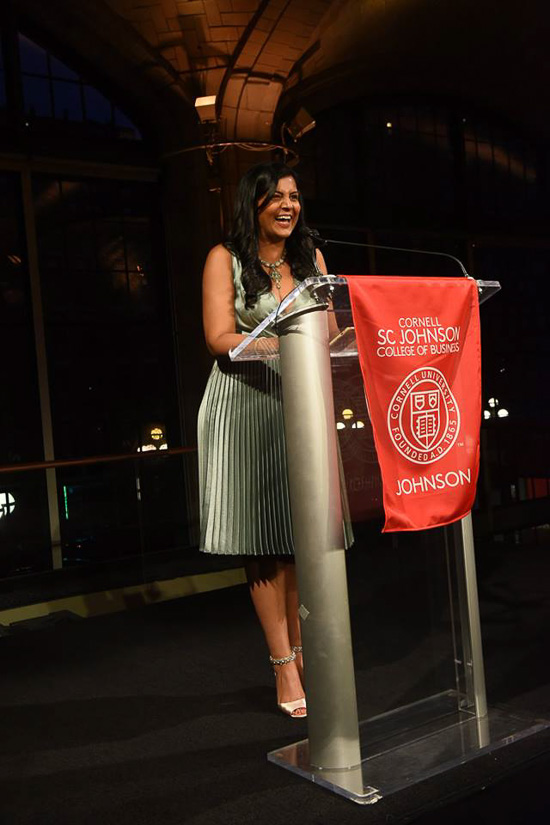 The first award of the night, the Henry P. Renard '54, MBA '55 Club of the Year award, went to the Johnson Club of the Bay Area under the leadership of President Richa Sood, MBA '12. Thanks to Sood, the club has strengthened regional engagement and communication and has held more events and attracted more local alumni than any other Johnson Club, with the exception of the Johnson Club of New York City. Humbled by the award, Sood said that despite the success of the club, Johnson has done more for her than she'll ever be able to do for it.
After graduating from business school, Sood moved to NYC for a job, but after losing that job, she relocated to the Bay Area. "It was only thanks to the support of the Johnson community in the area that I got through that [transition]. Since then, it has been my mission to build a strong community of Johnson alumni that can help you when you need a job, support you when you're going through a rough patch, or just be your friends when you want to have a drink," Sood said. Johnson, she added, has given her not only a great education, but also a network. Her message for current students? "Invest in this network and stay close to the school."
For the current students in attendance, Sood's message reinforced their commitment to engaging with alumni. "It's important to build connections beyond just your class," Thomas Seitz, MBA '18, said. "I'm part of the Johnson Cornell Tech MBA program and we're a small class, so being at events like this helps me connect to the broader community of Johnson. This event brings together alumni that are really passionate about Johnson and it's nice to have an opportunity to meet people from all over the country."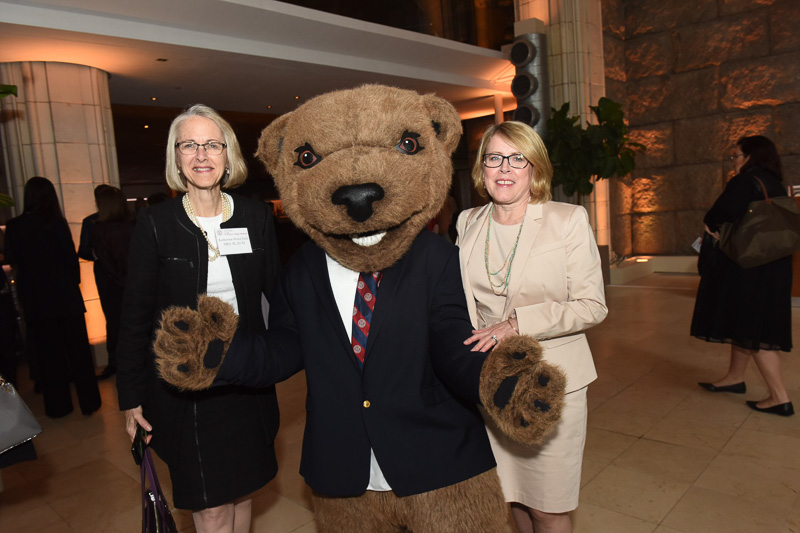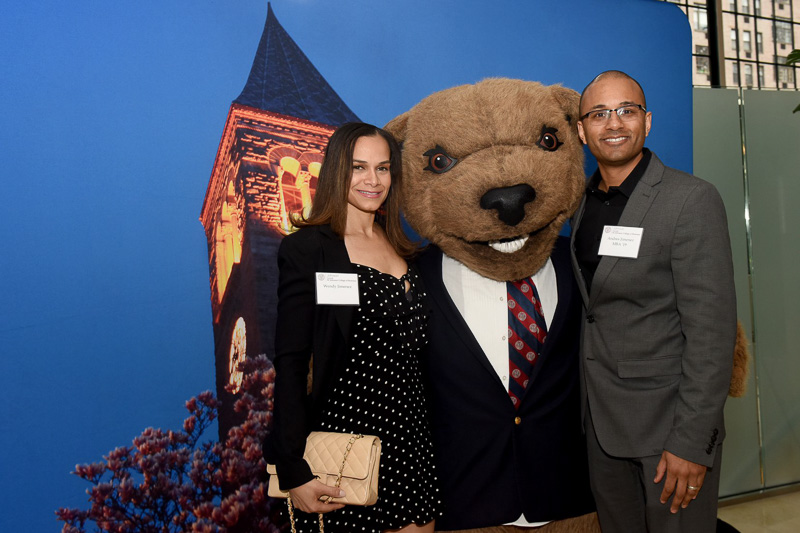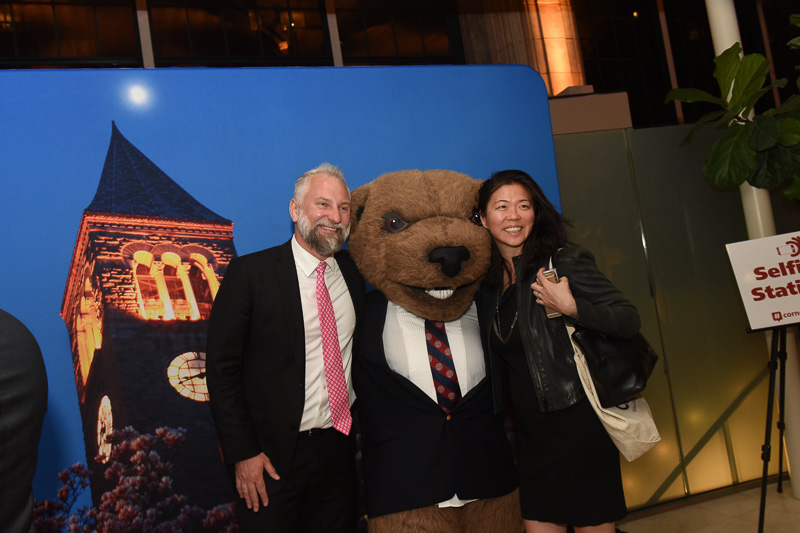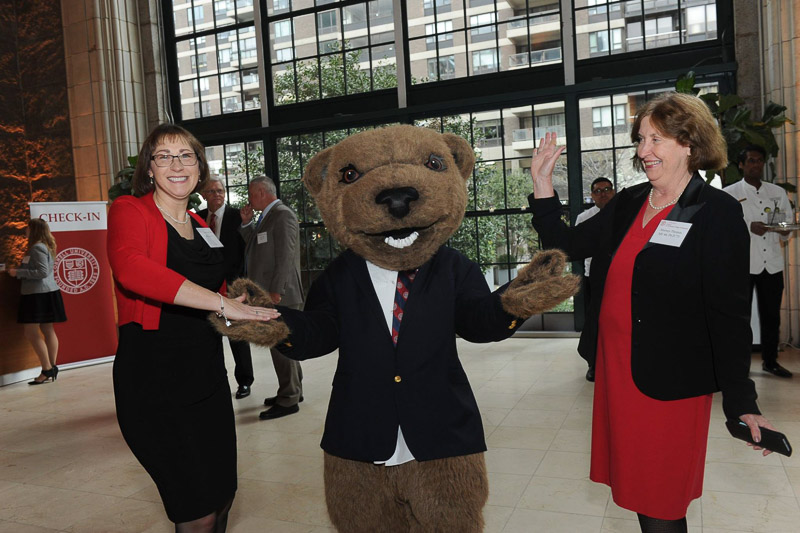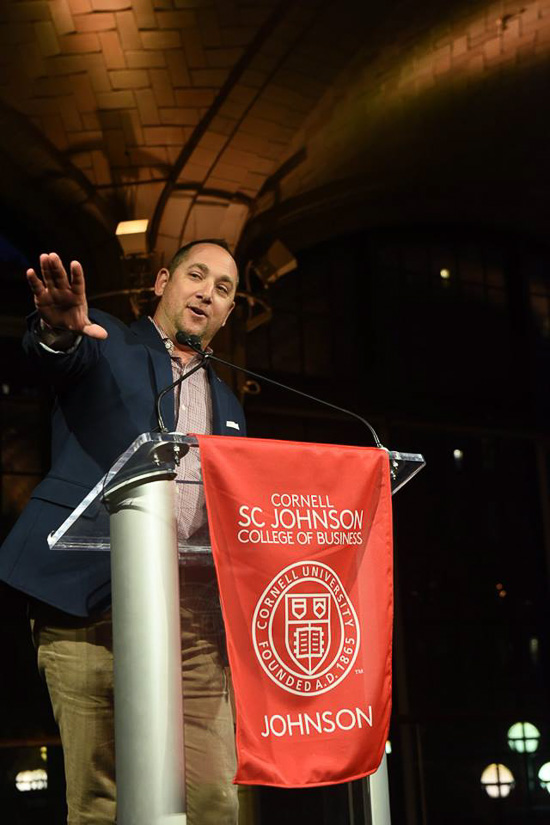 Another Johnson graduate receiving recognition was Jamey Edwards, BS '96, MBA '03, who was honored with the Robert J. Swieringa Young Alumni Service Award for his continued contribution to the school. As president of the Cornell Club of Southern California, University Council member, and mentor for students on campus, Edwards says his life still revolves around Cornell and Johnson. "For me, six years in Ithaca may not have been enough," he said. "Giving back to Cornell has become my main philanthropy. It keeps me connected to a part of my history and to Cornell's future." Not only are many of his friends also alumni, but his business partner, who helped him co-found healthtech company Cloudbreak Health, is also a fellow Johnson alumnus.
And Edwards isn't the only one who turns to his Johnson network when it comes to professional collaborations. Shari Aser, MBA '10, came to the Big Red Bash not only to catch up with friends and faculty, but also to recruit talent, albeit informally. "Being an engaged alumna is not only about looking back, but also shaping the future. When I mentioned that I was coming to an alumni awards dinner, my boss told me to try and connect with current students that could turn into recruits. It's an opportunity to meet the next generation of MBAs, offer them some guidance and just start conversations," Aser said.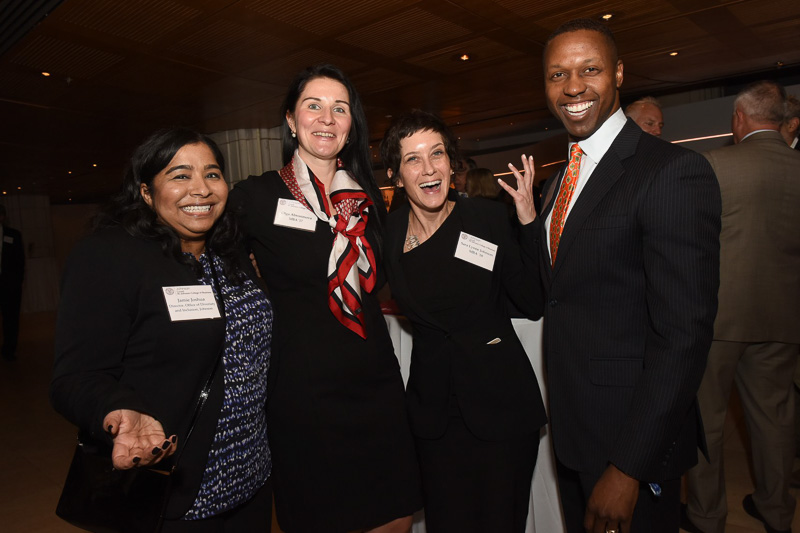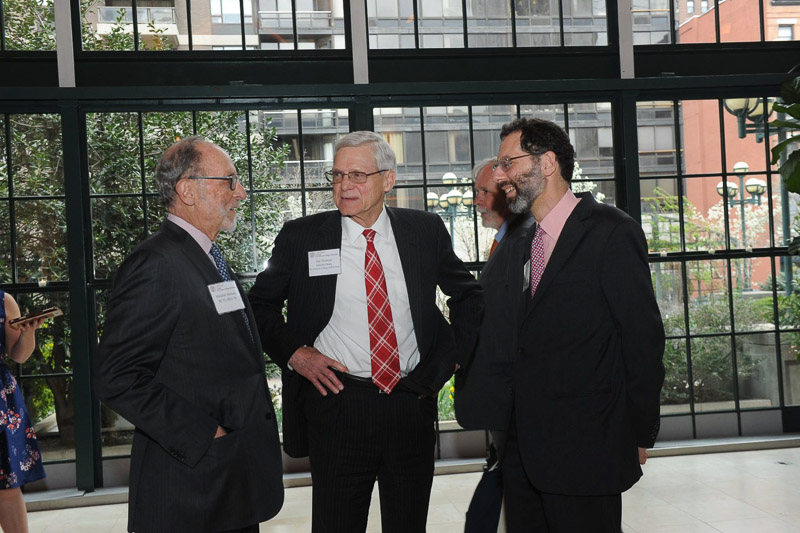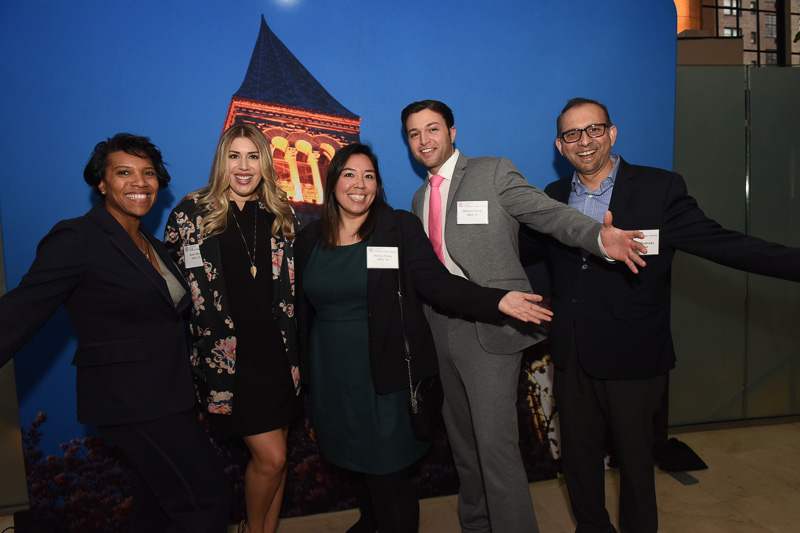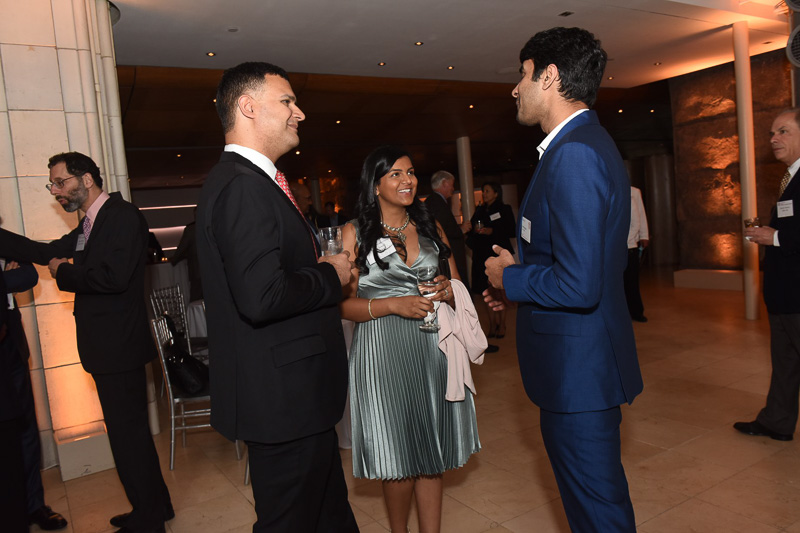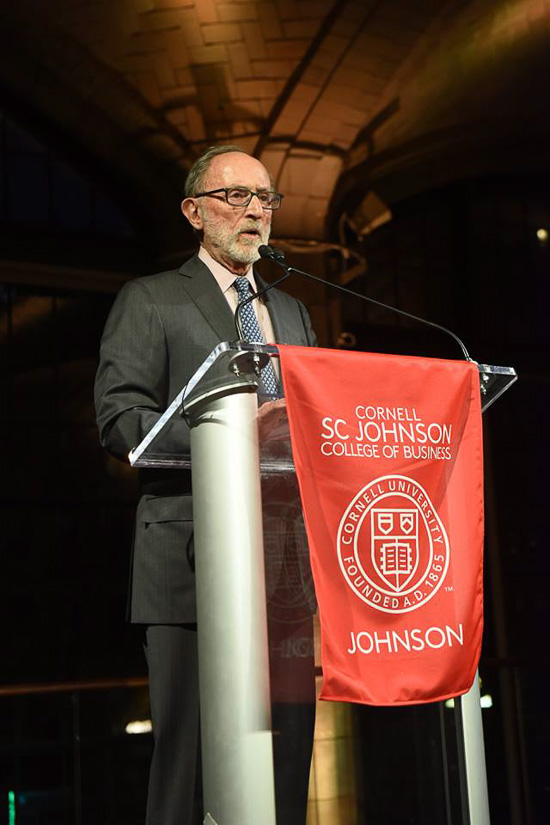 For generations, Cornell has taught students to embrace—and drive—change
Honored with the Samuel C. Johnson Distinguished Service Award, Hirschel B. Abelson '55, MBA '56 spoke about how he has witnessed the school overcome change over the years, shifting and expanding its focus first from manufacturing to finance, then to marketing and now, to digital technology. As a member of the Johnson Advisory Council, a member of Cornell University Council, and a Foremost Benefactor, Abelson has watched the school continuously strive to "keep up with the changing times," and its new Cornell Tech campus in New York City is a shining beacon of that effort, Abelson said.
When he and his wife toured Cornell Tech recently, both were overall impressed but initially confused by the lack of libraries. "Cornell has 16 libraries up in Ithaca. But on the Tech campus? None. Eventually it dawned on us that today's students have more information on their iPads than they could ever find in a library. We are in the digital age now, and I'm happy to be a part of it."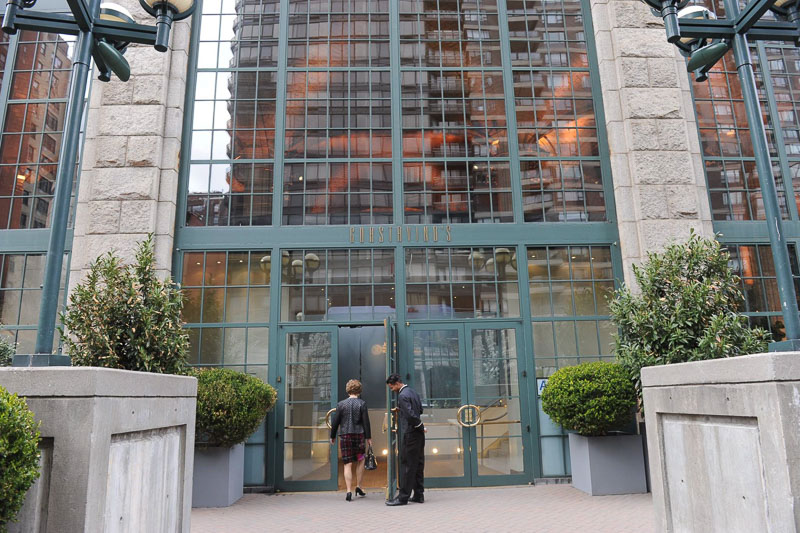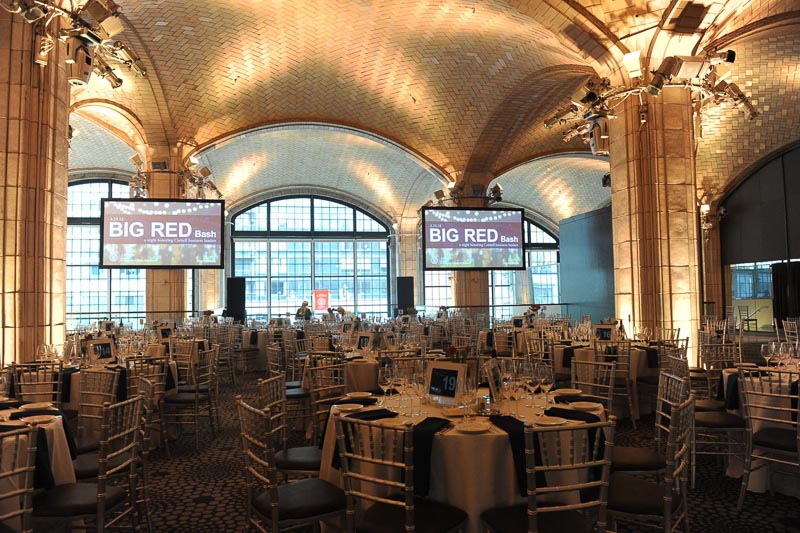 When the evening's highest honor, the L. Joseph Thomas Leadership Award, was presented to Anne Estabrook BA '65, MBA '66, she spoke about how her Johnson education enabled her to become a trailblazer for women in business. The first in her family to go to college, Estabrook went on to not only serve as CEO of the real estate business her father founded, Elberon Development, but also become the first woman to serve as chair of the New Jersey Chamber of Commerce, and the first female president of the New Jersey chapter of the National Association of Industrial and Office Properties (NAIOP), before eventually becoming the National Chairman of the NAIOP.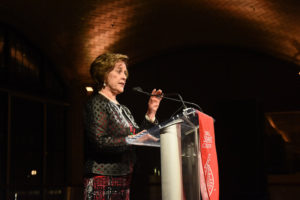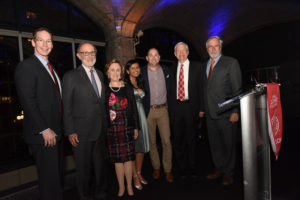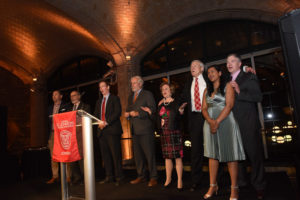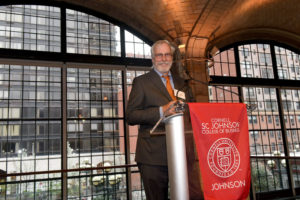 "Cornell and Johnson gave me confidence to be a trailblazer and an agent of change, so it has been easy to stay involved and keep coming back," Estabrook said. "None of us could have gotten anywhere all on our own, so as alumni, it's up to us to look behind us and pull somebody up. That's our role as experienced leaders," she said.
Other alumni that have continued to stay involved many years after graduating echoed Estabrook's sentiment. "I'm an alumnus that has never escaped the gravitational force of Ithaca and Johnson. The mix of people that are here and the opportunities to connect with people who have done things that I have never even thought about are incredible—that makes giving back to the school so rewarding," John Alexander '74, MBA '76, said. "This is a wonderful event and it's one I look forward to every year. I've been on the Johnson Advisory Council for almost 20 years, and I keep coming back because I really enjoy it."
As the night drew to a close, it transformed from a formal awards gala into a spirited reunion of old friends. "I'm here to see Dean Mark Nelson," Maksim Spivak, MBA '14, said. "He was my favorite professor and we were just emailing this morning. I'm excited to catch up."