Office of Diversity and Inclusion pay equity panel agrees a gap persists for women
Women are still paid less than their male counterparts, and the causes of the disparity are deeply entrenched in American society.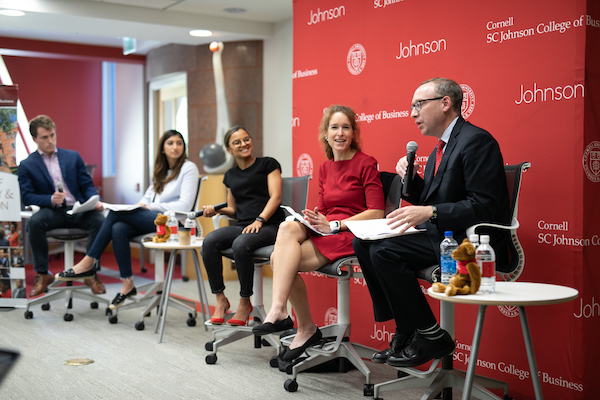 Not only does the salary gap for women persist; the positions most women are hired for also tend to be concentrated in the lower rungs of companies, a factor that contributes to the wage disparity said Cornell University researchers speaking at a gender pay equity panel on campus Sept. 18.
"I've spent my whole business career being virtually the only woman in the room," said Susan Fleming, MS '08, PhD '10, who worked on Wall Street for 12 years and has served on the boards of directors of seven public companies. Returning to Cornell to research gender bias as a PhD candidate at Johnson, she said, "really helped me go back and reinterpret my own experience and sort of understand, 'Oh, that's what was going on. I wasn't always the problem.'"
One of the root causes of the wage gap is the way girls and boys are steered toward different careers in school, said Cornell SC Johnson College of Business Dean Kevin Hallock, professor of strategy and business economics and Joseph R. Rich '80 Professor of Economics and Human Resource Studies. When Hallock and his wife were attending high school in a small town in Massachusetts in the mid-1980s, a guidance counselor suggested to his wife that she not take calculus "because it's kind of hard," while the same counselor encouraged Hallock to take the course.
"Hopefully those sorts of things aren't happening anymore, but it's clear that girls and boys are taught differently and treated differently, which is a really big issue," said Hallock, the founding director of the Institute for Compensation Studies at Cornell's School of Industrial and Labor Relations.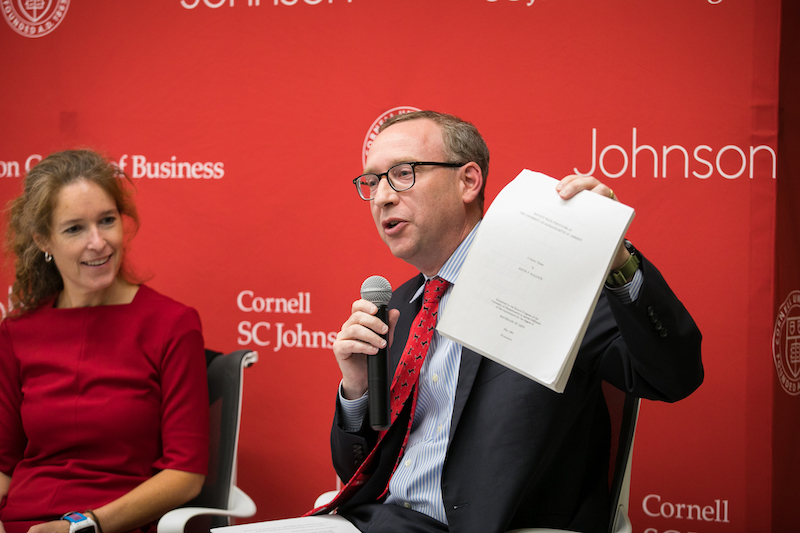 The pay equity panel, held on Sept. 18 at Sage Hall and attended by 60 people, was sponsored by Johnson's Office of Diversity and Inclusion as part of the Women of Johnson Wednesday series. The event was co-hosted and moderated by representatives of two student groups: Priyasha Chaturvedi, MBA '20, for the Women's Management Council and Jack Moriarty, MBA '20, for the Johnson Allies for Women.
Why women get paid less than men
A significant contributor to the gender wage disparity is the career breaks that women take to have children or care for an older parent. Since women are often earning less than their husbands, they often are the parent who drops out of the labor force to rear children or help an aging parent, Fleming said.
"Those career breaks are really, really damaging," said Fleming, a former senior lecturer at the Cornell School of Hotel Administration who now serves as an entrepreneur in residence at Rev: Ithaca Startup Works. When women decide to exit the workforce, she added, it creates a "vicious cycle" that perpetuates the wage discrepancy that existed before they left their jobs.
Beyond receiving lower salaries, women also enter retirement with significantly less savings than men do, said Michelle Duguid, MS '05, PhD '08, an associate professor at Johnson who researches the effect of social status, power, and group relations in organizations.
"Women need to pay attention to their financial health," Duguid said. "For us, it's not only that we are paid less up front, but also we live longer, and so this could be a real problem."
What can women do to negotiate higher pay?
Students attending the presentation asked the panelists how women can overcome the wage gap once they enter the labor force. Duguid advised women to negotiate on their salaries but she emphasized that their requests must be based on proven performance and on compensation benchmarks of both men and women in their fields.
When negotiating, moreover, women need to navigate a careful path.
"You have to constantly manage the double bind of being appropriately feminine and also holding your ground," Fleming said. "You want to hold on your issues and stick to your guns on what you want, but be relentlessly pleasant at all times."
Women should also look beyond salary and focus on other forms of compensation that are being offered, such as gaining equity in a company. "That is where real wealth generation comes from — not just salary," Fleming said.
How are other countries addressing the gender pay gap and parental leave?
Government can play a critical role in reducing gender pay equity, the panelists said. Fleming noted that Denmark enacted a new law in 2006 that requires companies with more than 35 employees to publicly disclose the discrepancies in pay between their male and female employees.
The regulation decreased the pay gap by 7 percent, as companies complied with the policy primarily by slowing the growth of men's wages, according to a study co-authored by Margarita Tsoutsoura, associate professor of finance and the John and Dyan Smith Professor of Management and Family Business at Johnson. Read a research recap about Tsoutsoura's study.
Another area in which the United States lags behind other countries is in providing support for parents who need childcare. Of the 193 countries in the United Nations, the United States is one of a small handful that does not have a national paid parental leave law.
Hallock said legislation is needed because parents who would rely on paid leave are not high-income. "I think the way to get this to work would be through legislation," he said, "but I don't have a lot of confidence that that's going to happen right away."