Alumni give back as members of the new Johnson Recent Alumni Council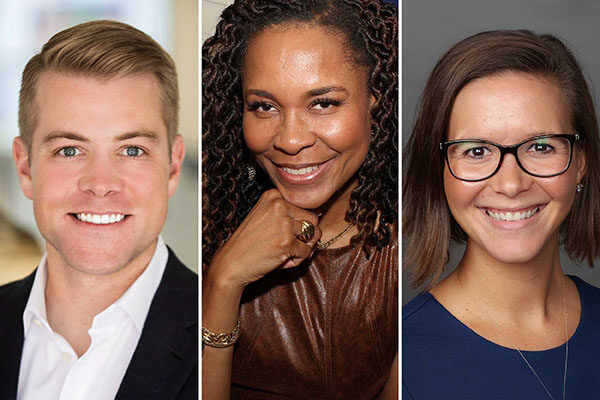 Recent Johnson graduates who are already deeply engaged in giving back to the Johnson community in myriad ways have joined forces to collaborate, coordinate, and focus their energy and efforts on Johnson's behalf as members of a newly created entity, the Johnson Recent Alumni Council (JRAC).
Even while still forming their new group and determining its structure, JRAC members' involvement underscored the great value they can bring to the school by speaking one-on-one with accepted students about Johnson and about their own experiences as students, thereby preventing "melt" and increasing enrollment of those students. Mark Nelson, Anne and Elmer Lindseth Dean of Johnson, expressed his appreciation when he addressed JRAC members at the council's Aug. 20 meeting. "I want to thank you for the work you're doing for the school," he said. "It really matters. Your activities in preventing melt were extremely important and it is so deeply appreciated."
So far, JRAC includes 12 alumni and the council body will grow to a total of 30 standing members over the next couple of years. Members serve on three committees: student engagement, rankings, and recent alumni engagement. Council members are dedicated to supporting diversity, equity, and inclusion initiatives, and made upholding these values a common thread integral to all committees, rather than setting them aside in a separate committee. Members will serve two-year terms and can opt to serve additional terms, provided they graduated within ten years of the beginning of their term.
"I'm delighted that Johnson has a group of talented and dedicated alumni leaders in place who are working behind the scenes to enhance the student and recent alumni experience, as well as the broader Johnson community," says Sara B. Andress, assistant dean of Alumni Affairs and Development for the Cornell SC Johnson College of Business.
JRAC leverages the talent of recent alumni
JRAC chair Patrick George, MBA '13, a Park Leadership Fellow who says he doesn't "take gifts lightly," played a key role in creating the new council. He served as a class agent to give back to Johnson and help classmates stay connected after graduation. "But I wanted to do more," he says. "I saw that the giving participation rate of graduating students drops by more than 50 percent post-graduation. I wanted to know why. What are we missing?" He also saw a need for greater participation in ranking surveys, and wanted to find ways to educate recent alumni about how rankings work to increase the response rate.
"Johnson arguably graduates some of the most talented people in the country," says George, a Marine Corps veteran who recently joined clean energy startup Synergy Fuels. "Why are we not leveraging some of that talent to help the program? How do we really engage our recent alumni?"
George discussed his ideas with his mentor, Chuck Jarvie '58, MBA '59, an alumnus who has been deeply involved with Johnson for many years. And he approached the dean about leveraging the talent of recent Johnson graduates to help the school, its students, and its programs. Nelson was not only receptive, but enthusiastic. Over a series of conversations about how to engage recent alumni, and working together with Andress and Ben Davis, associate dean for alumni affairs and development, George recruited the first 10 JRAC members. Together, they created a charter and defined the council's structure.
George recalls that when recruiting fellow alumni to become JRAC members—people with limited time and multiple commitments—a key question was: "How much will Johnson's leadership actually pay attention to this council?" He knew he could sell them on joining because he had a ready answer: "Dean Mark Nelson is really behind this."
"Boldness is in the water at Johnson."
"I'm excited to be part of JRAC, starting from scratch but modeled on the Johnson Advisory Council," says JRAC vice-chair Abbi Robinson-Hobson, MBA '16, who started her own consulting business, Everly Business Solutions Group, after working in a series of roles in marketing, finance, accounting, and business operations over nine years at the National Basketball Association. "I never thought I'd be an entrepreneur," she said. "Boldness is in the water at Johnson. Johnson teaches you how to think, not what to think. My experience led me to know I could do whatever I set out to do and equipped me with the knowledge, contacts, and inner strength."
As a student in Johnson's Executive MBA Metro NY program, Robinson-Hobson served as class representative on the Johnson Advisory Council and also as a class agent. As an alumna, she conducts mock interviews with current students and speaks to prospective students about the Metro NY Executive MBA program. "I had such a great experience," says Robinson-Hobson, "I wanted people to know how great Johnson is so others could have this opportunity."
As a JRAC leader, Robinson-Hobson says she wants to keep alumni actively engaged. "That's important for students, so they can leverage alumni who recently graduated," she says. "Alumni who remain involved can help students and help each other, and also feel that they're giving back to the school."
"Johnson remains with me always."
"I am absolutely honored and humbled to be a member of JRAC," says JRAC director of operations Cara Petonic, MBA '13. "I want to give back to a place that has given me so much."
Petonic is the senior director of digital strategy and transformation at Comcast and, like George, a Park Leadership Fellow. "Johnson remains with me always; not a day goes by where I don't implement something that I learned, whether it be a main point from a classroom discussion or a piece of advice from a professor or friend."
Petonic became a class giving officer in her second year at Johnson because "I enjoy rallying my classmates around this important cause, and seeing us achieve goals that we set forth for ourselves," she says. After graduation, she started the Johnson Club of Philadelphia, where she serves as club president. An enthusiastic recruiter for Johnson, she enjoys speaking about business school and Johnson to younger colleagues at Comcast, as she did when she worked at Accenture. "Most recently, that resulted in a colleague I have known since I joined Comcast receiving admission to Johnson with a Park Fellowship!" she adds.
Petonic is excited to build out JRAC to its fullest membership this year to ensure that alumni from all Johnson degree programs are included. "I know that Johnson has and will continue to benefit greatly from hearing directly from a constituent of recent alumni," she says. "I know that the issues, ideas, and information we bring to the table will be considered with thoughtfulness and critical thinking and then turned into action to help not only recent alums but also current and prospective students."
Job placement and antiracism are primary areas of focus
JRAC's primary areas of focus this year include:
Careers: Job placement is a key focus, especially in this challenging COVID-19 job placement environment.
Diversity and Inclusion: Support Johnson's commitment to antiracism and efforts to enhance the diversity and inclusiveness.
Admissions: Engage in outreach to admitted students to increase yield and prevent melt.
Rankings: Educate fellow alumni about rankings surveys in order to increase survey response rates and quality.
Philanthropy: Increase student and alumni participation, especially in view of the lack of solicitation or campaigning that took place this year because of the pandemic.
All these areas were touched on during JRAC's first "all-hands" meeting, held via Zoom on Aug. 20, and members raised questions and discussed several points following updates from Nelson and from Jamie Joshua, director of the Office of Diversity and Inclusion, who spoke about antiracism efforts, including multiple town halls on the subject and ongoing efforts in response to call to action from the Black Graduate Business Association (BGBA).
Setting diversity and inclusion expectations for recruiters
In a key focus of the meeting, Cynthia Saunders-Cheatham, assistant dean of the Career Management Center, led a review and discussion of a statement for companies that recruit at Johnson outlining Johnson's expectations for recruiters' behavior regarding diversity, equity, and inclusion. Saunders-Cheatham said that this initiative was born out of a call-to-action from the BGBA and that she gathered feedback the MBA student Diversity Council and from recruiters at various companies and industries.
"They were overwhelmingly enthusiastic and appreciate the statement's clarity and directness," she said. "We would love your thoughts on the document's verbiage and how you feel about the need for it." JRAC members discussed the document and its ramifications in two breakout rooms, then came back together to share their feedback and ideas about it going forward.
The meeting worked just as George hoped it would: It was a give-and-take that provided recent alumni with direct access to upper management at Johnson as well as a confidential outlet for Johnson's leaders to run ideas by alumni.
Recent graduates represent a rapidly growing alumni population
With the addition of five new MBA and MPS programs within the last decade, Johnson now welcomes more than 800 new graduates to its alumni base each year. Consequently, the recent alumni population is seeing tremendous growth. "Creating JRAC is an important investment to ensure the school is supporting recent alumni and creating opportunities for them to impact today's students," says Andress. "Thanks to the incredible leadership from each member, JRAC has already enhanced the student and recent alumni experience and is creating a greater sense of belonging across all degree programs.
"The heart of Johnson is truly the strength of the community," Andress adds. "I am so grateful to JRAC members and to the many volunteers and engaged alumni who continue to invest in Johnson."
If you are interested in learning more about JRAC, please reach out to Lisa Vinson, associate director of Alumni Affairs, who helps coordinate and facilitate the council's activities.
Johnson Recent Alumni Council members*
*as of Sept. 10, 2020