Johnson honors three distinguished alumni at its Diversity Alumni Awards ceremony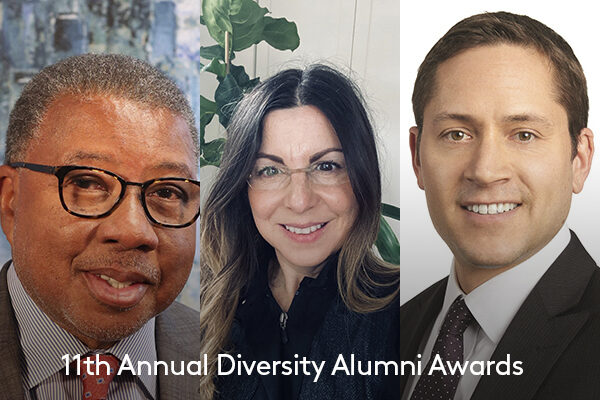 The Office of Diversity and Inclusion (ODI) and Alumni Affairs at the Samuel Curtis Johnson Graduate School of Management celebrated three distinguished alumni, selected for their leadership excellence and community contributions, at its 11th Annual Johnson Diversity Alumni Awards ceremony, held virtually on Feb 18, 2021.
The event brought together more than 100 members of the Johnson community to honor Conrad Kenley '74 (Engineering), MBA '75, recipient of the Wilbur Parker Distinguished Alumni Award; Laura E. Sandoval, MBA '05, recipient of the Carlos R. Quintanilla Distinguished Latino/Latina Alumni Award, and Jason Tauber, MBA '04, recipient of the Out in Business Distinguished Alumni Award.
Jamie Joshua, director of the Office of Diversity and Inclusion (ODI), opened the event, welcoming all and thanking Dean Mark Nelson and acknowledging his strong support for ODI. "He is always quick to join us for our programming and engage in understanding what we are proposing and how to help," she said.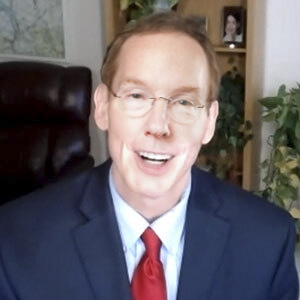 In his opening remarks, Nelson acknowledged former Diversity Awards recipients in attendance and spoke of Johnson's more than 20 years of commitment to diversity, equity, inclusion, and belonging. He also noted that "This has been a big year for us. This year, we have bettered ourselves as school, committing to engaging in more dialog and learning across difference." He spoke of how the school has integrated diversity and inclusion in the curriculum, hosted conversations about how to be an antiracist, emphasized the important of our roles as allies, and more.
"Tonight, we are recognizing and celebrating the achievements of some remarkable alumni," Nelson said. "And I'm so pleased that we all get to join together to do that."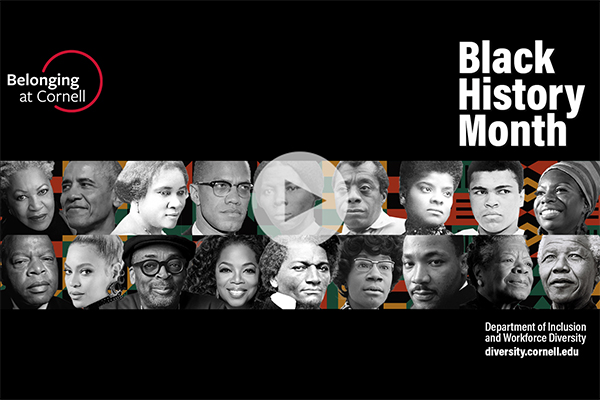 Conrad Kenley '74, MBA '75, Wilbur Parker Distinguished Alumni Award honoree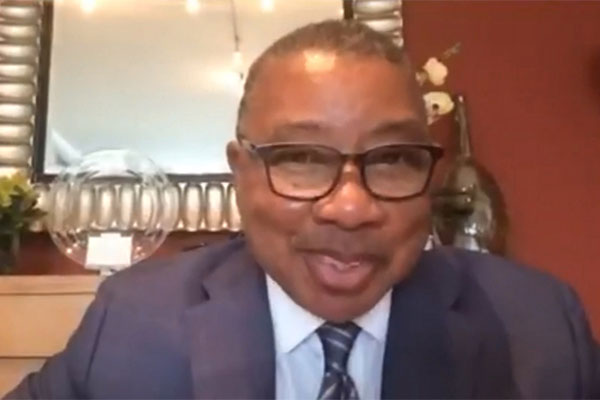 The Wilbur Parker Distinguished Alumni Award, created in 2003 by the Black Graduate Business Association (BGBA) recognizes African-American alumni who demonstrate outstanding professional achievement and commitment to their community, and who embody Johnson's shared values of mutual respect, collaboration, integrity and trust, pride and accountability, professionalism, and investment in self. The Wilbur Parker Award was established by Johnson's Black Graduate Business Association in 2003 and presented to namesake Wilbur Parker '50, MBA '50, Cornell's first African-American MBA graduate and someone who worked to make a difference combating racial injustice and helping others throughout his career.
Taylor Davis, MBA '21, a Forté Fellow, president of the BGBA and founding member of the Black MBA Alliance, introduced  this year's Wilbur Parker Distinguished Alumni Award recipient, Conrad Kenley '74 (Engineering), MBA '75, founder and CEO of LCG, a provider of information technology services and support to the U.S. federal government.
As principal business leader and technology strategist, Kenley is regarded as a leader in innovative program management and digital transformation strategies to lower costs and optimize processes throughout the scientific research and grants management life cycles.
Prior to founding LCG in 1990, Kenley, a certified public accountant, held senior financial management positions in the private sector. He began his career at Arthur Andersen, where he audited major industrial corporations and nonprofit enterprises. Kenley served as the chief financial officer of a business unit at American Express and as director of financial reporting at MCI Communications. Later, at Merrill Lynch, he led a team that planned and negotiated an outsourcing arrangement for the company's global telecommunications network.
Passionate about staying engaged with the community and also with helping those less fortunate, Kenley is chairman of the DC Jazz Festival and has served on the board for over five years, Davis said. His leadership has brought jazz music to the forefront for all ages and genres nationwide. He is also involved with the Boys & Girls Clubs of Florida and the American Heart Association.
"I'm honored to receive the award in the name of Wilbur Parker," said Kenley, who had actually met Wilbur Parker on campus in 1975. "A group of Black graduates came to share their experiences and journeys with us," he said. "We were all looking for role models and mentors. And there was a gentleman in the audience who raised his hand and said, 'I graduated from the business school 25 years ago and my grades weren't so bad.'  We immediately said, 'Get another chair and you come sit on the dais.'" That was Wilbur Parker.
Kenley spoke of the technological changes he has seen over the course of his career, particularly the invention of the internet. "I started LCG thinking that we could take advantage of these emerging technologies to support, to enable, help customers transform the way they do business," he said. "And sure enough, the digital transformation is now emerging at scale."
Kenley also share an important lesson he learned along the way.
"You will need a work/life balance," Kenley said. "You can't get any more time and have you a lot of living to do." He acknowledged Davis' mention of his involvement in the DC Jazz Festival and the Boys & Girls Club.  "What wasn't mentioned," he said, "is that I'm consistent with my yoga practice and meditation.
"I urge you to think about how you will stay agile, innovate, and evolve," said Kenley. "One thing is for certain: Change is inevitable, and you will need to keep preparing yourself for further change."
Laura E. Sandoval, MBA '05, Carlos R. Quintanilla Distinguished Latino Alumni Award honoree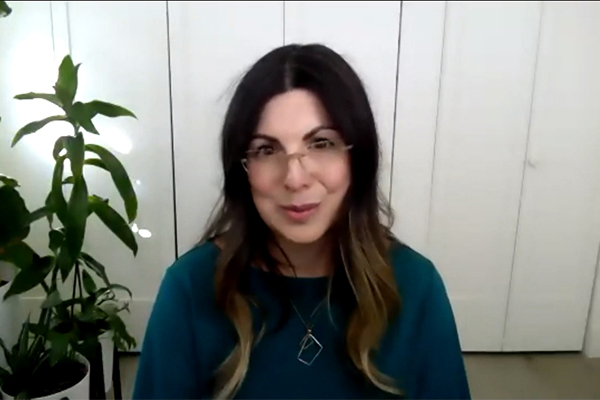 The Carlos R. Quintanilla Distinguished Latino Alumni Award recognizes alumni for exceptional achievements and significant contributions to their professions, community, and society as a whole, for their demonstrated commitment to Johnson, and for promoting the advancement of Latinos in the business world. The Carlos R. Quintanilla Award is named for Carlos R. Quintanilla, MBA '80, who is a champion of the school's efforts in Latin America and generously supports Johnson, dedicating much of his philanthropy toward the development of student scholarships.
Roxana Moreno, MBA '21, Consortium Fellow and a member of the Hispanic American Business Leaders Association (HABLA), introduced this year's Carlos R. Quintanilla Distinguished Latino Alumni Award recipient, Laura E. Sandoval, MBA '05, a senior client partner at Uber.
Sandoval partners with C-level leaders at the largest restaurant chains to help build innovative growth strategies. Uber Eats partners with over 400,000 restaurants in more than 6,000 cities across 45 countries and six continents.
Prior to joining Uber, Sandoval was VP of business development at Univision. As a cultural strategist, she partnered with brands to help grow sales by driving greater cultural relevance for their products and services. Sandoval has also held various marketing and strategy roles at the Walt Disney Company, where she worked on several large brands, including Disney Princess, Tinker Bell, and Minnie Mouse. Earlier, at Johnson & Johnson, she developed the go-to-market strategy and established media partnerships for a new line of Acuvue contact lenses.
"This award is much better than any gift I could have received," said Sandoval. "It is incredibly special to me because I'm super passionate about empowering and lifting the Latinx community. Giving back and paying it forward by helping those that come behind us is a tremendous source of energy and pride for me. Today, I coach and mentor a number of Latinx professionals. I help bring visibility to different career opportunities in tech through Women in Tech and Latinx organizations. And as a volunteer for Management Leadership for Tomorrow (MLT), an organization very near and dear to my heart, we hope to diversify the board room.  We have playbook on how to be successful and advance to senior level roles."
While Sandoval praised Uber as "a true champion for equity both inside and outside the company," she said that Latinx employees are still highly underrepresented and "we need to do better." So she is working from the inside at Uber to do more to attract more Latinx employees. "I'm proud to be in a company that really supports that and is part of the mission," she said.
Sandoval also called on fellow Johnson alumni to "be more intentional to help empower and inspire more LatinX professionals. We need to do more to attract more students from the LatinX community to Johnson. As a member of the Cornell Johnson community, I make myself available to share my experiences with students and other alums. I put myself in their shoes and remember when I was looking for the network to help guide and connect me—and our alumni always made time for me."
"To Johnson alums: Come back to Johnson and be more visible in your communities," said Sandoval. "Because representation matters. And to all prospective students: Embrace your career, your life, your journey, and enjoy the ride. But be ready to pivot and don't be so tied to a plan that you don't see an amazing opportunity in front of you that may not look exactly like you thought it would.  Your career doesn't have to be a ladder; it can be a lattice."
Jason Tauber, MBA '04, Out in Business Distinguished Alumni Award honoree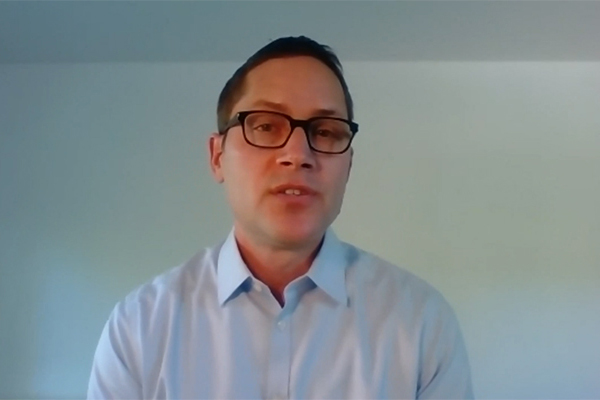 The Out in Business Distinguished Alumni Award, created in 2019, recognizes alumni who have demonstrated a commitment to the LGBTQ+ community in business and society, attained outstanding professional achievement, and made a significant impact on the Cornell MBA community. Joe Fontana, MBA '21, president of Out for Business (O4B), Johnson's business club for LGBTQ+ students, their partners, and active allies, introduced this year's recipient, Jason Tauber, MBA '04, who founded O4B when he was a student and Park Leadership Fellow at Johnson. Now, Tauber is a chartered financial analyst who is a portfolio manager at Neuberger Berman for large cap disciplined growth and the disrupters portfolio.
Tauber was formerly a research and trading analyst at Lehman Brothers, covering both retail and consumer packaged goods companies. Prior to business school, he worked as an investment banking analyst at Cowen & Company and a product manager for a financial software startup.
"I'm excited to receive this award," said Tauber. "It's a true honor to be recognized by an institution that is held in such high esteem. I loved my time at Johnson. One of my favorite professors, Dean Mark Nelson, turning accounting into fascinating detective work. And I use what he taught me every day."
Tauber, who lived in San Francisco before he came to Johnson, knew that the school had no LGBQT+ organization at the time. "It was a concern of mine as an applicant and something I planned to change as a student," he said. "Once at the Johnson School, I quickly fell in love with the school and community. I was proud of this place and I truly wanted the Johnson school to be the best it could be.  This included adding a little bit of a more gay-friendly sheen to the brand.  As a budding MBA, I also saw the business case for diversity both short term and long-term. There is a reason employers were starting to pay attention, and this translated into opportunities to forge connections with them."
While starting O4B was a "no-brainer," Tauber said, "I certainly didn't want to do it alone." He credited several close friends for making "what might have been a daunting, lonely challenge so easy and so fun." Those friends and supporters all became officers of O4B. Tauber also spoke of the "tremendous amount of support from the administration."
Tauber was candid in describing the risk inherent in starting O4B. "The challenge in doing something like this, frankly, is publicly announcing that you're gay and not knowing how this might impact the trajectory of your social and work life," he said. "It's something that many gay people have to grapple with, myself included, on a regular basis in their jobs.
"At the end of the day, you need to believe that living your authentic self at all times will enable you to forge important connections and that each coming out makes it easier for the LGBTQ+ person that follows," Tauber said. "I believe that wholeheartedly, and I'm beyond thrilled there are so many 'out' students at the Johnson School now and (at least by some folks) the school is considered to be among the most gay-friendly."
The importance of allyship
In closing, Johnson ODI director Joshua spoke about the importance and value of allyship. "I want to highlight allies in helping launch O4B. Jason shared that friendship and allyship helped create Out for Business. When we have allyship, we can you do so many things. In 2019, our students saw the need for space for neuro-diverse students and students with disabilities and created Access Johnson. Here at Johnson, we are constantly growing and looking to see where our needs are and how to create support and belonging for all of our students."