Electric uprising: How American companies are accelerating the drive to EVs
Part 1 of a story in five parts about the transition to electric vehicles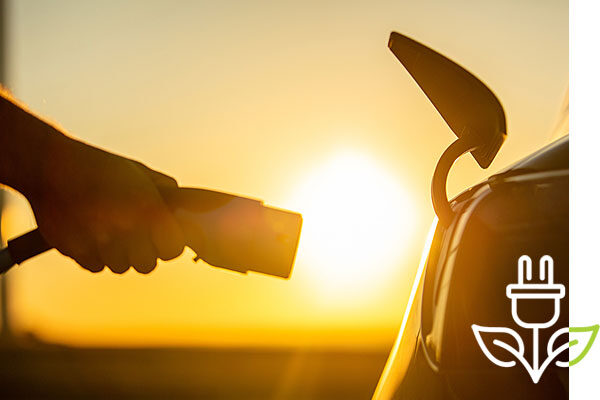 "The American really loves nothing but his automobile." —William Faulkner, Intruder in the Dust, 1948
America adores the motor car. Both the history and the mythology of the modern United States are impossibly intertwined with muscular configurations of chrome and wheels, wrapped around a steel heart that burns gasoline.
Yet while this last, defining aspect fueled the motor car to dominate our physical and cultural spaces, it's also the property that will kill it. To have any hope of rising to the existential challenge of climate change, the world's most oil-dependent nation will have to kick its most ingrained habit. At the global level, the U.S. is still the second largest emitter of greenhouse gas emissions after China. Some 30 percent of U.S. greenhouse gas emissions come from the transportation sector. Of that, 60 percent of transport emissions come from cars and light trucks. The International Energy Agency (IEA) says that to stay in line with the Paris Agreement target of limiting global warming to within 1.5 degrees Celsius this century, by 2030, 12 percent of all vehicles on the road will need to be electric.
To replace gasoline-fueled cars, other developed nations are turning increasingly to innovations like electric rail, the pedal-powered bicycle and the "walkable city" to drive down carbon emissions. But the American conception of freedom—at least for the time being—remains welded to the motor car. Perhaps that's why the Biden administration's plan to invest tens of billions into the nation's rail network has attracted relatively little interest, while the American national discussion about transportation has revolved almost exclusively around the electric passenger car.
Car makers, firms with large fleets pledge carbon neutrality
Seeing the writing on the wall for the internal combustion engine, carmaker General Motors announced this year that by 2035 all its new cars, trucks, and SUVs would be electric. Ford says that 40 to 50 percent of its new car sales will be fully electric by 2030 and that it will achieve net zero emissions across the corporation by 2050.
EVs will also comprise a significant part of firms' carbon cutting ambitions: FedEx says it will be carbon neutral by 2040, helped along by electrifying its vehicle fleet. Amazon, likewise, says it will achieve net-zero carbon emissions across all its operations by 2040.
Yet while President Joe Biden's administration has announced it wants EVs to make up at least half of all car sales by 2030, the domestic EV market remains stubbornly sluggish, with recent figures indicating that EVs make up just 2.5 percent of the new car market.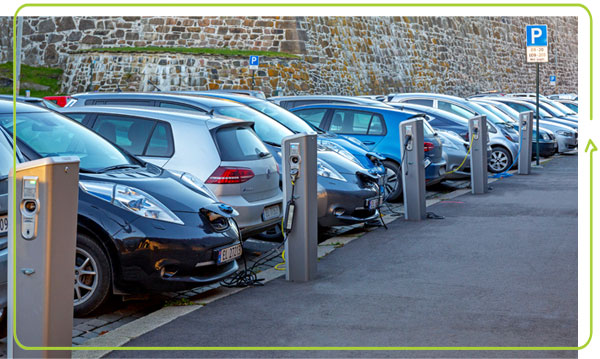 U.S. EV sales lag considerably behind the world leader, Norway, where 56 percent of all new cars registered in March were plug-in electric. With one EV for every 18 citizens, Norway could end up selling its last gas-powered car next year.
For a much larger market comparison, in China EVs made up 9.3 percent of total passenger car sales in the first half of 2021. While China currently has fewer EVs per person than the U.S., the Chinese adoption rate is way higher.
There's a similar story across the EU, where EVs accounted for a 10 percent share of the passenger car market in 2020, according to the IEA.
The U.S. clearly has a lot of catching up to do.
Back to the electric future
It's an often-overlooked fact that, a little over 120 years ago, more than one in three cars built in the U.S. was electric. At the dawn of the 20th century, electric cars were seen as superior to the gasoline car: they were far more expensive, but they were easier to start, less noisy and smelly, and didn't require the driver to shift gears.
But the first EV revolution wouldn't endure. The cost of gasoline declined and battery technology couldn't keep up with the range offered by petrol-powered cars. By 1935, the American electric car was practically extinct.
So what will it take to get Americans to make the switch back to EVs?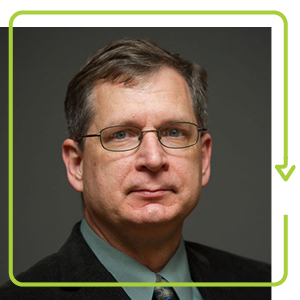 "First and foremost it is political will," says Arthur Wheaton, an expert on the automotive industry at Cornell University's School of Industrial and Labor Relations. "Americans like big cars and trucks and a wide open road, so switching to electric will take incentives or enforcement of strict policies."
Wheaton points out that Europe and China are much further along when it comes to EV policy. In the U.K., the government plans to ban the sale of gasoline and diesel cars by 2030, while in the EU, lawmakers look set to introduce a plan to ban internal combustion engine (ICE) cars by 2035. China, likewise, has declared a 2035 date for the end of exclusively gasoline-fueled car sales.
"If the government mandates elimination of ICE vehicles, then it [a large-scale transition to EV] could happen in 10 years," Wheaton says, though he adds that Americans keep their vehicles for about 12 years on average, meaning that millions of trucks, SUVs and muscle cars would still be on the road for at least another decade. "If there is no mandate or federal policy, it could take decades," he says.
The power of "conspicuous conservation"
There is good evidence to suggest that well-crafted policy could play a powerful role in shaping that uptake. Shanjun Li, professor of applied economics and policy and Kenneth L. Robinson Chair in the Charles H. Dyson School of Applied Economics and Management, has looked in detail at China's policies to promote EVs. Notably, Li found that measures such as the "Green Plate Policy," in which electric vehicles are given conspicuous green license plates, had a surprisingly large impact on EV sales, relative to the impact from consumer subsidies and other financial incentives to promote EVs.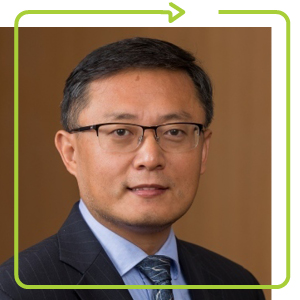 "One thing that surprised us was how effective the 'Green Plate Policy' was in boosting EV sales, especially given the low cost of the policy," Li says. "We believe that the policy increases the salience or awareness of green vehicles, and plays into 'conspicuous conservation'—that is, people purchase green goods to signal their environmental awareness."
Li says that while the Biden administration's plan to spend $7.5 billion on charging infrastructure should be applauded, plans to expand direct consumer subsidies for EVs may be misguided, on the other hand. "It does not make the most sense from the perspective of using fiscal policy to promote EV sales," he says. "Instead, the funding would be better spent on helping expand charging infrastructure." According to Li, studies from Europe, China, and the U.S. indicate that improving charging access has "a much larger bang for the buck relative to direct consumer subsidies."
Even so, at present, most available EVs are prohibitively expensive for most car buyers: the NRDC says plug-in, electric-only vehicles cost an average of $19,000 more than their gas-guzzling equivalents.
Then there's a plain-old lack of choice. According to EVAdoption, there were only 19 models of electric-only passenger car available in the U.S. at the start of 2021. That figure pales into insignificance alongside the literally thousands of conventional gasoline-powered cars available.
But all that could be about to change.
Transitional pains in converting to EVs
The extraordinary size and labyrinthine complexity of today's big automakers has hampered the sort of full-scale retooling overhaul required, according to Glen Dowell, professor of management and organizations at Cornell's Samuel Curtis Johnson Graduate School of Management. "I think it's really a massive challenge for these legacy companies, and there are challenges on a couple of dimensions," Dowell says.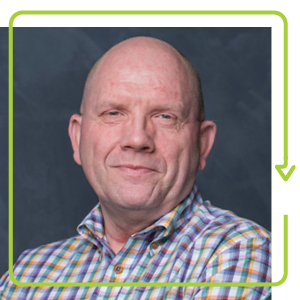 First, Dowell explains, if more car buyers are tending electric, many people will still want to buy internal combustion engine vehicles for some years to come.
"This means that companies are essentially eschewing this big piece of demand to get ready for an electric future. The number of cars they'll sell that are electric will be smaller than the number of cars they'll sell that are internal combustion for some period of time. So I think there's going to be a period of pain for a lot of these manufacturers, where the demand doesn't meet the cost," Dowell suggests. "If you take a company like Ford, what they're trying to do is milk the cash cow of [internal combustion] light trucks and SUVs to pay for the investment in EVs."
In order to make this change, Dowell says, automakers are having to change their workforce. "The designers car companies need now are much more on the tech side; they're competing with Google and Microsoft and Facebook for people, rather than with say, John Deere or Caterpillar. This causes some interesting internal dynamics with the degree of vertical integration these companies are having to undertake." This is why smaller, more specialized car companies have certain advantages over large, conventional auto manufacturers. A case in point is the American all-electric champion, Tesla. "At Tesla they write all their own code," Dowell points out. "When they decide to upgrade something they beam it out to the cars at night, and they can change anything in the car that they want to change, because it's all Tesla."
Legacy car manufacturers, such as GM or BMW, don't have that luxury, as they source parts from different suppliers. "Their job is to try and make all these systems work together, but if they wanted to change something they'd have to go through their suppliers to make the change," Dowell says. "That's not a very strong competitive position to be in.
"Any time we see these kind of transitions in an industry, you've got this battle between the legacy companies that have the resources and brand names, but those brands may not quite translate to this new world," Dowell says. "And then you have the companies that are starting from scratch."
In sum, Dowell predicts, "it's going to be very interesting to watch."
__________________________________________
Electric uprising: A story in five parts about the transition to electric vehicles
Learn more about the transition to EVs in other stories in this series: