Morgan Jones is an educator dedicated to community relations, engagement, and service
Celebrating 10 Under 10 honoree Morgan Jones, MBA '15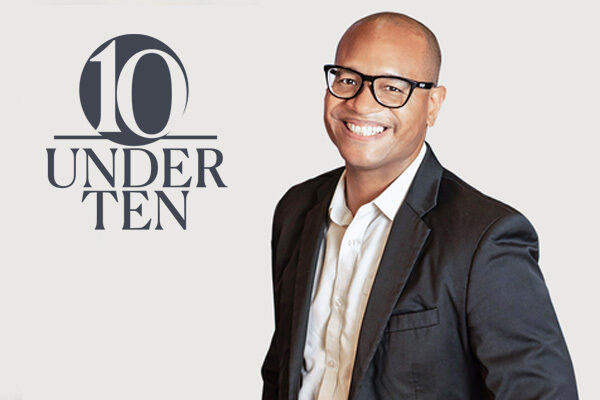 A director of community engagement for a school with a global focus, a passionate community service volunteer, a relationship builder who is fluent in Mandarin Chinese, and a Cornell alumni leader dedicated to building strong communities, Morgan Jones, MBA '15 (an Executive MBA Metro NY graduate), is one of the inaugural 10 Under 10 Notable Alumni honored by the Johnson Recent Alumni Council (JRAC).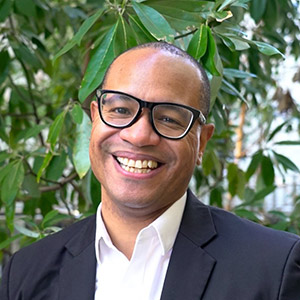 Jones is director of community engagement and partnerships and assistant director of enrollment at Avenues: The World School, a school with campuses around the world that serves students from the age of two to 18 years old that aims to redefine K-12 education for a fast-changing world. He was formerly assistant vice president at the New York City Economic Development Corporation, and before that, Jones was chief operating officer of the US-China Strong Foundation, a nonprofit that fosters educational, cultural, and economic relations between the U.S. and China.
Jones says he is proud to also have served as the senior advisor of external affairs for the Office of the Mayor of New York City under two mayors; to have led a project to get one million Americans speaking Chinese; and now, to help a school thrive in-person during the COVID-19 pandemic.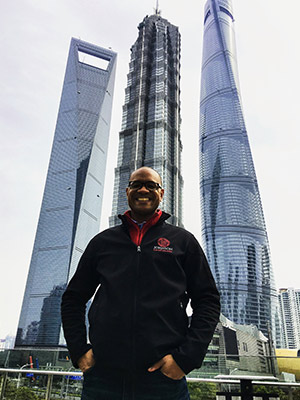 "I've been fortunate to see my career reflect both my passions and important trends, including local government, U.S.-China relations, and working for mission-driven organizations," Jones says. "It's not a straight career path, but it touches areas that help me connect with issues that are important on local and global levels. I've been able to find ways to maintain what I have learned from my academic experiences and place this directly into my work experiences, from being a Chinese language and culture studies major in college to now, working in a global, for-profit, mission-driven education institution."
Jones hails from Brooklyn, New York, and now calls Queens, New York, home. His favorite quote is the Golden Rule: "Do unto others as you would have them do unto you."
Learn more about Jones in this Q&A.
Inspired to help others
Q. What drives your commitment and focus in your professional career?
Jones: I'm inspired by helping others and seeing people around me grow. If I can serve the community of people around me, I am also able to see the fruits of my work directly. This is probably the reason why I've chosen roles that involve public service and seek to inspire others to find opportunities that promote service and community. I picked up this career focus from my mother, who worked under three New York City mayors and currently works on a key national issue—unemployment—in Kentucky's state government. My mother's work in service impacted me the most immediately following 9/11, when she worked at a family assistance center with people directly impacted by the attacks on the World Trade Center. When I think of that moment when she helped others find and connect with their loved ones during that disaster, it helps me think of how I can be a better servant and leader to help others in need.
Responding to needs and building relationships
In his roles with the Community Affairs Unit with the Office of the Mayor of New York City and the New York City Economic Development Corporation, Jones worked on day-to-day quality of life issues in all five boroughs, including major disaster recovery following Hurricane Sandy and land-use projects focused on helping to build communities. He also serves on several boards, including the Holy Apostles Soup Kitchen, StreetLab, and RISE Rockaway.
At Avenues: The World School, Jones helps students to connect with community members—through organizations such as the New York City Housing Authority's residential tenants associations, human services nonprofits, and local parks— to integrate Avenues' curriculum with community service. Much of his work was in response to needs that arose due to COVID-19: He and those he worked with delivered food, masks, and tech devices to their neighbors in need. For this work, he won an award in 2021 from the Avenues: The World School Parents Association and a commendation from the Manhattan Community Board 4.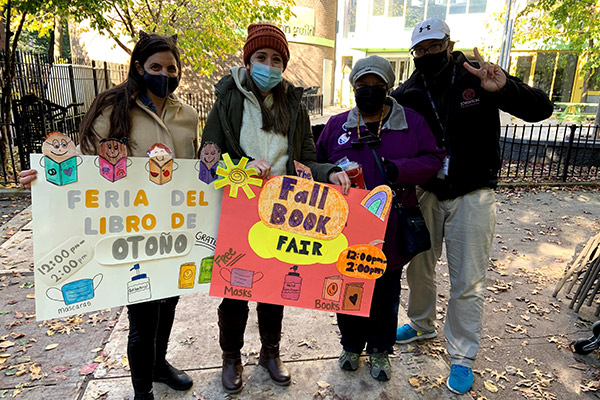 Q. What inspires you to dedicate your time and energy to this community service? What impact do you want to have in the world?
Jones: My career has been dedicated to community relations, engagement, and service. I hope that I can continue in this realm by deepening relationships with people around me from various fields, learning about what they do, and figuring out ways I can be helpful and productive. I'm also interested in creating stronger bonds and mutual understanding between the U.S. and other countries, so if there is a way for me to use my linguistic abilities to help others grow in a meaningful way, I think that can be helpful from an economic, political, and societal standpoint.
Helping to build a strong, engaged alumni community
From 2018 to 2021, Jones served as president of Johnson's New York City Regional Alumni Club and since 2021, he has served as co-lead of NYC Cornellians, the regional alumni club for all Cornell University alumni in New York City, representing more than 20,000 alumni.
Jones first joined Johnson's NYC Regional Alumni Club after graduation, in 2015, the same year it won the Henry P. Renard '54, MBA '55 Regional Club of the Year Award. During a stint in Washington, D.C., he served as co-president of that club, running more events than they had before. Soon after returning to New York City, Dana Price, MBA '11, who was then president of Johnson's NYC Regional Alumni Club, appointed him as club president. Jones developed strategies to write the club's first bylaws, increased board membership to 15 people, and helped to host multiple events with more than 100 attendees each, including Johnson's annual gala, the Big Red Bash.
"In 2021, our club was once again honored with the Henry P. Renard '54, MBA '55 Regional Club of the Year Award, bringing that honor back to our city's alumni for the first time since I joined the board in 2015," says Jones. "In 2021, I also became co-president of NYC Cornellians. So far, we have created our bylaws, increased our board members to 30, and created a more formalized structure for virtual and in-person events."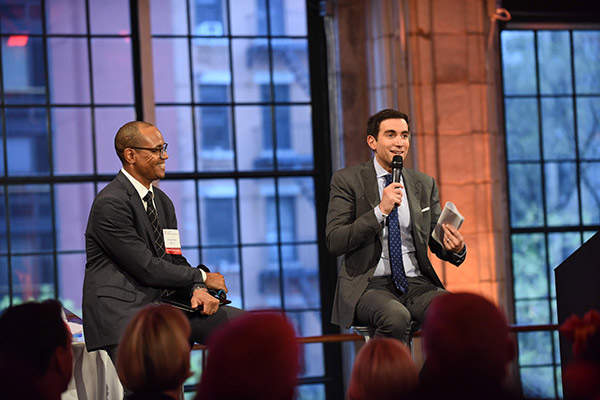 Q. What drives your continued engagement with and contribution to the Cornell community?
Jones: As a kid from Brooklyn, I would never have dreamed of becoming a part of the Johnson community. The accomplishments of everyone in the alumni network are astounding and I am humbled every time I meet alumni doing amazing work. Helping to engage and galvanize alumni, to me, is the rent I pay for being able to establish meaningful and authentic connections with other alumni around me. I am willing to put in the time and effort to help build this community, and I am also inspired by other Johnson alumni who are willing to do so.
In addition to keeping a close connection with Johnson, I am motivated to reach out to our wider Cornell network; that's why I was willing to help lead NYC Cornellians with alumni representing all Cornell University schools and programs.
Finally, Cornell is making an impact on my hometown of NYC. If there is any way I can help serve Cornell's work here, it helps in better serving the city I come from and care a great deal about. From business to healthcare to urban planning, Cornell and the further development of New York City go hand-in-hand, and I hope that engaging in our alumni community can help in a small way.
Q. What does being selected for the Johnson 10 Under 10 Notable Alumni list mean to you?
It's incredible to share this honor with a group of other accomplished individuals. It's a humbling experience to be named for this achievement and I am sure many others out there would be a great fit for this program. I am hopeful that I can use this opportunity to inspire other alumni to become more involved in Cornell through their regional clubs, by attending more alumni events, and giving back to Cornell however they can. I am also hopeful that this selection will inspire other Cornellians who are business leaders to see the importance of serving others. Johnson's MBA programs focus on developing incredible business leaders who also have a responsibility to make sure their communities are thriving. I hope I can be helpful on this front. I can't be thankful enough for this amazing opportunity.
Critical thinking applies to all industries—and other key lessons learned
Q. What are the most valuable things you learned at Johnson that have helped you in your career?
Jones: Here are a few things I picked up while at Johnson:
If you don't ask, you don't get. I learned that during our first residency week for the Executive MBA Metro NY program.
Alignment and congruence in an organization and within your team are important. I learned a great deal about this in Leadership and High-Performance Teams, a class taught by Professor Beta Mannix [Ann Whitney Olin Professor of Management].
Statistics can be fun. Learning statistics from Professor David Juran [former senior lecturer of operations, technology, and information management] was a humbling experience, but he managed to make it fun by adding elements of his personality to a challenging class.
Critical thinking in business applies to all industries: Being thoughtful about how, when, and where you engage with your teams and within your organization can make or break you. Risa Mish [professor of practice of management] helped drive this home by sharing cases that proved this in her class.
Q. Did any particular faculty member(s) influence you on your chosen career path?
In addition to Beta Mannix, David Juran, and Risa Mish, I would also include Murillo Campello [Lewis H. Durland Professor of Management and professor of finance], Steven Gal [senior lecturer and technology entrepreneur], Justin Johnson [Deane W. Malott Professor of Management and professor of economics], and Robert Swieringa [Anne and Elmer Lindseth Dean Emeritus and professor emeritus of accounting]. They opened my eyes to a world of business that I had never understood or seen before Johnson and each of them gave me a sense of confidence in understanding the key technical aspects of the business and leadership world.
Reflect on your chosen path and develop your story
Q. Describe a challenge you encountered as you built your career and how you overcame it.
I've gone through quite a few career shifts in my life and due to some personal family changes and challenges, I shifted roles and even cities multiple times between 2016 and 2018. Explaining my reasons for each role change was a challenge, and organizing how to share my career path to show how these seemingly random experiences connect and align with each other helped me to overcome that. For any professional, it's important to take time to reflect on why you are on the path you chose, what it took for you to get to this point, and what key turning points brought you to the role you are in today. From there, you can formulate a genuine, sensible, and relatable story that can be helpful for career interviews, networking, or as a means to help you make decisions about your future.
Understanding the journey children experience
Q. What is the proudest moment of your career or of your personal life?
Becoming a father is the proudest moment of my life. My daughter is doing things now as a child that I wish I could do when I was a child—and I think I did pretty okay as a kid! As a father, and currently, as an educator, I've gained a deeper understanding than ever before that children undergo numerous transformations in their lives. Working with school-aged children, like my daughter, helps me understand the incredible journey that children experience as they grow—and I am very lucky to have a front-row seat with my child. My wife is also an incredible mother—so, perfectly, we are a team that sees to it that our daughter develops and thrives as herself in a safe, supportive, and loving community in and outside of our home.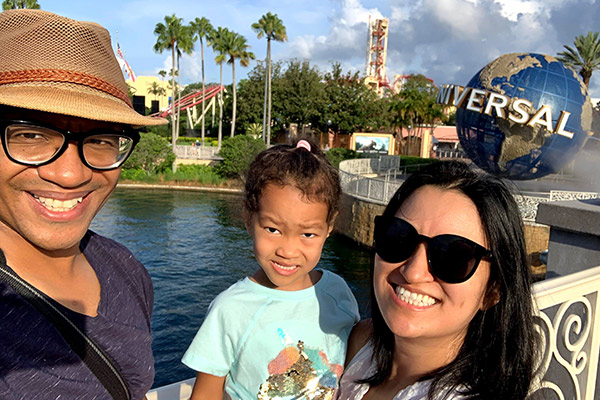 Q. What do you do to recharge?
I enjoy regular exercise—I'm an avid weightlifter and I make an effort to go to the gym three times a week. I get my exercise from chasing my daughter around or playing with her; we spend a lot of time in New York City parks and doing activities such as ice skating or soccer.
I also enjoy listening to music and spending time with my wife and daughter. In addition, I enjoy my work and find it energizing to be around educators and children who want to build a better future. I enjoy being a tourist in the city I live in by visiting museums and walking around New York City's major thoroughfares. Being around people and seeing life helps me get energized.
Attend events and reach out to alumni
Q. What do you wish you'd known as a Johnson student and what advice would you give to Johnson students today?
I wish I had begun engaging with alumni right after I enrolled at Johnson. I would advise students to find their closest regional club, reach out, and attend some events. When you reach out as a current student, be direct about why you are connecting with alumni: Are you looking for a job? Do you want to attend an event? Do you want to learn more about a specific industry, and if so, why? The more you can share up front and directly, the more alumni will be able to gauge how they can help you. Soon, Johnson students will become Johnson alumni, so help us help you because soon enough, you might be the ones helping current students as alumni.