Cornell SC Johnson College Graduates Next Generation of Business Leaders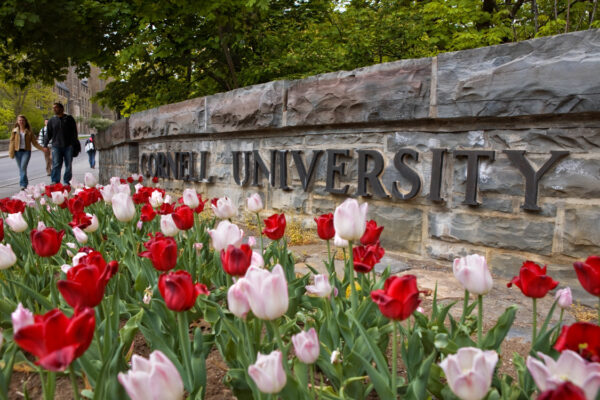 The Cornell SC Johnson College of Business community is celebrating the achievements and success of the Class of 2022. Undergraduate and graduate students across the college's robust catalog of degree programs are reflecting on their experiences at Cornell University as they imagine their futures after graduation.
Among the words and phrases of these graduates are stories that are united by the fundamental philosophies and Cornellian experiences that unite the three schools within SC Johnson College.
Doing the Greatest Good
The pursuit of building a better future is a founding principle at Cornell University. It is one that guides teaching, research, and experiences across campus. This idea originates from the words and actions of Ezra Cornell, the university's cofounder who committed "to do the greatest good" for his community, country, and world.
This Cornellian philosophy continues to resonate and evolve with the Cornell SC Johnson College Class of 2022.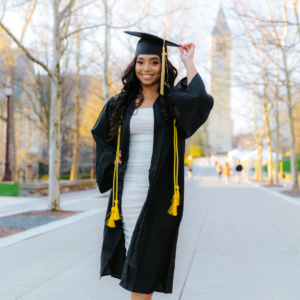 "The biggest lesson I gained from studying business is that business truly has the power to create impact," Dyson undergraduate Genesis Santana '22 told Poets & Quants for Undergrads. "So often, we think that a business curriculum is just finance and accounting—but it is more than that—it's also an opportunity to help the communities around us, locally and globally."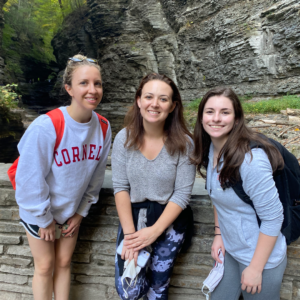 Ines Andrade, MPS '22, and Kassie Henderson '22 interpret the greatest good as a dedication to supporting and uplifting others.
"So many people have helped me throughout my career and during my time at Cornell," says Andrade, who is graduating from Cornell with a Master of Professional Studies (MPS) in Real Estate degree. "I will pay it forward and help students with recruiting, financial modeling, or anything else they might need to be successful in their own careers. I look forward to coming back to campus as an alum and helping in whatever way I can."
"I would like to contribute to doing the greatest good through mentoring future generations," adds Henderson, a Cornell Nolan School undergraduate. "Through my experience at Cornell, alumni have always been so willing to offer their opinions, connections, and thoughtful advice on life—socially or professionally."
"I want to be able to give this same experience to future generations of students," she explains. "I would also like to give back by providing financial support to the students who have the motivation to succeed but without the financial means to do so."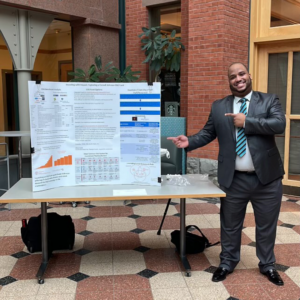 Joel Falcon, MBA '22, a graduate of the Two-Year Master of Business Administration (MBA) program, adds that he will continue to contribute time to doing the greatest good long after he graduates.
"I will carry this passion of doing the greatest good by continuing to work as an alumni representative to help host admissions events in New York City," he says. "I will also continue to be an advocate to help increase diversity in the investment management profession and help teach financial literacy for underserved communities."
Learning Through Leadership
Students across the college's three schools engage in curriculums and student experiences that are dedicated to curating the world's next generation of principled and purposeful leaders.
"I am especially grateful to Cornell Johnson Professor Beta Mannix, who taught our course on healthcare leadership," says Laura Block '22 in her Cornell Executive MBA/MS In Healthcare Leadership Poets & Quants feature. "She designed the curriculum to help us reflect internally on our leadership styles and how to build our careers with intention through case studies, class discussions, and personalized assessments."
Many graduates in the Class of 2022 are also quick to point out how their education was further enhanced by opportunities outside the classroom.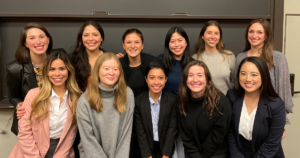 "Serving as president of Johnson's Women's Management Council for the 2021 year was a pivotal piece of my MBA experience," says Julia Angelos Resch, MBA '22. "Working alongside a group of amazingly accomplished women was not only powerful but utterly transformative—I can't wait to see what my peers accomplish next!"
"Leading the Johnson High Tech Club (HTC) has been the most rewarding experience for me both personally and professionally," Branden Karnell, MBA '22, a graduate of the Two-Year MBA program, told Poets & Quants. "During our mostly virtual first year at Johnson, the tech community became my family. We spent so much time together confiding in each other, getting ready for corporate briefings, and looking over each other's resumes and practices cases. This allowed us to develop amazing friendships."
"The generosity of our second years is what impressed me the most," explains Karnell. "They gave us so much time, answered panicked late-night calls, and made our class feel connected to Johnson even during such a difficult time."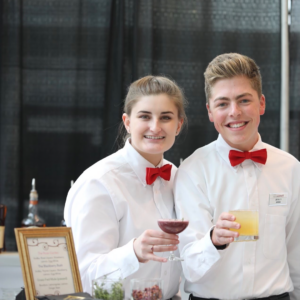 Like many graduates of the Cornell Peter and Stephanie Nolan School of Hotel Administration, Jake Rallo '22 emphasizes the significance of Hotel Ezra Cornell (HEC), a three-day, student-run business conference for hospitality leaders and members of the Cornell University community.
"Looking back, HEC has been the most integral experience I have had at Cornell University," he says. "I believe that what we, as students, accomplish at HEC is unlike any other student-led event in the world."
"It has been an honor to be able to serve as a director during my time on campus, and I will never forget the memories I have made during my involvement with HEC," he continues. "In the future, I cannot wait to return to campus as an alumnus and see how students continue to innovate and plan the 'best ever' HEC."
For Cheick Camara '22 and Ermias Tadesse '22, leadership was the avenue for change. To address a lack of representation within Cornell's financial clubs, they founded BlackGen Capital, an investment club that aims to expand the talent pipeline for Black and Brown students who want to enter the financial services industry.
"The traction that BlackGen Capital has received globally has completely surprised me," Camara said in an article celebrating Black entrepreneurs in February. "I am most excited about seeing student leaders across the country and the entire world continue to take initiative in starting a BlackGen Capital chapter. This exponential growth will increase not only representation but also retention in the financial services industry."
Inspired by Teaching and Community
Graduates from the Class of 2022 are also united by their favorite courses and professors who cultivated their knowledge and expertise during their time at Cornell.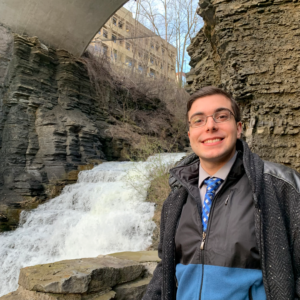 "Cornell teaches its students to think like entrepreneurs," says Ryan Greff, MPS '22, who is graduating with an MPS in applied economics and management. "It is this mindset that enabled me to be selected as an Honoree at NJBIZ Magazine's 2022 Leaders in Finance Awards. The NJBIZ Leaders in Finance Awards celebrates leading finance executives in New Jersey. I received the award alongside the CFOs of multi-billion dollar companies."
"Cornell's commitment to cultivating the entrepreneurial mindset amongst its students contributed to my being able to accomplish such a big career feat at a young age."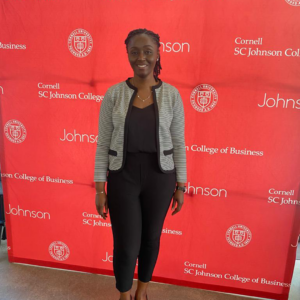 "My One-Year MBA experience was very intensive but extremely rewarding," adds Chibuzo Okereke MBA '22, graduate of the One-Year MBA program. "I gained experiential learning as a Johnson Board Fellowship (JBF) fellow working with a local non-profit organization and as an Emerging Markets Institute (EMI) fellow and conference committee co-chair for the 2021 EMI conference."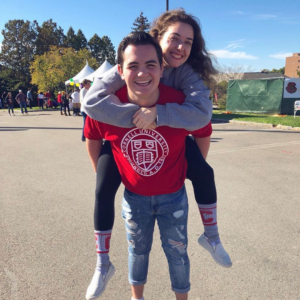 Sam Fuqua '22, a Cornell Nolan School undergraduate, and Minwei Cao '22, a Johnson MBA graduate, call out specific professors who have been fundamental to their studies at the Cornell SC Johnson College.
"Professor Robson's style of teaching was unlike any other professor I've had," says Fuqua. "She really focused on making sure that every student was fully engaged in each of her lectures, and that every student fully understood what she was teaching. Throughout my life and career, I know that I'll be able to utilize so many of the lessons that Professor Robson gave to us in both her classes."
"There are so many amazing professors who've pushed me to develop in skill areas I never thought I had," Cao told Poets & Quants. "Professor Andrew Davis, our core operations professor, made a dry topic engaging, and intellectually stimulating. I also saw the importance of operations behind all sorts of businesses from little cookie shops to huge cranberry plants."
Looking to the Future
"Being a Cornellian is a lifelong title that will stay with me for my entire life," adds Greff. "Being a Cornellian sends a message about myself to anyone that I interact with on a social and professional basis. Carrying this brand with me will enable me to achieve greater heights in my career and life after Cornell."