Where Are They Now? Chris Kirby '14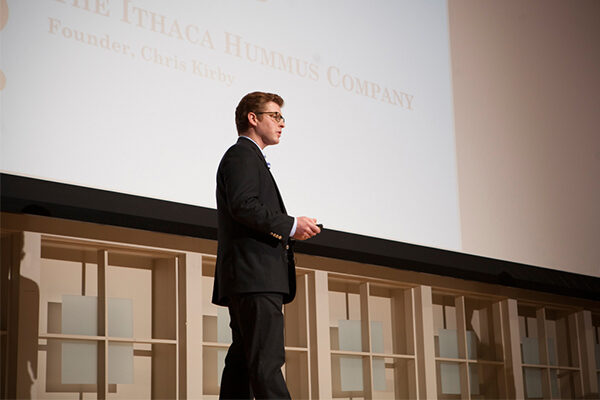 As the Leland C. and Mary M. Pillsbury Institute for Hospitality Entrepreneurship (PIHE) celebrates its 15th anniversary, we're asking alumni to share their journeys and recollections.
 Chris Kirby '14 is founder and CEO of Ithaca Hummus and, he says, "obsessed with quality, because you might as well have the best."
That obsession has made Ithaca Hummus — a category disruptor that "delivers mind-blowing flavor" using fresh ingredients — the fastest growing premium hummus brand in the country.
Kirby, who founded Ithaca Hummus while a student, came to the Cornell Peter and Stephanie Nolan School of Hotel Administration (Cornell Nolan School) with the idea for the company already in mind. (In fact, it figured into his admissions essay.) A nontraditional student with a culinary degree from Johnson & Wales University and seven years' experience in the hospitality industry, he "viewed Cornell and the Hotel School — and specifically the Pillsbury Institute and [senior lecturer] Neil Tarallo — as a world-class incubator to launch a company within."
At the Cornell Nolan School, the Pillsbury Institute became his home base. "They care about what they do," he says. "They love engaging with students who are passionate about an idea and need help turning it into something more. There's an energy there that feeds off the students and the staff."
Ithaca Hummus debuted its original variety, lemon garlic (made with fresh squeezed lemon juice), at the Ithaca Farmers Market in 2013. "It was the ideal place to start the business because it's one of the top five farmers markets in the country in terms of attendance, and the Finger Lakes region is a hotbed for agriculture, food and community."
In 2014, Kirby took second place in the Cornell Hospitality Business Plan Competition. "The competition was a terrific opportunity to hone my vision," he says, noting he used feedback from the judges to improve the business plan.
The company's first kitchen was at 4H Acres on Lower Creek Road ("where we squeezed lemons by hand," he says). A few years later they moved into the Finger Lakes Fresh Food Hub in Groton, "where we rented about 10,000 square feet and built out a miniature version of the manufacturing plant we have today."
His key challenge during the first five years was commercializing a product with a short shelf life. "People love Ithaca Hummus for the vibrant taste and homemade texture that come from using fresh ingredients, but those ingredients are highly perishable," Kirby says. "In order to grow, we needed to extend the shelf life of the product without compromising the sensory experience consumers associated with our brand."
He found the answer at LiDestri Foods, a large co-packer in Rochester. LiDestri had just procured an HPP (High Pressure Processing) machine, which uses pressure to extend shelf life. "Unlike heat pasteurization, HPP is a cold process, which meant we could continue using fresh ingredients and extend the product's shelf life to over 100 days. Almost overnight, we went from being regionally focused, with a highly perishable product, to a nationwide brand," Kirby says.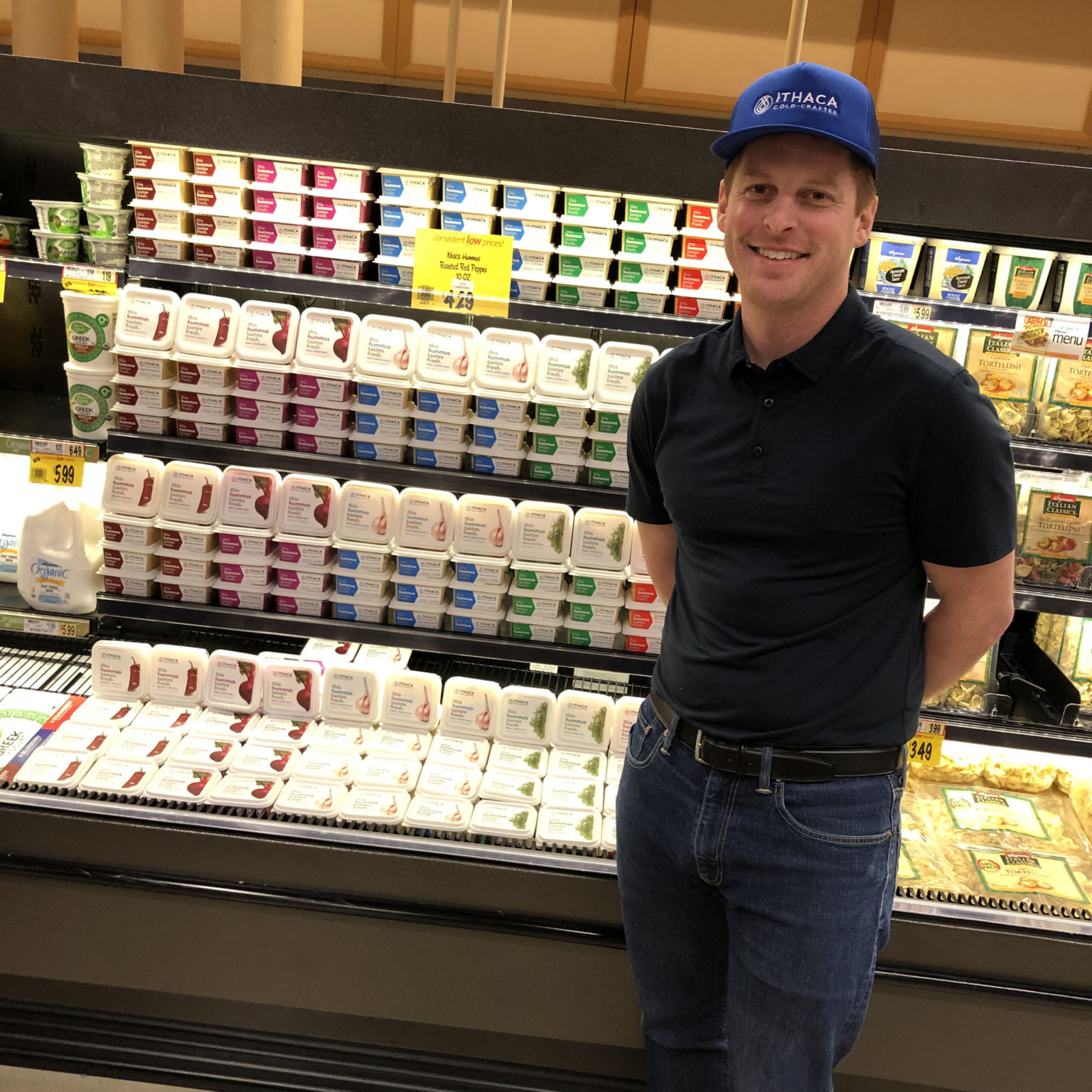 Sales grew "at a staggering pace," leading LiDestri to become Ithaca Hummus' dedicated manufacturer. In 2017, the companies partnered and LiDestri acquired 20% of Ithaca Hummus, providing the capital to fund further growth. Today Ithaca Hummus is sold in some 10,000 retail stores, including Whole Foods, Wegmans, Harris Teeter, Stop & Shop, Sprouts and Publix.
In 2021, the company launched Everyone Bagel Hummus, dedicating 5 cents from every unit sold to community-based nonprofits. In the program's first year, Ithaca Hummus donated $20,000 to Common Threads, which provides nutrition education to under-resourced families. And in the midst of COVID, Ithaca Hummus matched donations to the Ithaca Farmers Market.
"I'm so thankful that I've found meaningful work in my life," Kirby says. "It feels good to pay it forward."
Why hummus: Nothing in the store tasted like what I could make at home. It was disappointing; I knew I could do better.
What's next: Our fans trust us for shockingly flavorful dips. In February, we'll be launching salsa — another category where you rarely find that homemade taste in a store-bought product. We're going to change that.
His personal "ingredients" (as listed on the company website): ping pong champion, chef, pitbull lover, surfer, mustache aficionado, cyclist, entrepreneur.
If you're an alum, where are you now? Tell us — we'd love to know! Email program manager Michelle Ciaschi at MLC296@cornell.edu.