Entrepreneurial MMH Students Find a Home at the Pillsbury Institute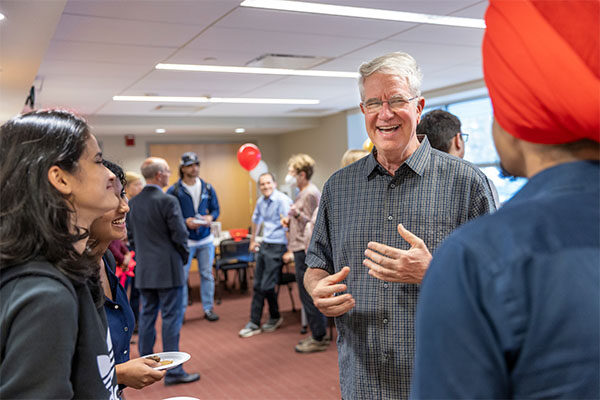 Through his involvement with the Leland C. and Mary M. Pillsbury Institute for Hospitality Entrepreneurship, Khalid Ladha, MMH '16 learned to break through his self-imposed glass ceiling "and thrive in scenarios that once upon a time I thought I never even belonged in."
Shakira Walden, MMH '22 "learned so much about learning" and to never give up.
Obinna Onyenedum, MMH '23 learned to "shift the way I think to that of an entrepreneur."
Ladha, Walden and Onyenedum are among the hundreds of MMH students who over the years have found encouragement, community, and support for their entrepreneurial stirrings through the institute.
From its welcoming faculty, staff and space to its Entrepreneurs in Residence, Pitch Deck Competition and Hospitality Business Plan Competition, these students learn that at the Pillsbury Institute, you never go it alone.
"On a typical cloudy Ithaca day, the institute is that little ray of sunshine," says Onyenedum.
Khalid Ladha, MMH '16
 Ladha's team tied for first place in the 2016 Hospitality Business Plan Competition with its concept, Last Second Beach. The startup's mobile app targeted price-conscious consumers wanting packaged vacations like cruises and all-inclusives. It was the first-ever tie; both winning teams received the $25,000 grand prize to seed their business.
After graduation, Ladha joined Duetto, a cloud-based predictive analytics and revenue strategy firm co-founded by Marco Benvenuti, MMH '05, who, as an Entrepreneur in Residence, was one of his advisors for Last Second Beach.
Most recently, Ladha was global director of supply partnerships for Super.com (nee Snaptravel), where he led a team of over a dozen across three continents and ran a buying organization for hotel rooms that closed over $1 billion in hotel and e-commerce transactions.
Last year, "the entrepreneurial bug bit again," he says, leading him to start Poppyseed Capital. The multi-strategy hedge fund offers structured financial products focused on "the fastest-growing, but most inefficient, trillion dollar asset class in history — Web3 and digital assets like ETH (Ethereum) and Bitcoin."
"The Pillsbury Institute was huge in my development," he says. "The professors and staff were a massive part of helping me grow into the entrepreneur I am today."
Ladha credits the institute with helping him realize that "success flows from working smart, yet hard," and giving him the opportunity to meet people and build relationships. He also learned that "as an entrepreneur, you need a sense of humble audaciousness; otherwise, things won't happen. You have to believe in yourself and what you're doing."
He recalls his "huge appreciation" for the easy access to Gates Hall, where computer science students were building things, just as he was. "Being so close to the computer science school led to a lot of serendipitous, good things," he says.
His advice for current students? Find a problem that people will pay you to solve. Then build something to address that pain point.
Shakira Walden, MMH '22
While earning a bachelor's degree in psychology at Hofstra University, Walden "got a rounded experience in hospitality," working as a server, private event host and accounting clerk for Dave & Buster's.
At the Nolan School, she gravitated toward the Pillsbury Institute. She entered the Business Plan Competition — her concept was a cannabis consumption lounge merging cannabis and hospitality — but didn't make it to the finals. Instead, she found a new home. And a job as a student ambassador for the institute.
"The greatest thing I learned working at the institute and meeting with the Entrepreneurs in Residence is that failure is part of the process," she says. "Even though I didn't make it to the finals, I received great feedback on my business plan.
"And meeting the Entrepreneurs in Residence, who themselves were once students at the school — it was amazing to see that cycle."
When Walden began the MMH program, she says, "I didn't know which area of hospitality I wanted to go into. Working with the institute allowed me to explore all of my different interests and be more creative in envisioning what my career path might look like."
"The Pillsbury Institute makes entrepreneurism easy to understand," she says. "Anybody can  come in, explore their ideas and see where it takes them." She also appreciated the institute's "fun, comfortable, supportive atmosphere" and the community spirit it engenders. "It's so welcoming that even people first coming into the space feel like they're a part of it."
Walden still hopes to launch a cannabis lounge; she also plans to go into sports hospitality, either in suite management or stadium management. She currently lives in Philadelphia, where she is manager of the Stratus Rooftop Lounge for Kimpton Hotels & Restaurants.
Obinna Onyenedum, MMH '23
In his first job in Ithaca, Onyenedum, a San Diego native, was program assistant at the Center for Regional Economic Advancement (CREA) at Cornell University. He attended last year's Business Plan Competition because he knew some of the participants and "was so moved by the individuals and their ideas that I immediately followed up with Michelle Ciaschi [program manager at the Pillsbury Institute] and told her I wanted to be a part of it," he says.
At that point, he had applied to the MMH program — having "fallen in love with hospitality" in his subsequent job as assistant housekeeping manager at the Statler Hotel — but had not yet been accepted.
Once enrolled, he participated in last fall's Pitch Deck Competition with Milad Rohani, MMH '23. The two finished third with their concept for Parachute, a tech platform that connects hotels with local retailers to provide curated clothing for travelers upon their arrival. "Parachute allows you to 'parachute' — in a sense — into your destination, so you travel light and worry-free," he says.
Onyenedum appreciated the counsel he received from Entrepreneurs in Residence — the same entrepreneurs he had connected with other fledgling businesses while working for CREA. Although he was invited to participate in the Business Plan Competition, he ultimately decided not to. "I was working full time at the Statler, going to school part time, the graduate student chair for HEC [Hotel Ezra Cornell] — and a newlywed," he says. "I needed to find balance." Rohani continued on to the competition, but Parachute was eliminated before the final round.
For Onyenedum, the Pillsbury Institute "defused the fear of pursuing your ideas and the uncertainty of entrepreneurship." He cites Professor Neil Tarallo's course Developing an Entrepreneurial Mindset as particularly impactful. "It helped me understand that I have more resources than I give myself credit for," he says.
He advises his fellow MMH students to "talk to Michelle, get on the institute's email list and take advantage of the access to Entrepreneurs in Residence." He also encourages them to attend Pitch Deck and Business Plan competitions. "When you see someone in person, you realize they're just like you and you're just like them. That's when the light bulb in your head goes off and you see, 'Hey, I can do it too.'"