Where Are They Now? Kristen McClellan '12 (ILR)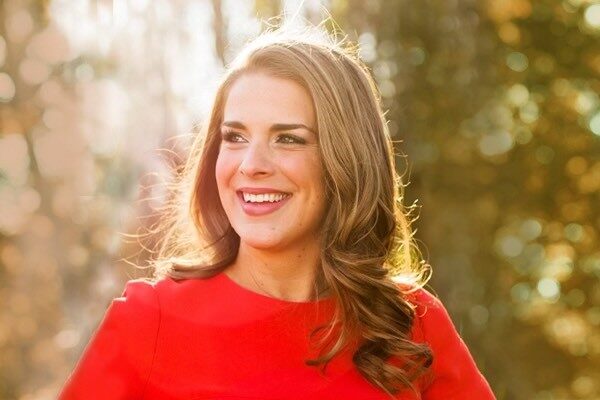 As the Leland C. and Mary M. Pillsbury Institute for Hospitality Entrepreneurship (PIHE) celebrates its 15th anniversary, we're asking alumni to share their journeys and recollections.
Kristen McClellan is founder and CEO of SNAP Wellness and creator of SnappyScreen, the world's first touchless sunscreen application system.
Users of the system step into a booth, select an SPF and enter their height; 10 seconds later, they are covered with a fine mist of sunscreen from head to toe. The device's spray nozzles eliminate uneven tans and reduce the risks of sunburn and skin damage.
SnappyScreen's proprietary sunscreen, SNAP Sun Safe, is one of the few on the market that is oxybenzone-free, paraben-free, reef-safe and does not stain clothing.
SnappyScreen was born on a family vacation after her senior year in high school, when McClellan watched her sister laboriously apply sunscreen and still end up with a blotchy tan. "I thought, 'there's got to be a better way,'" she said.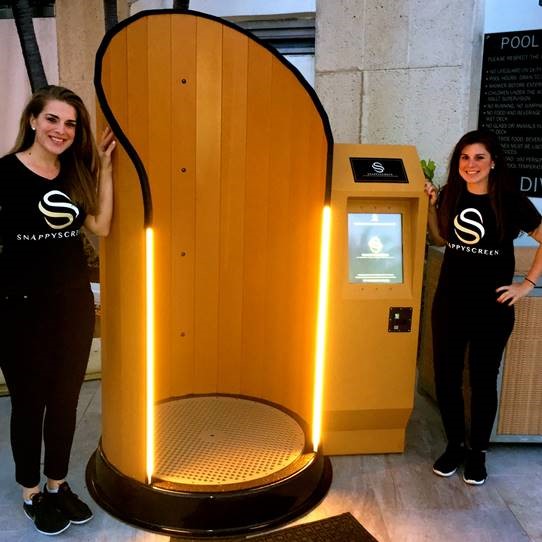 In researching the matter, she learned that although sunscreen sales continue to soar, more people develop skin cancer than all other cancers combined. The reason: Just one-third of users apply the product correctly.
McClellan debuted her concept for SnappyScreen in an eLab elevator pitch competition during her freshman year. She went on to build three prototypes and spent her time at Cornell "figuring out what SnappyScreen would become."
When she realized its potential as a hotel amenity, she sought out the Pillsbury Institute.
She ran her first trials at the Aruba Marriott the summer before her senior year, thanks to interest from hospitality developer and investor Kenny Blatt '81, whom she met through the institute. "We saw over 400 people use it in four days," she recalled. "It was then that I knew I wanted to take this on full time after graduating."
A few years later, as she was looking to test out the company's first custom device, the institute was there for her again — connecting her with George Markantonis, then president and managing director of Kerzner International's Atlantis Paradise Island. "I lived there for three to four months and watched people use the device to learn what we needed to do next."
"The Pillsbury Institute has been a huge part of our journey — giving us invaluable access to industry leaders so that we could learn about customer needs and refine our technology," said McClellan, who is now an Entrepreneur in Residence.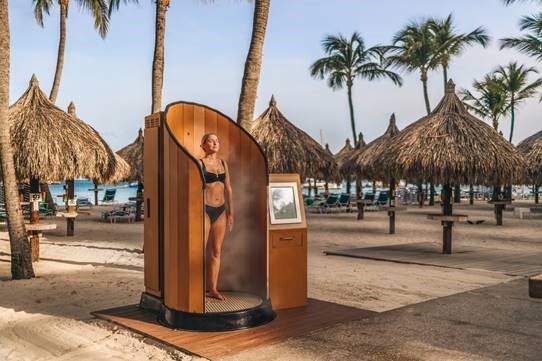 After the pandemic struck, the business — then known as SnappyScreen Inc. — pivoted.
"We had begun to see the sunscreen booths as vehicles of experiential retail that created demand for our sunscreen," she said. "When hotels closed, we leaned into our product line and started selling the sunscreen direct-to-consumer for the first time."
They also created SNAP Clean Hands, a line of touchless mist sanitizers with luxury fragrances.
SNAP Sun Safe and SNAP Clean Hands are now sold at over 2,000 storefronts. "We also have over 45,000 customers online, along with our hotel clients," McClellan said. "We've gone from being a sunscreen booth business to a sunscreen business to a wellness brand."
That brand, launched as SNAP Wellness in 2021, caught the attention of both Ellen DeGeneres, who requested custom product bags for her "Be Kind" subscription box, and Oprah's Favorite Things, which included SNAP Clean Hands among its holiday gift ideas. The latter led to additional coverage — on "Good Morning America," "The View" and "Live With Kelly and Ryan."
"A big part of our storyline has been the element of surprise," McClellan said.
On being "an entrepreneurial kid": I had a day camp in my backyard and made $1,000 a week as a 12-year-old. I was always up to something.
On being an Entrepreneur in Residence (EIR): It's exciting to see how many students are bringing new ideas to our industry. Having mentors from the Pillsbury Institute was such an integral part of SnappyScreen's growth, and I hope to be able to provide that same guidance and opportunity to students as an EIR.
On being named to the Forbes 30 Under 30 Class of 2019: It was a lifelong bucket list item. When I meet other honorees working on their passions, it reminds me of the kind of energy I found at the Pillsbury Institute. I'm constantly impressed with my peers on the list. It is so helpful to have a community of fellow entrepreneurs who understand the highs and lows of building a business and together share what has worked throughout our journey.
If you're an alum, where are you now? Tell us — we'd love to know! Email program manager Michelle Ciaschi at MLC296@cornell.edu.