Where Are They Now? Robert Frisch, MBA '13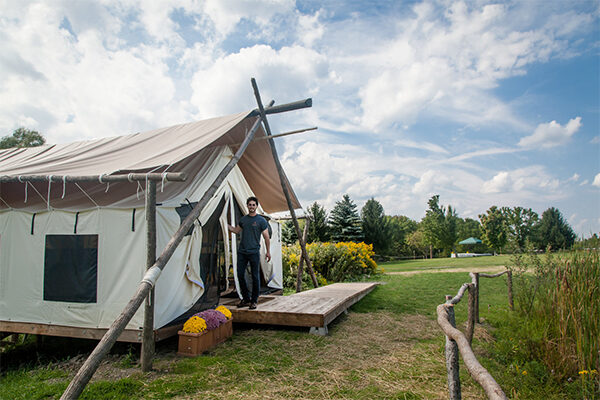 As the Leland C. and Mary M. Pillsbury Institute for Hospitality Entrepreneurship (PIHE) celebrates its 15th anniversary, we're asking alumni to share their journeys and recollections.
Glamping pioneer Robert Frisch, MBA '13 is co-founder (with his wife, Emma) and chief executive officer of Firelight Camps, a company that develops and operates luxury campgrounds.
Firelight Camps got its start in 2014, with just a few tents in the woods along Buttermilk Falls State Park in Ithaca. "Every year since, we've grown the property and fine-tuned the experience," Frisch says. "Now we're a really fun cross between a traditional campground and a 19-room boutique hotel.
"We have big, beautiful canvas safari tents on hardwood platforms, each with a king- or two queen-size beds and a private balcony. You can hike into the park and swim in a waterfall by day and have a luxury camping experience by night."
Continental breakfast is served in the lobby tent every morning; campfires are held every evening. "The campfires provide a magical environment where you can meet people, sit around under the stars and swap adventure stories," Frisch says.
Similar to a boutique hotel, Firelight Camps serves as an outdoor living room for the community, drawing locals with its full bar, and live music and pizza from Stone Bend Farm Tuesday nights (in season).
Firelight's season runs May through October. In his "downtime," Frisch is developing a second location, in Phoenicia, New York, along the Esopus Creek in the Catskills, which he hopes to open in the spring of 2024. And, since the business saw "an absolutely huge boom" during the pandemic, he's exploring other opportunities to grow the brand as well.
Firelight is not his first hospitality business. After earning a bachelor's degree at the University of Pennsylvania, Frisch spent four years in Nicaragua — first as a small business development volunteer with the Peace Corps and then as co-owner of Hostal La Buena Onda, Matagalpa's premier boutique hostel. "Through that experience," he says, "I fell in love with hospitality and decided to return to school to learn more about it."
Although he earned an MBA with an immersion in sustainable global enterprise, Frisch took as many courses as he could at the Cornell Peter and Stephanie Nolan School of Hotel Administration. "I knew I wanted to create another kind of eco-tourism business, but I didn't know exactly what," he says. "So I used my time at Cornell to think that through and write a business plan for something similar to what Firelight ultimately became."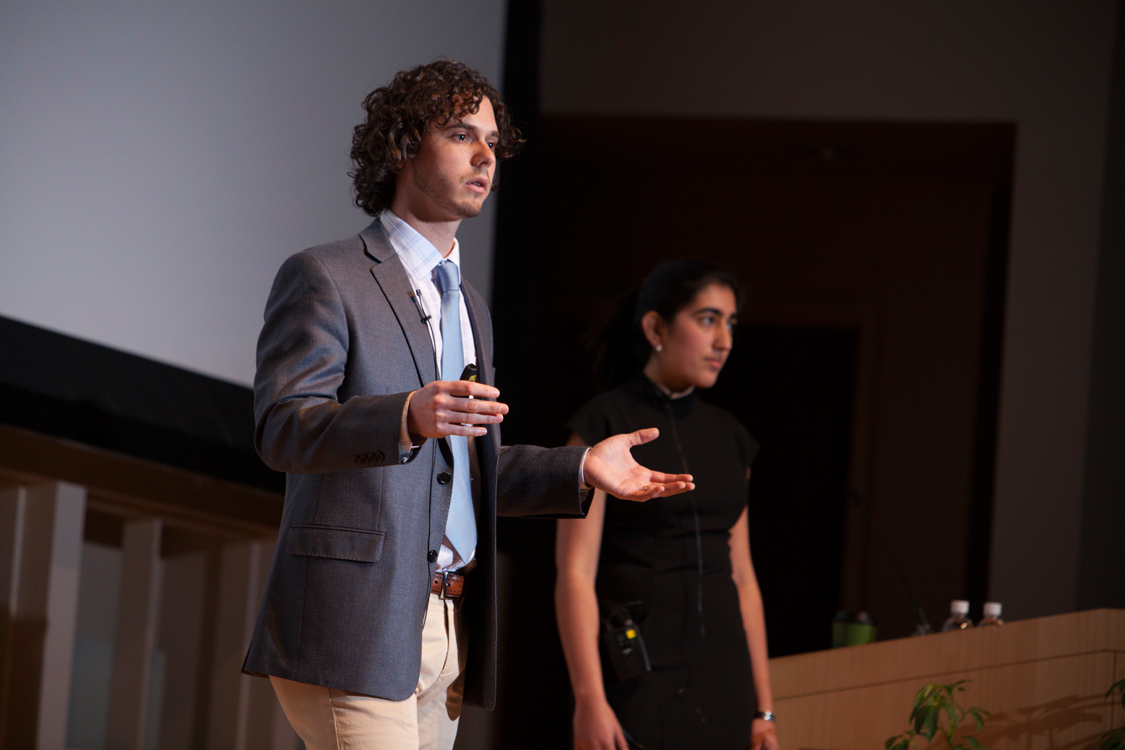 During his second year on campus, he entered the 2013 Hospitality Business Plan Competition with Tara Lobo '15 and won the Stein Family Prize. "I received a lot of great advice through that process and met alumni who became some of Firelight's first investors," he says.
"The Pillsbury Institute was huge — it was my guiding force throughout graduate school." Along with taking full advantage of its programming, he benefited greatly from "the camaraderie of entrepreneurship as it relates to hospitality" and getting to know Entrepreneurs in Residence, visiting speakers and "fellow students who were equally inspired by the hospitality industry and entrepreneurship within it."
Frisch often returns to campus to speak to classes; he also has participated in Hotel Ezra Cornell and the Center for Sustainable Global Enterprise's Leaders in Sustainable Global Enterprise speaker series.
In 2016, he was named Entrepreneur of the Year by the Tompkins County Chamber of Commerce.
What I enjoy most about the business: I love being outside and envisioning these fun, beautiful, magical environments that guests love.
On the name "Firelight": It was much harder to name my business than my two children. We brainstormed and used mood boards and really tried to distill the essence of what we wanted to create.
What people might be surprised to learn: We're able to develop a room for less than a comparable traditional hotel and charge just as much, if not more, because it's such a unique experience.
If you're an alum, where are you now? Tell us — we'd love to know! Email program manager Michelle Ciaschi at MLC296@cornell.edu