Celebrating Women Student Leaders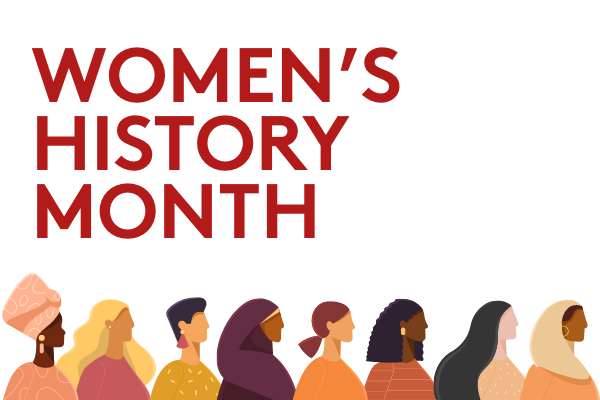 The Cornell SC Johnson College of Business is celebrating Women's History Month by sharing the experiences of women student leaders from across the college's three schools. Each student leader has a unique story that led them to the college, and once here, they have made their mark and are united as leaders.
Selected on their prestige across the Cornell campus as leaders, these six women are part of a generation of many women shepherding a new path in business. In detailing their personal stories of growing into their leadership roles, each highlighted other women student leaders they admire.
Throughout March, we celebrate their individual stories. Today, we celebrate the sense of uplifting camaraderie among these women and the other strong women leaders across the SC Johnson College of Business who inspire them.
» Jenniviv Bansah '22
A Cornell Peter and Stephanie Nolan School undergraduate, Bansah is a dean's assistant within the school, executive vice president of the Cornell Student Assembly, chief operating officer of BLK Capital Management, Corp, and executive vice president of The BLK Foundation.
When speaking about fellow women student leaders who inspired her, Jenniviv specifically highlighted their ability to balance responsibilities and create positive change.
"Bella [Isabella] Cruz ['23], she's in Dyson right now and she's the president of Alpha Kappa Psi and she takes up a lot on her plate, but she still has the skill of balance and being able to be a great student and a great leader."
Jenniviv also mentioned Kellie Graves '24, who founded A Seat at the Table.
"So it's women who really go above and beyond to make sure that they are great leaders, but also building up communities in different ways."
"And then another one would be Hajar [Sabir '23]. She just started a real estate club for women. And I thought that was like very, very needed, because we don't really have real estate clubs that address like POC [people of color], and so that's another student leader that inspires me."
» Kyra Roach '22
Roach, an undergraduate student at the Cornell Nolan School minoring in real estate, is also a dean's assistant and formally served as the executive chef of the 96th annual Hotel Ezra Cornell.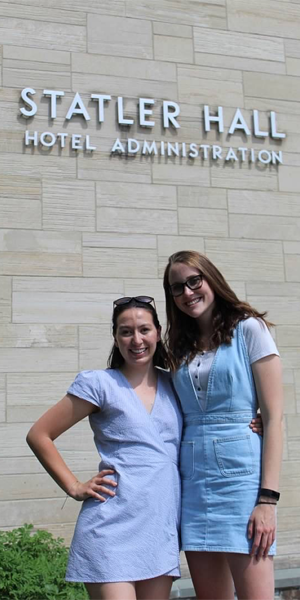 Roach was not at a loss for women she's chasing — she's got her eye on many fellow women student leaders from across the college.
"I am fortunate to be friends with numerous high-achieving women in the College of Business. My friend Hannah MacDonald ['22] served as the president of Cornell Hotel Society's Collegiate Chapter and has shown me the value of unconditional kindness and honesty in all relationships."
Roach identified specific characteristics that each woman brings to the table in addition to their leadership skills.
"Tina Rivara ['22], the former president of Cornell's Food & Beverage Society inspires me with her unyielding motivation and endless work ethic. Hayley Martin ['22], the current managing director of Hotel Ezra Cornell, reinforces my belief that the best leaders are those that prioritize supporting the team working beneath them. And my friend Lilia Fromm ['22] has shown me the importance of finding and following your passion, even if it's different from those around you."
» Rumbidzai Mangwende '23
Charles H. Dyson School of Applied Economics and Management student Mangwende founded the startup EthosSphere, an online beauty retailer and marketplace for Black hair care products.
On the Cornell campus this semester, she is the senior vice president of recruitment at Phi Gamma Nu business fraternity. Previously, she was the executive vice president of the Professional Fraternity Council and a mentor at BlackGen Capital.
"My favorite part of Cornell is discovering and being inspired by my peers, especially other women leaders."
Mangwende recalled women student leaders who have advocated for her throughout her time at Cornell. "All in all, Cornell teems with kind, courageous, and brilliant female leaders — all of whom I look up to, and some of which I have been lucky enough to call my friends."
"The first person who comes to mind is Yasmin Watt ['22], a national board member at BlackGen Capital, who has been one of my most reliable mentors throughout my college career. I admire how she manages to balance such heavy responsibilities with a light-hearted and kind spirit. She's helped me through interviews, given me career guidance, and has advocated for me in spaces where I otherwise wouldn't have been mentioned."
"Then there's Anjali Siromani ['23], the vice president of Phi Gamma Nu, and the true definition of perseverance. Despite the difficulty that international students tend to have getting American job sponsorship, she managed to fight her way into a top investment bank on Wall Street–getting exactly what she deserves, and more."
"Or Darla Andoni ['22], the founder of the Cornell FinTech club. Her contagious energy, as well as her brilliant and face-paced mind, always keep me in awe. She always has so many moving gears in her life, yet excels in every part."
Read About Rumbidzai Mangwende
» Karina Popovich '23
A Dyson undergraduate student, Popovich made and donated 82,000 units of PPE during the COVID-19 pandemic through her organization, Makers for Change, formerly known as Makers for COVID-19. Now, she is committed to making STEM accessible through INERTIA, where she designs and exhibits whimsical pop-ups. She is pursuing a career at the intersection of tech and fashion and wants to show girls that there is a place in tech for all of their interests.
Popovich noted the ability of student leaders to learn from each other to enhance growth and ideas.
"I look up to Emily Boldt ['22], one of my best friends and a fellow peer at Dyson. Emily is incredibly analytical and is one of the best learners I have met. One of her best qualities is constantly being organized, collected, and ready to handle any situation. If there's a person who has it together, it's her. Yet, we are still able to help each other grow."
Learn More About Karina Popovich
» Dimakatso Hayes, MBA '22
Hayes, a Samuel Curtis Johnson Graduate School of Management graduate student, was a summer associate at Bain & Company. On campus, she was formerly the community and belonging chair for Johnson Student Council and chair of the Diversity Council.
Hayes has learned the power of connection and boundaries from other student leaders within the college.
"I have a classmate, Julia Angelos [MBA '22], who I absolutely love. She is so strong and smart and poised and has such [a] presence. She is great at connecting people and delivering hard information in a way that commands respect but doesn't dilute her power."
"There's also my classmate Natalie and my partner in crime Melonie. Both for different reasons. Melonie taught me the power of saying 'No' and focusing your energy on projects that are the most meaningful and impactful. I had a horrible habit of saying yes to everything and spreading myself too thin and she would ask me why are you doing that and I had no answer. Natalie is a MASTER people connector. She can organize something in five minutes by sending out a few texts and reminds me regularly [of] the power of relationships."
» Stefanie Cainto, MBA '23
Johnson student Cainto is currently the president of the Women's Management Council within the school.
She admires fellow Johnson students Julia Angelos, Rachel Rothbarth '22, and Gabriella Del Rio-Davila '23.
"I virtually met Julia and Rachel before I even started as a student at Johnson. From Julia, I learned the importance of prioritization and what that meant in the context of an MBA program, of being rooted in a vision, and of protecting my time. From Rachel, I learned the importance of asking good questions and of being your own advocate. Both Julia and Rachel exemplified to me what mentorship looks like, and how women empowering other women could make such a big impact.
My classmate Gaby is also on the board of WMC [Women's Management Council]. She's constantly reminding me to think outside of [what] we might perceive as possible — and simultaneously set boundaries for myself and my time so that we can pour from full cups."