Cornell SC Johnson College of Business Hosts ESG Investing Conference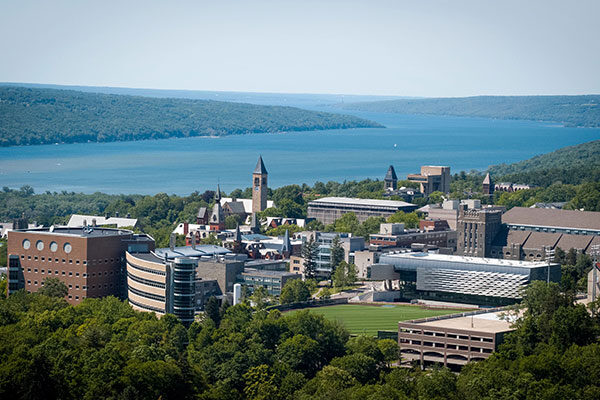 The Cornell SC Johnson College of Business will bring together a selected group of finance faculty researchers and investment professionals to discuss new, cutting-edge research and insights at an Environmental, Social, and Governance (ESG) Investing Conference. The conference will be held on the Cornell University campus in Ithaca July 20-22, 2022, and several of the conference presentations will be live-streamed to SC Johnson College of Business students and alumni.
Discussing ESG investing challenges, ideas, and solutions goes straight to the heart of a key concern among investment researchers and professionals now. Over the past decade, investors' interest in the impact that social and environmental issues have on the ability to earn attractive returns has increased dramatically, says conference co-chair Scott Stewart, clinical professor and faculty co-director of the Parker Center for Investment Research at the Samuel Curtis Johnson Graduate School of Management. "Investors are seeking to support other societal benefits, including fairness and environmental protection," says Stewart.
Best practices on how to achieve that are still under review, however. "While assets invested in ESG funds have grown exponentially very recently, there is a lot of debate going on in public policy circles about how to build diversified portfolios, define metrics, and measure success," Stewart says. "The papers to be presented at the conference and the panel discussions will address these issues."
Rigorous evidence on ESG investing is needed to support effective decision making
Hosting this conference is particularly timely, notes co-chair Andrew Karolyi, Charles Field Knight Dean of the Cornell SC Johnson College of Business and professor of finance, given that the U.S. Securities and Exchange Commission (SEC) has two new proposed rules targeting ESG investing: "The Enhancement and Standardization of Climate-Related Disclosures for Investors" (33-11042) and "Enhanced Disclosures by Certain Investment Advisors and Investment Companies about ESG Investment Practices" (33-11068).
"The first rule was initiated in 2021 and extended its deadline to June 2022 for public comment (over 10,000, so far)," says Karolyi. "Some expect that 33-11042 will become a final rule by August. The second rule, launched in May 2022, is open for public comment. Many comments refer to research by our Cornell colleagues, by members of our conference program committee, and by industry leaders who are attending."
Regulators overseas as well as in the U.S. have recently proposed new ESG rules for companies, mutual funds and retirement plans. Organizers designed the conference to provide opportunities to explore unpublished research and motivate new areas of research that will incorporate practical issues.  They hope that this conference will promote the publication of rigorous evidence on ESG investing to support effective decision making by practitioners, regulators, and researchers.
The call for papers on ESG investing research met a robust response
In response to their call to submit papers on ESG investing research, sent out to the academic community in mid-February, the co-chairs received 60 submissions for six presentation slots. An external program committee of seven researchers (listed here) reviewed the papers and selected finalists to present at the conference.
The conference co-chairs are all SC Johnson College faculty in accounting, finance, and management & organizations. In addition to Stewart and Karolyi, they include: Jawad Addoum, associate professor of finance at the Charles H. Dyson School of Applied Economics and Management; Sanjeev Bhojraj, Alumni Professor in Asset Management and faculty advisor at the Parker Center for Investment Research at Johnson; Mark Milstein, clinical professor of management and director of the Center for Sustainable Global Enterprise at Johnson; and Scott Yonker, associate professor of finance at Dyson.
Several organizations at the SC Johnson College joined together to co-host the ESG Investing conference, including the Parker Center for Investment Research, the Center for Sustainable Global Enterprise, and the Investing at Cornell and Business of Sustainability interdisciplinary themes.