New Research Theme to Solidify SC Johnson College as a Leader in Sustainability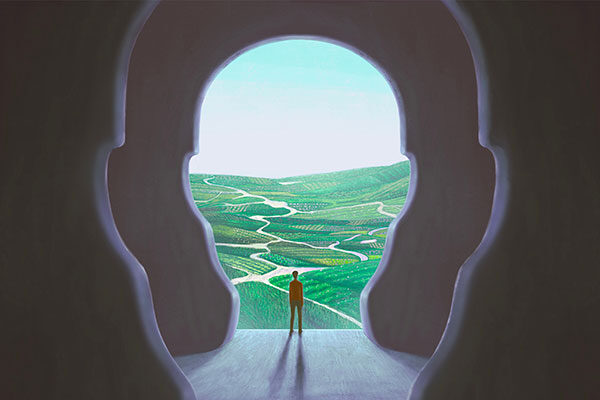 Countries across the globe are grappling with persistent social, environmental, and economic challenges, including climate change, social and environmental justice, and inequality. In the private sector, customers, employees, shareholders, and other stakeholders are challenging businesses to do more.
In response to these challenges, the Cornell SC Johnson College of Business has established the Business of Sustainability interdisciplinary theme. Amplifying the college's mission of shared prosperity, the theme provides a structured mechanism to leverage key resources dedicated to sustainability across the college that align with broad local, regional, national, and global trends.
At the SC Johnson College, interdisciplinary themes serve as critical research and networking hubs for faculty experts and industry leaders within the college, across Cornell University, and beyond. Aimed at addressing the challenges facing our society today, interdisciplinary themes facilitate exchanges of ideas, perspectives, and collaboration across academic disciplines. They connect participants to form vast and  unparalleled networks of thought leadership. The resulting cross-pollination and integration among research, teaching, and public engagement programs creates opportunities for new insights and innovative solutions.
Establishing the Business of Sustainability theme will facilitate collaboration, program coordination, and curriculum across all three school in the SC Johnson College—the Charles H. Dyson School of Applied Economics and Management, the Samuel Curtis Johnson Graduate School of Management, and the Cornell Peter and Stephanie Nolan School of Hotel Administration.
"As business educators, it's incumbent on each of us to inspire future business leaders dedicated to creating sustainable, shared prosperity for all," said Andrew Karolyi, Charles Field Knight Dean of the SC Johnson College. "The Business of Sustainability theme further weds the research, teaching, and outreach we are tirelessly pursuing to meet the imperative of our college's mission. The future of business demands no less of us."
Advancing the college's unique breadth and depth in sustainability
"Sustainability issues affect every sector of the economy, from agriculture to hospitality to investment banking," says Mark Milstein, clinical professor at Johnson, faculty director of the Center for Sustainable Global Enterprise, and co-director of the new theme. "They challenge institutional stakeholders that work with and influence business, including government, civil society, multilaterals, trade organizations, and academic institutions.
"With more than 80 faculty members who actively address business of sustainability issues through research, teaching, and engagement, the SC Johnson College of Business is in a unique position," says Milstein.  "Few schools of management education have the breadth and depth in sustainability that we have. We think the theme gives us the opportunity to fuel the mission around shared prosperity, lead the development of rigorous research, and establish better sustainability literacy and experience among our students."
The Business of Sustainability theme will also raise the SC Johnson College's standing as an academic leader in sustainability research and education among peer business schools around the world, Milstein adds. That, in turn, will enhance efforts to recruit and support faculty, students, and alumni interested in sustainability. "The college can put a spotlight on what the intersection of sustainability and business looks like, and how we can improve scholarship, knowledge, and impact in the field," says Milstein
Milstein's co‐directors for the Business of Sustainability theme are Jawad Addoum, associate professor of finance at Dyson and Catherine Kling, Tisch University Professor at Dyson and faculty director at the Cornell Atkinson Center for a Sustainable Future, the hub of multidisciplinary sustainability research at Cornell. Together, they will work with college leadership to identify and prioritize business of sustainability opportunities. The co-directors will also engage faculty colleagues across all three schools to join steering committees focused on research, teaching, and engagement.
Promoting sustainability in leadership and corporate and public engagement
The SC Johnson College's three schools offer multiple courses that grapple with sustainability issues and aim to cultivate leaders who create sustainable, shared prosperity. These include the Sustainable Global Enterprise Intensive program at Johnson; the Student Multidisciplinary Applied Research Teams (SMART) and Grand Challenges programs at Dyson; and sustainability in restaurant management as well as sustainable development courses at Nolan. Course offerings on sustainability in business courses are also growing at eCornell, extending the reach beyond Cornell's Ithaca and New York City campuses.
Each school within the SC Johnson College also creates opportunities for faculty, students, alumni, and industry leaders to engage with one another, share approaches, and exchange ideas focused on sustainable management.
For example, the Center for Sustainable Global Enterprise (CSGE) conducts applied research focused on how companies can address global sustainability challenges as business growth opportunities. Speakers present new practices promoting sustainability in their industries at CSGE's annual Cornell Energy Connection and Cornell Business Impact Symposium events, where students also connect with broad professional networks. The Nolan School's Center for Hospitality Research holds annual sustainability roundtables focused on the hospitality industry and publishes its Cornell Hotel Sustainability Benchmarking study annually. This July, the Business of Sustainability theme is co-hosting the inaugural ESG Investing Research Conference together with CSGE, the Parker Center for Investment Research, and Investing at Cornell interdisciplinary theme.
Building on sustainability research and programs across Cornell University
The Cornell Atkinson Center for Sustainability works closely with the SC Johnson College to connect business faculty to fellow researchers in other disciplines across the university. By fostering greater collaboration, the new Business of Sustainability research theme underscores Cornell's tremendous potential to become an increasingly important source of corporate guidance in shaping ways to meet sustainability and climate targets.
"Cornell has unparalleled breadth of expertise essential to help corporate leaders respond to the increasing expectations from shareholders, stakeholders, and governments for decreased carbon footprints and expanded ESG reporting," says David Lodge, the Francis J. DiSalvo Director of Cornell Atkinson.
"As business and industries face the complex challenges of lowering their carbon footprints, Cornell Atkinson is connecting the SC Johnson College expertise with expertise in Cornell agriculture, engineering, science, and social science to help drive research that will impact corporate practices and policies," Lodge said.
The Business of Sustainability theme is the sixth interdisciplinary and cross-collaborative research theme established by the SC Johnson College, joining Behavioral Economics and Decision Research; Business of Food; Emerging Markets; Innovation, Entrepreneurship, and Technology; and Investing at Cornell.