Celebrating Community Strengths at the Johnson School's Big Red Bash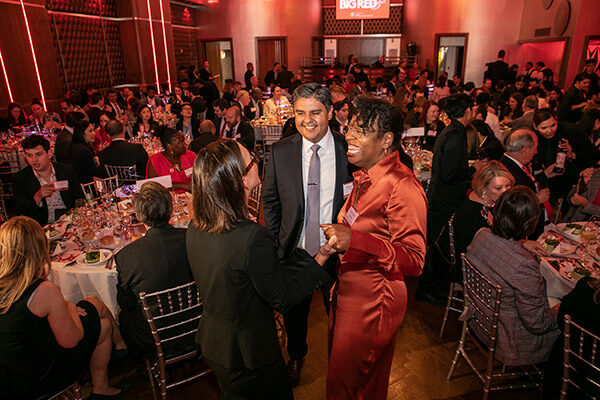 For Cornell University's Samuel Curtis Johnson Graduate School of Management, the Big Red Bash is the event of the year that brings together faculty, alumni, students, and prospective students to honor the 2023 Johnson Alumni Recognition Awards recipients. Nearly 200 people attended this year's Big Red Bash gala, held on April 27 at the Edison Ballroom in New York City.
Mark Nelson, the Anne and Elmer Lindseth Dean of the Johnson School, opened the event by naming the alumni honored with diversity awards last fall, including James Nixon Jr., MBA '05, recipient of the Wilbur Parker Distinguished Alumni Award; Christine Monjer, MBA '14, recipient of the Carlos R. Quintanilla Distinguished Latino Alumni Award; and Michael Beck, MBA '13; recipient of the Out in Business Alumni Award.
Nelson also named the 2022 10 Under 10 honorees, notable Johnson alumni who have graduated within the past ten years and were selected by the Johnson Recent Alumni Council for their contributions to their workplaces, their communities, and to Johnson.
Andrew Karolyi, Charles Field Knight Dean of the Cornell SC Johnson College of Business, joined Nelson on stage and spoke about the special nature of the Big Red Bash, noting not only the warm camaraderie and laughter in the room, but also the sense of community that students experience every day at the Johnson School—and even after they graduate.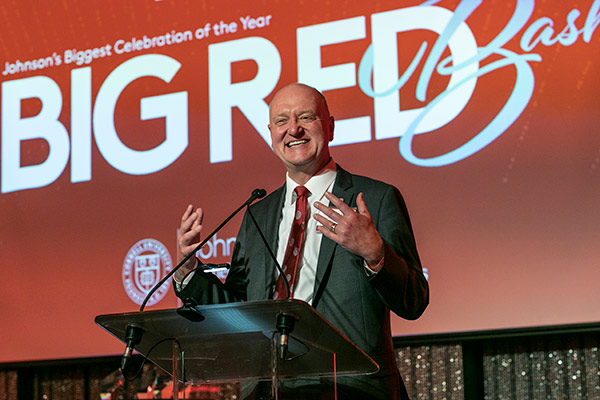 "Your engagement and support for Johnson is invaluable," Karolyi said. "Many of you serve on college and school advisory councils, and your dedication to our community is inspiring. We're gathered here to honor some incredible achievements among our alumni and celebrate the strength of business education at Cornell. This event is a testament to the strong bond and commitment that exists between the Johnson community and its alumni."
Honoring Johnson's most engaged alumni
Cara Petonic, MBA '13, and David Pisacich, MBA '10, the first awardees of the evening, were each honored with the Robert J. Swieringa Recent Alumni Service Award for their outstanding commitment to and continued engagement with the Johnson School as volunteer leaders.
Nelson described Petonic as an "outstanding alumna who has been actively involved in supporting the Johnson community in various leadership roles, including serving on the Johnson Recent Alumni Council, the Executive Committee, and as president of the Johnson Club of Philadelphia. Cara's dedication and service have made Johnson a better business school," Nelson said, before welcoming her to the stage.
When she spoke, Petonic, who is vice president of strategy and operations at Comcast, spoke of how she stepped up to become the president of the Johnson Club of Philadelphia after learning through the Alumni Affairs office that with no one to lead it, the once-active club had gone defunct. Like Karolyi, she too spoke about the importance of community and expressed her gratitude for Johnson, sharing that even though she had been accepted to a Philadelphia business school much closer to home, her husband urged her to choose Johnson precisely because of the incredible community it offered. "He reminded me of the values I hold dear, and that Johnson does too. His selflessness helped me choose community, and that has been the best choice ever," she said.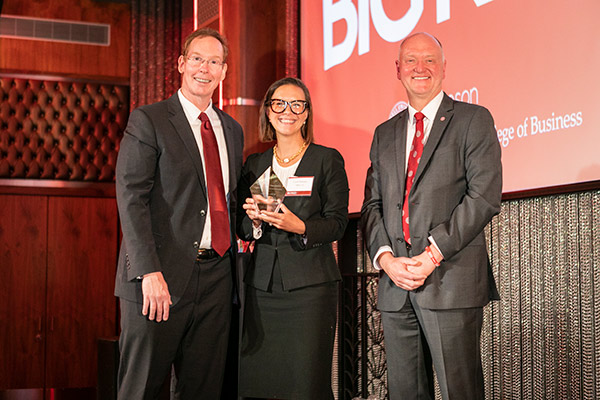 Pisacich, who is director of managed solutions at Fidelity Investments, has also been actively involved in the Johnson School community since his graduation. He has held various roles, including official class correspondent, , president of the Johnson Club of Boston for 10 years, and a dedicated member of his MBA class of 2010 reunion committee.
Pisacich reflected on his experiences at Cornell and explained that the sense of togetherness that he felt on campus during his time at school inspires him to continue to give back to the community. It's why he continues to foster a Johnson School community in Boston and works to create a welcoming environment for all, while also keeping his own class of 2010 connected. "I'm honored to be a part of that group," he said.
A lifelong commitment to Johnson
Gail and Roberto Cañizares '71, MBA '74, were honored with the Samuel C. Johnson Distinguished Service Award, a lifetime achievement award given to individuals who have demonstrated an extraordinary commitment to Johnson's alumni community. Gail and Rob have shown continued engagement with Johnson through their long-term volunteer activities and generous philanthropy.
Rob remains involved with several Johnson and Cornell alumni engagement organizations, including serving on the Emerging Markets Institute's Advisory Group and as a mentor at Cornell's Center for Life Science Ventures. Together, Gail and Rob have also established several endowed funds at Johnson, including the Cañizares Award for Distinguished Alumni in International Business and Emerging Markets. "Their philanthropy has greatly impacted many different areas within Johnson and Cornell, and their generosity has strengthened the alumni network and provided more opportunities for students and alumni to engage," Nelson said.
Gail and Rob took the stage together to accept their award, reflecting on how they met in a French class when the two were students at Cornell in the 1970s. Rob shared that their careers as professionals have largely revolved around emerging markets, so it was only fitting for them to dedicate their philanthropic work to this area. "Building a great organization, building a great institution, building a great university is a team sport," Rob said. "We are a part of this very large team where you all of you contribute. We are fortunate to be able to play a role."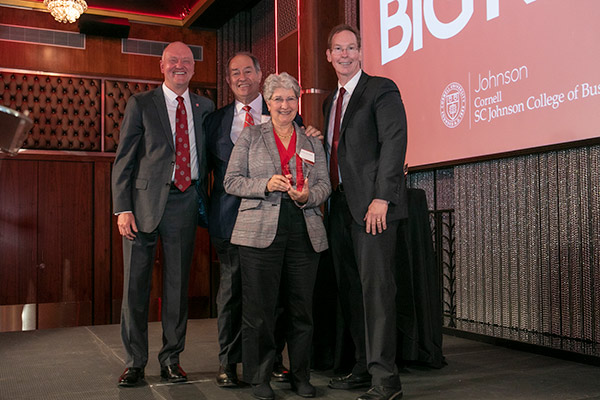 Values-based education in action
Angela Hwang, MBA '94, received the Johnson School's highest honor, the L. Joseph Thomas Leadership Award, a lifetime achievement award that recognizes alumni for exceptional demonstration of vision and leadership, sound business sense, and commitment to the community.
As a member of Pfizer's executive team and the chief commercial officer and president of Pfizer's global biopharmaceuticals business, Hwang leads a team of 26,000 colleagues across 125 countries to bring 600 of Pfizer's medications and vaccines to patients worldwide. Hwang also serves on the Johnson School's Advisory Council and on the boards of several organizations, including the European Federation of Pharmaceutical Industries and Associations, the US-China Business Council, the Pfizer Foundation.
Speaking on stage, Hwang said she was humbled to receive an award named for Dean Emeritus Joe Thomas, who, "as a kind and capable leader, embodies the values of a Cornell education," she said. She reflected on her own experience as a student at Cornell, describing how she struggled initially with the transition from scientific research to business studies, but credited the courses she took and networking opportunities for helping her discover her interest in healthcare as a career.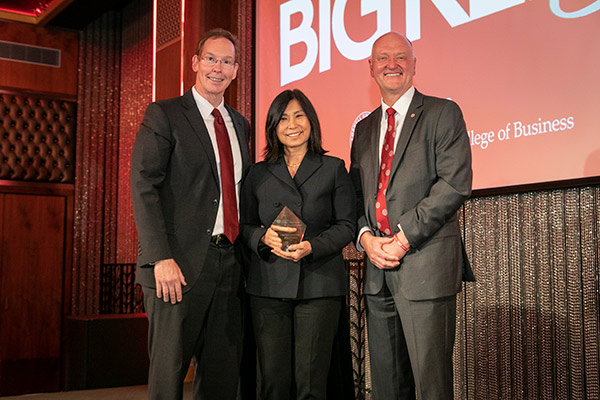 Hwang emphasized the importance of resilience, problem-solving skills, and the ability to work collaboratively as lessons she learned at Cornell that she went on to apply to her work at Pfizer in developing and distributing the COVID-19 vaccine. She also noted the importance of a values-based education in business leadership, particularly in addressing global challenges such as environmental change, social and health inequities, and the responsible use of artificial intelligence.
"With so much changing, I'm grateful for what doesn't change," Hwang said. "And that is a values-based education from the Johnson School. When I look back, the technical aspects of what I learned in my MBA are very distant. But what has stayed with me is deeper: It's confidence, a sense of responsibility, and a drive to give back to Cornell and to do my part in making this a better world."
Paying tribute to Dean Mark Nelson
As the evening came to a close, there was one last honor in store. To acknowledge and honor Nelson for his leadership as Anne and Elmer Lindseth Dean of the Johnson School (2016-23), attendees viewed a video capturing highlights from his tenure and featuring commentary from fellow faculty and students. Nelson expressed both his gratitude and his sadness at the end of this "adventure" and shared his eagerness to return to teaching and research.
Most of all, however, Nelson said he is excited to watch the Johnson School continue to grow and evolve. "As we've been saying all night, this is a very special community," he said.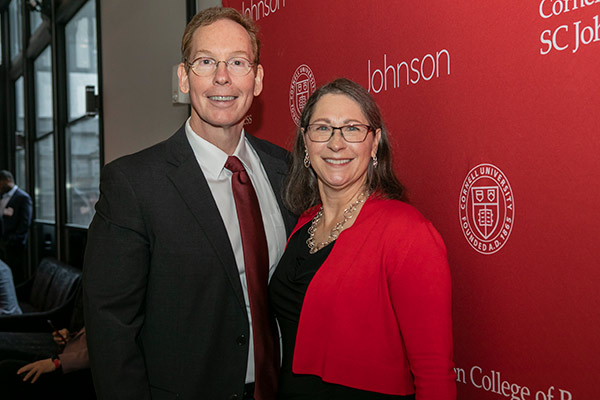 All photos are by Jesse Winter.